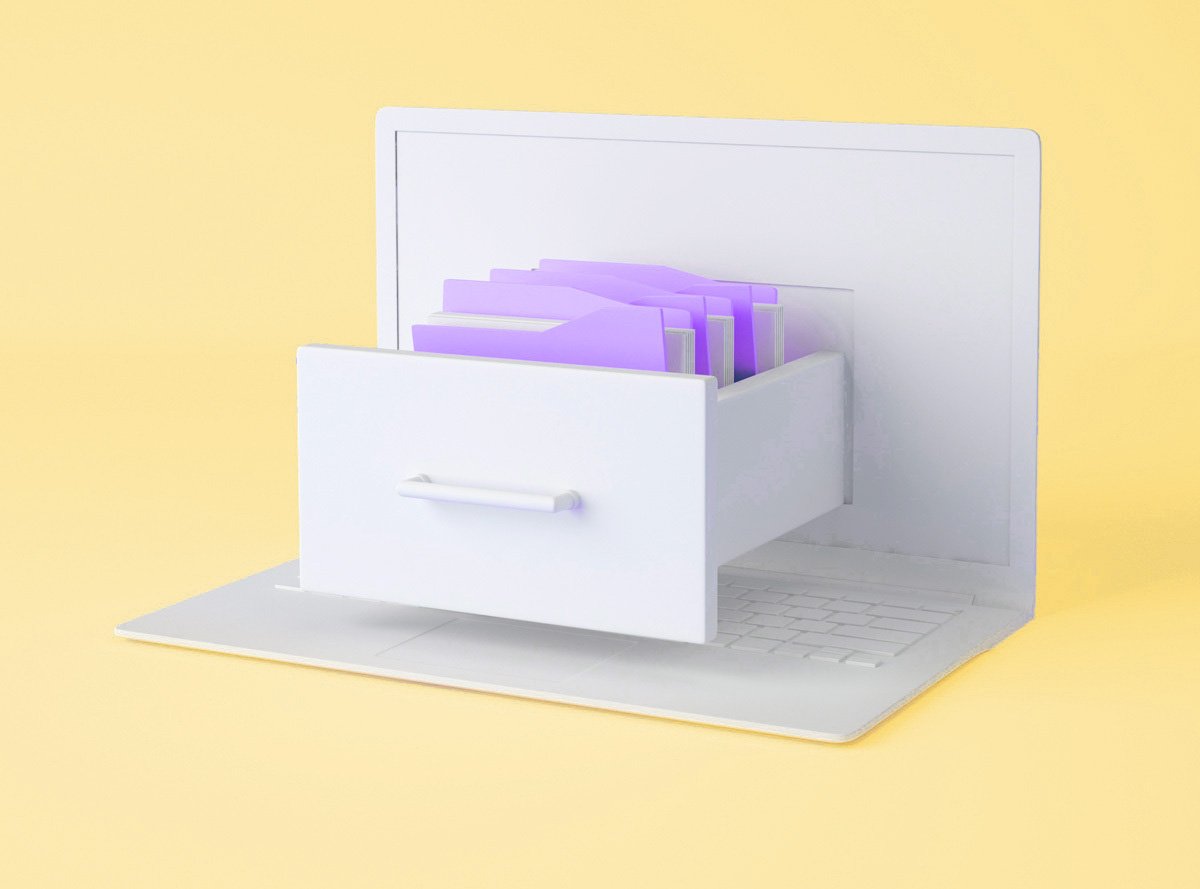 Why Life Science enterprises still
can't part ways with paper
Paper might be viewed as a thing of the past in our digital world, but for larger companies in pharma it's still very much relied upon. Why? It's mainly due to audit compliance, in this case the very literal 'paper trail'. Regulated manufacturing processes were put into place years ago, before the dawn of digital transformation. Migrating these to a fully digital solution is not quite feasible yet, or may simply prove too costly. Printouts will realistically remain a staple within large enterprises for a long time.
The problem with

uncontrolled printouts
In large pharma enterprises, paper is here to stay. So, how do companies keep track of the long paper trail in their complex manufacturing processes, and do so in a compliant way?
After all, failure to properly control printing can lead to major data integrity issues, such as:
Forms or certain pages might inadvertently

get lost

Employees might

reprint

a form for whatever reason

without anybody knowing

Failure in reconciling

important forms and documents

Inadequate or

no audit trail to provide proof of printing and reconciliation

activities
In this specific company's case, several printing issues described in the following Root Cause Analysis compounded, resulting in an FDA finding at one of their manufacturing plants. They needed a solution to their paper challenges, fast.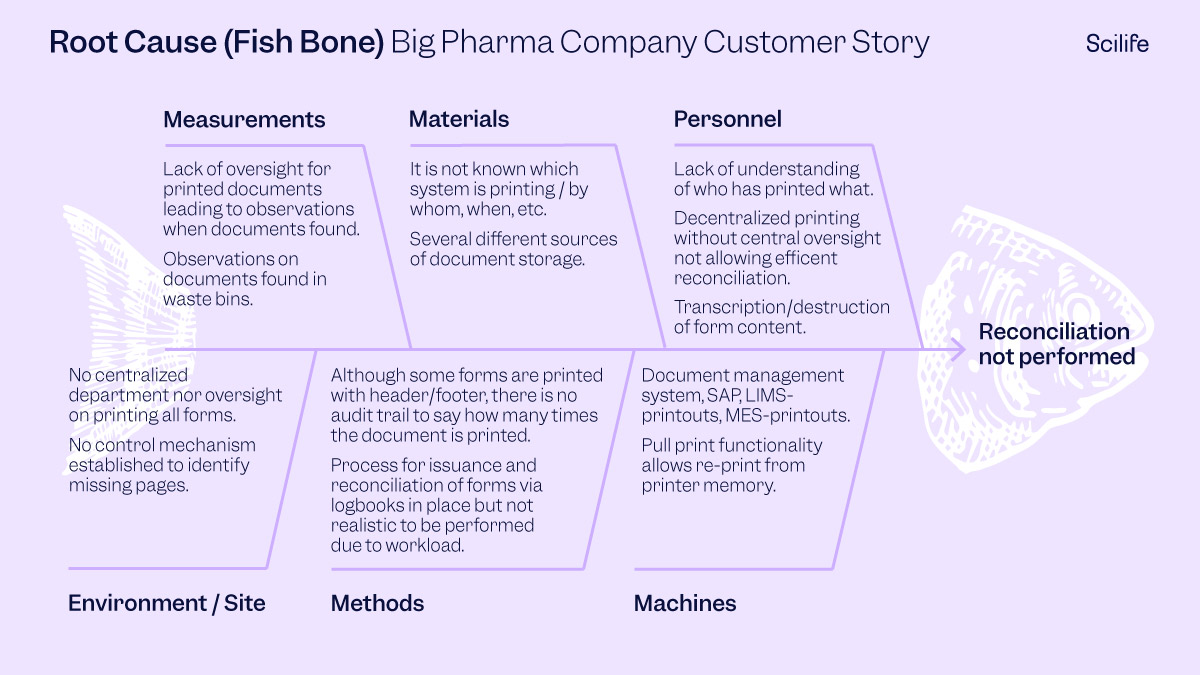 How Scilife solved

these printing challenges

The company in question used many different applications to print out documents, and it simply wasn't practical to approach each vendor to request a reliable controlled printing feature for each application. What they needed was an off-the-shelf solution that could pull everything together and manage the printing from all other applications compliantly, while centralizing the reconciliation process. They were searching for a solution that:
supports printing

from any of the company's relevant application

is user-friendly and requires

minimal training

is

centralized, easy to deploy, and maintain

is

scalable

to tens of sites and thousands of users worldwide

is

21CFR11 compliant

, easy to validate according to

GAMP5
One single solution that ticked all these boxes simply didn't exist on the market (yet!), so the company turned to Scilife.
Why Scilife?


Collab results in new module

A representative from the company explains that approaching Scilife was an easy choice, because of our know-how of quality management processes in the Pharma industry, but first and foremost because the Scilife platform has an intuitive approach to controlled printing that any life science company can sculpt exactly how they want.

We have a lean approach to software development and an openness to customer feedback, which, according to the representative, is unparalleled with software vendors in the Pharma space. This is especially important because it means customers have a big say in the features and functionalities of the Scilife platform, and therefore can tailor and finetune the solution to fit their specific needs.

The Scilife platform is built on cloud technology to offer a completely centralized, rapidly scalable, and user-friendly solution, pre-validated according to GAMP5/21CFR11.

The collab between the pharma enterprise and Scilife actually resulted in a brand new module emerging on the platform, Scilife's Print and Reconciliation module.
Scilife's

Print and Reconciliation module
The Print and Reconciliation module creates a bridge between any external application and a centralized audit archive accessible through the Scilife interface, through 'virtual printer' technology. Printing from anywhere, yet preserving the details of that print action safely in one place results in a clean audit trail. The virtual printer tags each printed page with a scannable barcode, which can later be used to reconcile every single page directly within Scilife.
For more detailed insights into what our Scilife Print and Reconciliation module can do, check out our recent press release here.
Key Advantages

of Scilife

According to the pharma company, the key advantages of Scilife they experienced were:
1.
It's a true enterprise-grade solution,

purpose built for Pharma and highly secure.

Security is paramount in regulated environments like the pharma industry. That's why Scilife is committed to delivering software solutions which comply with the highest security standards. This commitment helped Scilife pass the necessary security audits and penetration tests with flying colours.
2. The platform is

extremely user-friendly for end-users,

making learning easy.
Scilife's user-centric approach to application design helps to keep the learning curve for end-users very low. This means there's minimal training involved, and therefore a speedy roll-out to large numbers of users.
3. Scilife has a
great level of ongoing support

for their ever-growing user base

When doing a roll-out of these types of solutions on a massive scale, issues are bound to pop up. Scilife's ambitious Service Level Agreement (SLA) provided the company with the peace of mind they needed during the implementation phase and after go-live.
Favorite
Scilife Features
When inquired about his favorite Scilife features, the company's representative highlighted the straightforwardness of the printing process; the user needs to know just two things to be able to issue a controlled print originating from any existing application through the Scilife solution. These are basically to select the Scilife virtual printer while printing and to fill in some fields about the printout in the next screen.
He also mentions the handy configurability to the company's needs in terms of printout metadata entered for each printout, and the useful page-by-page reconciliation with a barcode scanner, which provides total control over printouts down to the page level.
Adaptability

to Scilife

We asked the company's representative how much time it took to roll out and get comfortable with the new Scilife Print and Reconciliation module. His answer; surprisingly quick!
Printing process: 1 day

Reconciliation process: 2 days

Configuration options: 2 days

Roll out to 3 pilot sites: 2 weeks

6 months later roll out to additional sites in several countries

6 months after that roll out to +/- 50 sites worldwide, 5000+ users
To
sum it up
Our customer entrusted us to co-create an intuitive module that would not only mitigate an FDA finding as quickly as possible, but also solve printing and reconciliation issues at multiple sites around the globe, for good.
Their input resulted in a dedicated Scilife Print and Reconciliation module that is constantly evolving to meet their changing requirements. Better still, it's now available as a standard Scilife offering to help meet the challenges of print and reconciliation for everyone.
Finally, large-scale enterprises can take full control of their paper!