The path to continuous improvement is well within research.
It starts with QbD: a process that elevates product quality as a result of comprehensive risk management strategies.
This article will outline what Quality by Design entails, describe the key principles behind it, and offer an overview of the applications needed to develop successful products in the Life Sciences.
Overview of
Quality by Design
QbD plays a key role in the design, development, and launch of new products.
The basic principle of QbD is that quality should not only be tested in products after delivery, but incorporated into products from the very beginning. This can help to address cost and time problems, issues involving sales targets, dissatisfied customers, and even internal burnout on the manufacturing team.
From pharmaceuticals to medical devices, and even software solutions, experts leverage QbD across many different aspects of the Life Sciences. The overarching goals of QbD are to:
Minimize manufacturer risk.
Introduced in the pharmaceutical industry for the first time between 2009 and 2021, the international guidelines behind QbD define the model as "a systematic approach to development that begins with predefined objectives and emphasizes product and process understanding and process control, based on sound science and quality risk management."
QbD is often combined with Process Analytical Technology (PAT) strategies, which are designed to achieve product quality attributes to the highest standard. PAT is a system for designing, analyzing, and regulating manufacturing practices by measuring quality and performance.
The U.S. Food & Drug Administration (FDA) and the International Conference on Harmonisation (ICH) focus extensively on building quality into pharmaceutical and other manufacturing processes, incorporating PAT throughout.
The ICH even goes so far as to outline the exact elements of QbD. These include:
A Quality Target Product Profile (QTPP), which sheds light on the product's Critical Quality Attributes (CQAs).
Product design and understanding that includes the identification and further exploration of the product's Critical Material Attributes (CMAs).
Process design and research to identify Critical Process Parameters (CPPs). This element should connect CMAs and CPPs to the CQAs described above. The QTPP and the CQAs serve as key performance indicators (KPIs). What this means is that manufacturers must identify the root cause behind any possible quality issues—or deviation from the product's KPIs—before determining which CPPs or CMAs might be causing the deviation.
Control Strategies that include specifications for the product and target customer, with specific controls described for every step of the manufacturing process.
Product Lifecycle Management that includes process capability evaluations and continuous improvement.

While some may associate QbD with statistical design tools like Six Sigma or Lean, Quality by Design takes a unique approach to improving quality. The Juran Trilogy (also known as the Quality Trilogy) defines the word quality by not only the features that drive customer satisfaction, but also by the reliability of those features. This is again where QbD comes in.
QbD Principles
The Quality by Design framework includes the following steps, with key principles involved throughout. You might also think of these steps as Define, Discover, Design, Develop, and Deliver.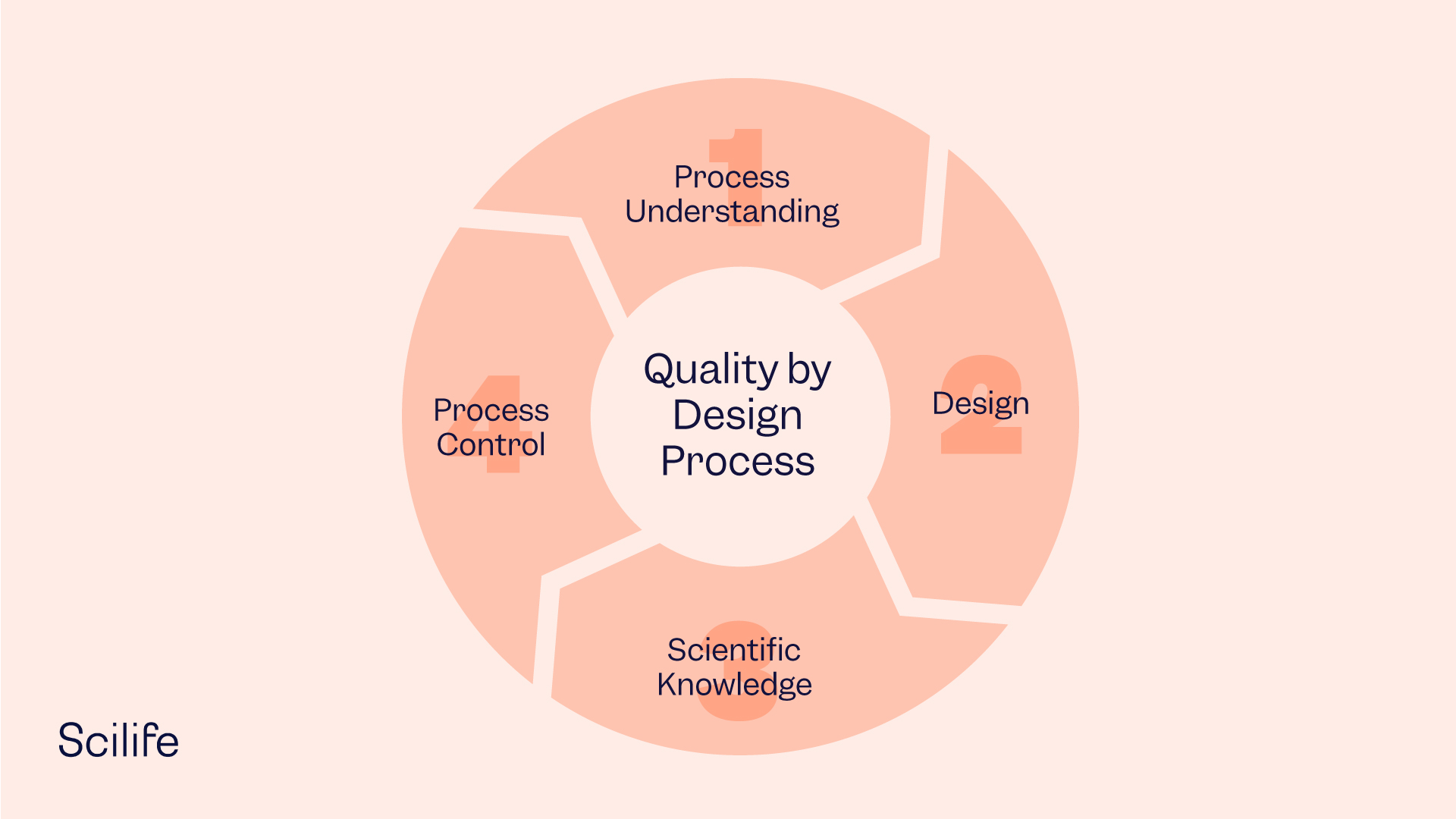 1. DEFINE
Summarize the market and target customers.
Here Life Sciences teams must describe both the product and the target demographic (or demographics, if there are multiple groups the product will serve). A key principle of QbD is to not only include descriptions of the product and target customers, but also the product's unique measured goals.
These goals may refer to market share, lead times, launch date, performance, price-point, or customer loyalty. Anything that provides clarity into the market can be of great use here.
2. DISCOVER
Research the market and explore customer needs.
Teams must not only research the customer's exact needs—as well as the benefits of the product—but also connect those needs to the specific, measurable outcomes the product will help to achieve. While this research may in some cases be quite straightforward, in others it will include more advanced statistics.
The plans from this step associate the design, process, and control features and goals with the customer's needs. This helps to ensure every feature is useful to the customer before the product goes to market.
3. DESIGN
Create product features to meet those needs.
Once you understand your customers' needs, your team can begin designing the product so that it meets those needs—ideally more effectively than any of your competition. This is a creative process that encourages free thinking with a safety net in place. The goal is for teams to explore new ideas without creating undue risk.
In the design process, QbD incorporates principles such as benchmarking, multiple alternatives evaluation, and competitor research. Value analysis and frequent design reviews can help to maximize the product's ROI here.
4. DEVELOP
Build the processes needed to create those features.
After designing the product, teams must develop the process for delivering the product. This is where process design comes in—a key step in making sure the manufacturer understands all the variables at play, the best ways to ensure quality, and the importance of measuring process capabilities on a frequent basis.
Writing a comprehensive control plan can be quite helpful at this stage. The plan will help to ensure all processes are free from defects or deviations.
5. DELIVER
Identify and implement process controls as needed.
QbD doesn't end when the product is in production. Effective product delivery features continuous improvement and careful planning. This means that after developing the processes described above, teams should evaluate process controls too. Doing so will help them meet the goals outlined in the QTPP.
The intent of the above QbD principles is to infuse quality into the product from the very beginning—in order to mitigate risk, appeal to customers, and achieve the highest possible quality. The result can be nothing short of transformative for Life Sciences manufacturers and their customers.
QbD Applications
The applications that include or incorporate Quality by Design are far-reaching. Applications for marketing authorization, variation to existing marketing authorizations, and scientific advice are all examples of QbD applications in the Life Sciences space.
Organizations and other applicants in the sector can leverage QbD by learning more about the process—and by reading the ICH Q8, Q9, Q10, and Q11 guidelines listed here. These guidelines reveal how QbD should be presented.
Scilife's QbD glossary term and the European Medicines Agency (EMA)'s frequently-asked questions page on this topic offer valuable information as well.
Hopefully you find this information useful. With insight into the principles and applications of Quality by Design, Life Sciences companies can succeed in developing products from idea to delivery. Together, teams from around the world are leveraging this framework to bring top-quality products to market.
Conclusion
Do you have questions about Quality by Design principles and applications? Are you struggling to find a QbD tool that covers all your needs?
Get to know more about our QbD functionality and let us help you improve those complex and tiresome processes!