Everyone knows Aristotle's famous quote "Well begun is half done", but it is seldom true when it comes to sustaining organizational change initiatives for achieving better quality and excellence. Understandably, change is uncomfortable for most of us, and therefore, it is quite normal for people to resist it. Many times, organizations find their quality and excellence initiatives stalled because of the loss of enthusiasm in employees. At the same time, there are some good examples, where organizations have not only implemented the quality and excellence initiatives well, but have also sustained them successfully.
There is an old saying "Winners don't do different things; they do things differently". If we wish to decipher the secret to successful Quality and Excellence initiatives, then we should take a closer look into how successful organizations implemented winning strategies by handling change management differently. As an example, Motorola adopted a three-pronged approach: quality of forethought, quality of workmanship, and quality of objective self-appraisal. This means that the quality program took into account all three stages of production: pre-production, production, and post-production. This approach undoubtedly rewarded Motorola by securing their place at the forefront of American business for the next several years.
Organizations like Motorola, General Electric, and Toyota have been recognized as role models in this domain for a long time, but there are very few life science organizations which can be considered as similar role models in this regard. Perhaps this is because of the nature of the life science industry, where to get the product from idea to market the company needs to spend about a decade and several billion dollars, and there is about a 90% chance of failure. It's very different from other businesses, where product delivery times are shorter which naturally requires and stimulates employees to be more agile and adaptive to the change.
From our own experience here at Scilife working with a multitude of life science companies, we've identified 9 key elements of quality initiatives and change management initiatives that lead to a successful change outcome, and typically make the change stick longer.
The 9 key elements of
successful quality initiatives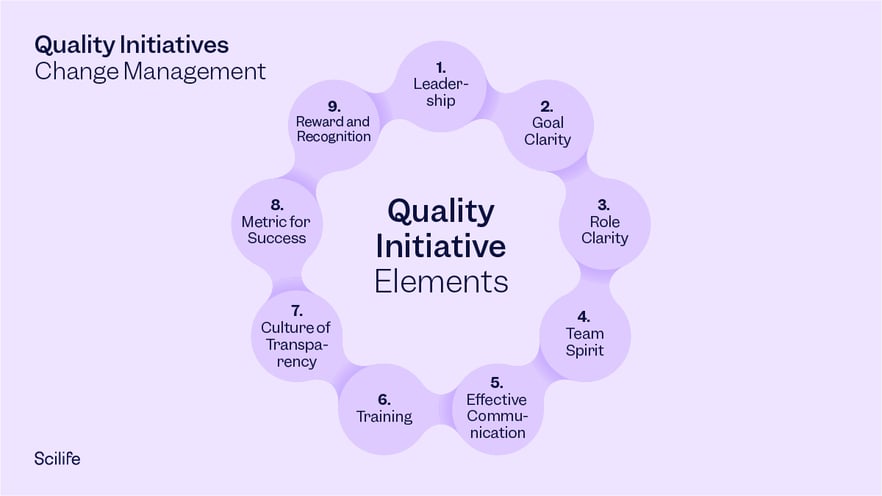 1. Leadership
"Quality is a way of life in a business,
not an advertising term."
Robert W. Galvin
(President, Motorola Inc., 1962)
Employees look to their leaders all the time. If they find out that their leaders are not interested in 'walking the talk', then they are unlikely to walk down that same path as well. Therefore, leaders need to convince themselves about the initiative first, because the best way to convince others is to be fully on board yourself first.
Leaders should have a large part of their deliverables or key performance indicators (KPIs) associated with the new change control initiatives. They should have an active involvement in driving the change through their actions. If change starts at the top, it will naturally cascade down.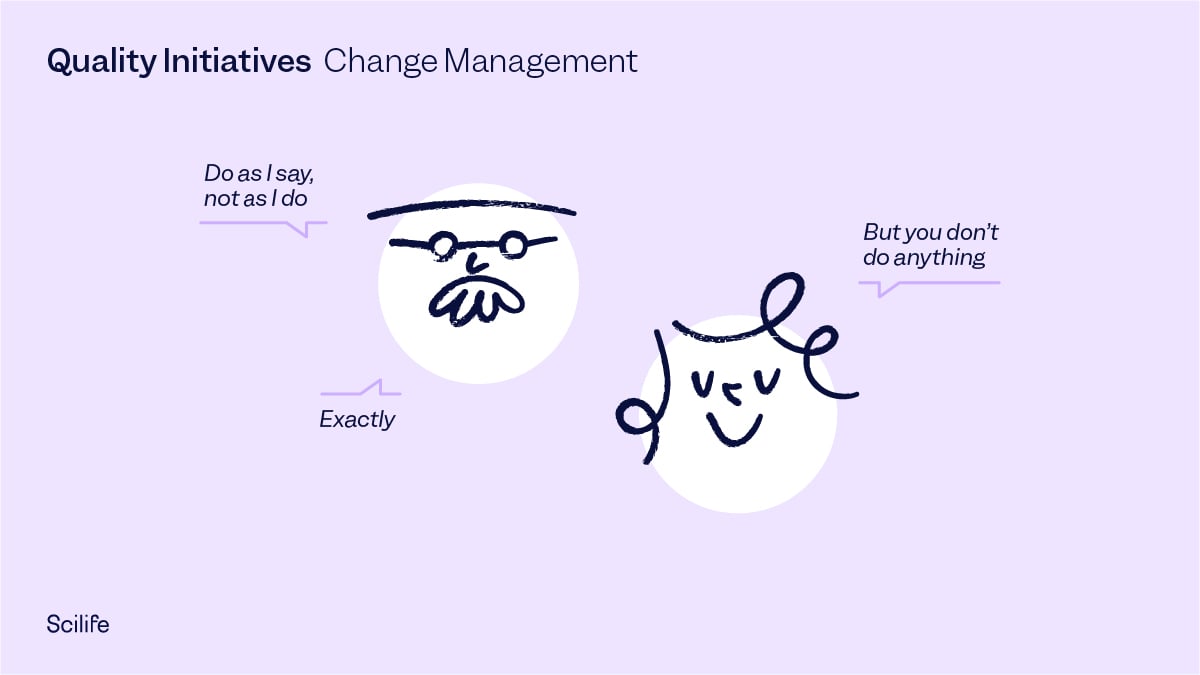 2. Goal Clarity
The clarity of purpose is of utmost importance for everyone working in the organization, from top to bottom. Everyone in the organization must be well aligned on the purpose as to why the change is being adopted. For example, an organization may want to adopt a document control system to automate the process for template preparation, version control, audit preparations, and also to avoid physical movement of paper documents for review and signatures, to save time and costs. However, if an employee misunderstands the adoption of this new initiative as a micromanagement strategy, then management will find poor adoption of the new system.
In our view, only well defined and well-intentioned initiatives that are aligned with organizational goals as well as employee deliverables result in successful implementation.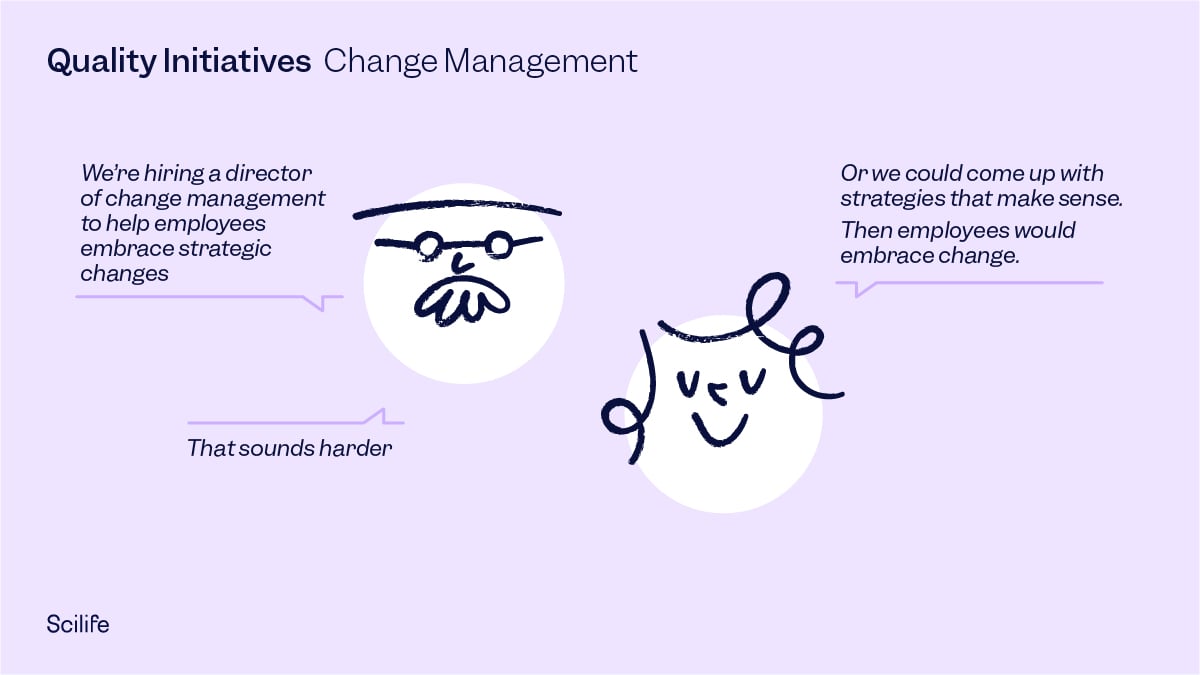 3. Role Clarity
When employees have clarity about their key deliverables or the KPIs and how their role is aligned with organizational goals, then they tend to visualize the big picture. This enables them to contribute better to newly rolled-out initiatives.
The role of each employee should be defined in such a manner that he or she feels proud about being able to contribute to the system. At the same time, utmost care should be taken to avoid the duplication of roles and responsibilities, which leads to loss of motivation in employees, petty politics, and a game of passing the buck.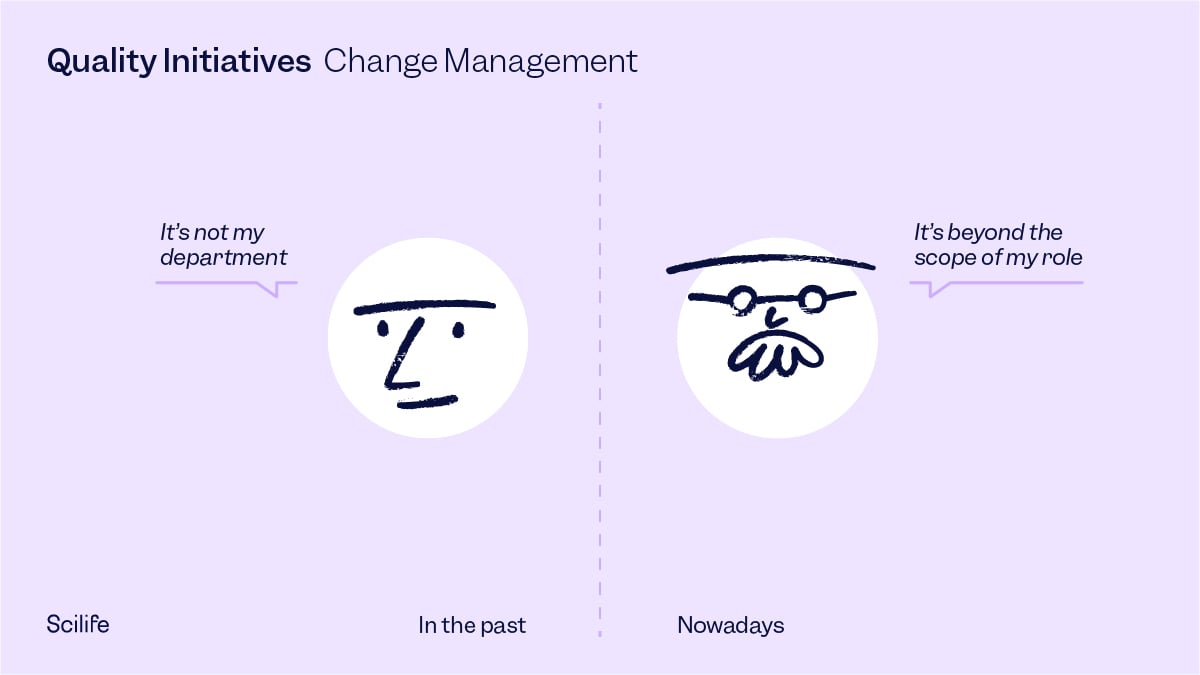 4. Team Spirit
Every team goes through the usual forming, storming, and norming phase, but what really matters is how quickly the teams get into the performing phase. Improvement initiatives, be it for quality or excellence, require not only smooth teamwork but also swift cross-functional teamwork. The leadership from the top management plays a key role here.
5. Effective Communication
Effective communication is the key to the successful implementation of any strategy. It is not only about changing the practices and systems, it is about changing hearts, minds, and behaviours.
The leaders play a very critical role in this case also. Through effective communication strategies, leaders should be able to convince the employees that the change is for the better.
6. Training
Training may require some initial investment but it is always accounted for in the 'cost of good quality' in the 'total cost of quality'. It's still possible to save on training costs, by using cloud storage and automated assignments of training for specific user roles with the help of Scilife's Trainings Module. Simple and easy to understand training content helps get a team in the performing phase without hassle.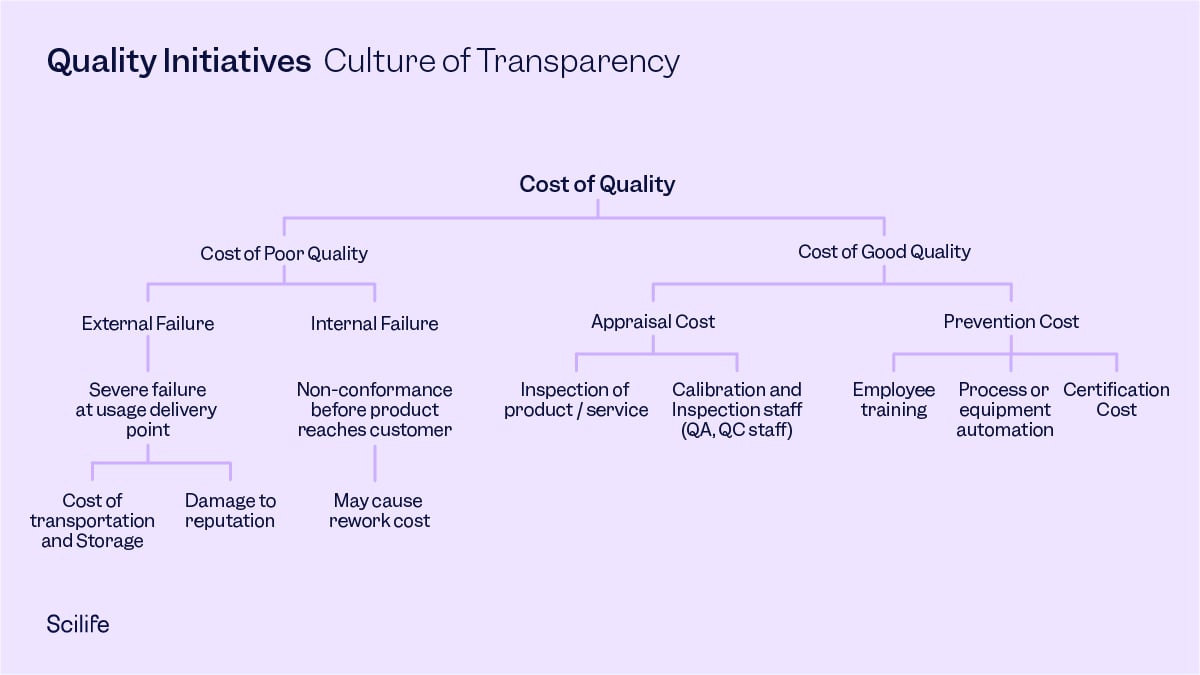 7. Culture of Transparency
The fear of loss of a job, or unhealthy criticism from the management's part may force the employees to do superficial risk assessments and to give 'everything's fine' feedback to the management. This situation is certainly not helpful in the successful implementation of a change initiative, because, for a successful quality and excellence initiative, it is important that teams openly talk about any hidden factors, including undesirable ones.
8. Metric for Success
It's important to define a measurement criterion for determining the success of a Quality and Excellence initiative. This can be easily done by keeping track of KPIs like the number of quarterly non-conformance occurrences before and after the implementation of the new initiative. Fewer non-conformance occurrences after the initiative indicate it's success. Keeping track of metrics also serves the purpose of keeping employees motivated for sticking to the new initiatives.
9. Rewards and Recognition
Employees who actively contribute to make the change initiative a success should be recognized and rewarded in a quarterly meeting, where the number of non-conformance occurrences for each quarter is declared. A healthy competition for rewards and recognition may motivate employees to follow the new initiatives and make it a better success.
In the end, if we take a closer look at all the key elements, the largest responsibility of making any new initiative a success lies with the leaders. It's the leaders who identify the need for change in the first place, who define goals, who assign the roles, who build the team spirit, who create a transparent work culture, who communicate the change effectively, who identify training needs, who identify the right metric for evaluation of success and finally who reward and recognize fellow employees for their great work. Therefore, much depends on the leadership of the organization. Yet, even leaders should remember that 'the only person who likes a change is a baby with a wet diaper' and hence must prepare themselves to handle inevitable resistance. It should be anticipated that employees will fall back to their old practices every now and then, but with patience and perseverance the new way will become the accepted way.
How Scilife helps
Scilife is purpose-built to help any life science company breeze through change management and paves the way to successful quality initiatives through intuitive modules.
Build your Scilife platform from these interconnected modules to boost autonomy, productivity and continuous improvement within your team and your processes. Make training easy and quick for everyone through our Trainings Module, measure vital metrics through our KPI module and remove organizational chaos with the Document Control, Events and CAPAs modules. Finally, initiate and keep change on track with Scilife's Change Control module!