Cultivating a culture built on Quality is paramount to success, especially in the fiercely competitive pharma and medical device industries. Having a strong Quality culture allows you to spark innovation, foster seamless teamwork, and ensure compliance with regulations. This comprehensive guide focuses on the profound significance of Quality culture, the critical role of visionary leadership, the strategic integration of cutting-edge QMS software, and last but not least the relentless pursuit of continuous improvement.
Understanding the

Essence

of a Quality Culture
At the very heart of every flourishing organization lies a compelling Quality culture, one that oozes originality and authenticity. This driving force profoundly shapes overall performance, upholds an impeccable reputation, elevates customer satisfaction, and ignites unwavering employee engagement. To foster a realm of cultural excellence, it becomes vital to establish and propagate clear, aligned core values that resonate with Quality, compliance, innovation, teamwork, and an unwavering customer focus. Communicating these values naturally and human-like throughout your organization will empower each member to wholeheartedly embrace and embody them.
Defining Quality

Culture's Core Values
Embark on a journey of creativity and authenticity by etching crystal-clear core values that effortlessly align with your organization's overarching vision, mission, and strategic objectives. Elevate the essence of Quality, compliance, innovation, teamwork, and exceptional customer service within these core values. Be authentic and personal in your communication to instill your workforce with a shared sense of purpose, enabling every individual to embody these values organically in daily endeavors.
Assessing Your Very Own

Quality Culture Maturity
To elevate your organization's performance continuously and understand the maturity level of your Quality culture becomes imperative to gauge. There are four levels to consider:
Level 1: Reactive - Management only knows issues during crises.

Level 2: Semi-Reactive - Patchwork corrections are the norm, but willingness to change exists.

Level 3: Proactive - Major issues are addressed, and lasting systemic improvements are made.

Level 4: Preventive - Routine practice includes meaningful process and system improvements.
Six Dimensions

of the Cultural Excellence Framework
Corporate culture develops in three phases: Foster and Develop, Monitor and Measure, and Improve and Learn. ISPE's framework for cultivating and sustaining cultural excellence comprises six key dimensions, each serving as a critical building block for an organization's operational greatness.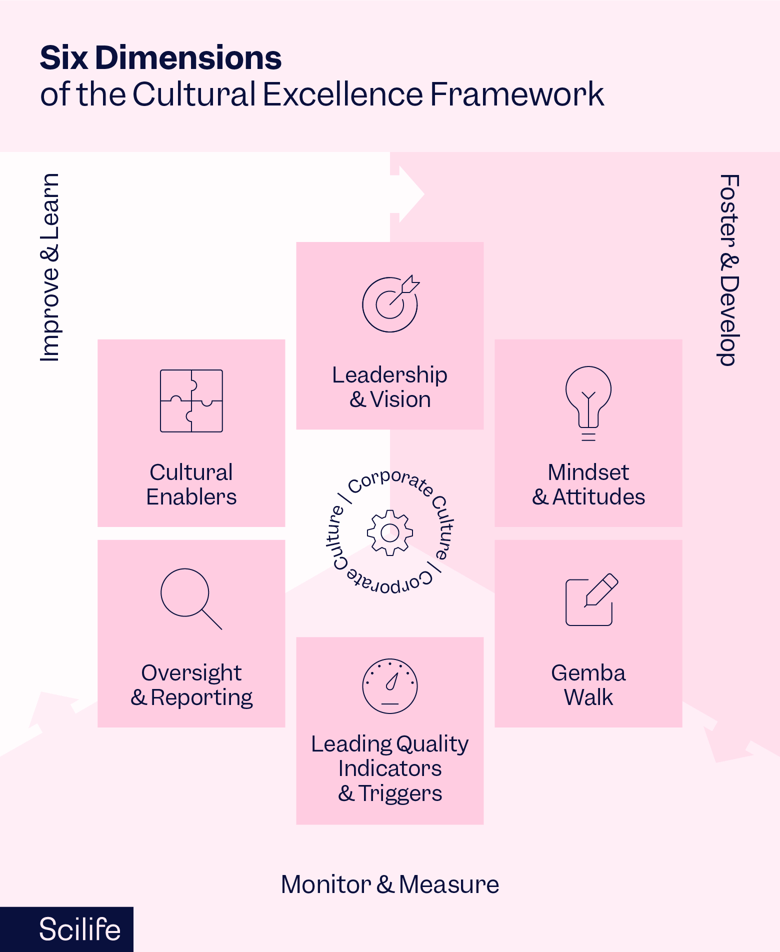 Leadership and Vision: Quality-driven culture is built on the visionary leadership of an organization's leaders. An operational excellence culture is established and sustained by the words, thoughts, and actions of leaders. Whether it's within a local manufacturing site or across the entire company, strong leadership and a clear vision are instrumental in shaping the culture.
Mindset and Attitudes: While challenging to precisely define, observe, and measure, mindset and attitudes significantly impact cultural performance. Leaders can assess, monitor, and cultivate the desired mindset and attitudes for excellence within your organization, utilizing practical and powerful approaches outlined in this guide.
Gemba Walk: Active engagement of management on the factory floor sends a powerful message of commitment to Quality throughout the organization. Gemba walks provide an opportunity for site leaders to openly communicate progress towards desired behaviors at all levels. By recognizing employees' contributions and involving them in continuous improvement and problem-solving, Gemba walks empower frontline workers.
Leading Quality Indicators and Triggers: The alignment between culture, behavior, and leading Quality indicators drives actions focused on patient care. Designing and monitoring key triggers is highly recommended as they contribute to shaping cultural excellence.
Oversight and Reporting: Transparent management oversight and review practices foster a healthy Quality culture. Engaging both management and employees through these practices encourage dialogue, prompt timely resolution of issues, and highlight best practices for replication.
Cultural Enablers: These elements facilitate desired behaviors, expedite change, and enhance long-term performance. Establishing a learning organization, forming learning teams, influencing and recognizing organizational change, proactive problem-solving, and identifying root causes all contribute to the success of these cultural enablers.
Seamlessly integrating these elements into your operations enables you to continually strive for improvement to nurture a Quality culture that centers on excellence and innovation. These practices not only shape behaviors but also lay the foundation for sustained success.
Leadership

in Creating a Quality Culture
Leadership plays a key role in building a Quality culture. A great leader sets an example by prioritizing Quality in decision-making and fostering open communication. The latest research indicates that intelligent leadership positively impacts cultural excellence, with organizational culture mediating this relationship. Strengthening intelligence leadership and selecting leaders based on clear criteria can drive overall success. A recent study suggests that transformational leadership, organizational culture, and business unit performance are directly linked to performance. Additionally, transformational leadership and humanistic orientation had an indirect positive impact on performance through achievement orientation.
It is most important that top management be Quality-minded. In the absence of sincere manifestation of interest at the top, little will happen below.
Leveraging QMS Software

for Building a Quality Culture
To effectively build and maintain a Quality culture, consider implementing robust Quality Management System (QMS) software. Specifically designed for the pharma and medical device industry, QMS software provides a centralized platform for managing Quality processes, tracking compliance, and capturing Quality metrics. Look for features such as document control, training management, non-conformance tracking, and corrective and preventive actions (CAPA) to ensure seamless Quality management.

Discover how a Smart QMS can help you build a strong Quality Culture.
Engaging and Empowering Employees

for Quality Excellence
Engaged employees are the heartbeat of creating a Quality culture. So encourage open communication, active participation, and collaboration among your team. Providing training and development opportunities enhances your team's skills and knowledge. This enables them to take ownership of Quality-related tasks such as conducting internal audits, suggesting process improvements, and reporting incidents. The involvement and commitment of employees will contribute to a thriving Quality culture. When organizational commitment is supported by a positive workplace environment, it fosters communication, motivation, collaboration, and synergy.
Research shows that organizational commitment, along with leadership, influences internal Quality assurance systems implementation in higher education. To achieve organizational commitment, a supportive organizational culture is required that promotes communication, motivation, collaboration, and synergy between all elements.
Creating Unambiguous

Quality Objectives and Metrics
Set clear and quantifiable Quality targets that resonate with your company's strategic goals. These targets should be specific, attainable, relevant, and time-bound (SMART). Incorporate key performance indicators (KPIs) to oversee progress and evaluate the success of Quality-focused initiatives. Consistently scrutinize and disseminate these results to drive continuous improvement.
Advocating

Continuous Improvement
A robust Quality culture thrives on the principle of continuous improvement. Encourage a mindset of continuous improvement throughout the organization. Foster an environment where employees are encouraged to identify and report Quality issues, propose innovative solutions, and actively participate in process optimization. Leverage your QMS software to manage and track improvement projects, conduct root cause analysis, and implement corrective and preventive actions.
Recognizing and Rewarding

Quality Excellence
Recognizing and rewarding individuals and teams that consistently demonstrate a commitment to Quality excellence is vital. Celebrate achievements, both big and small, and acknowledge efforts that contribute to a high-Quality culture. This recognition boosts morale and reinforces Quality's importance throughout the organization.
Final Thoughts
Fostering a high-Quality culture is an ongoing journey that demands dedication and a systematic approach. By recognizing its significance, defining core values, empowering employees, leveraging QMS software, and emphasizing continuous improvement, you will pave the way for long-term success in the competitive pharma and medical device industry. Invest in your organization's Quality culture to witness it thrive as a catalyst for excellence and growth. Your organization can foster success and drive organizational performance by fostering a high-Quality culture based on effective leadership, organizational commitment, and supportive environment.