Concept of
Quality Culture
A complex and multi-layered phenomenon, there is no single definition of quality culture. There are many ways to define this concept. However, the main content elements of organizational culture are summarized in Schein's definition.
He declares that organizational culture is: "A pattern of shared basic assumptions that the group learned as it solved its problems of external adaptation and internal integration, that has worked well enough to be considered valid and, therefore, to be taught to new members as the correct way to perceive, think, and feel concerning those problems" (Schein, 1992, p. 12).
Schein (1992) presented three cultural levels—based on the degree to which the culture is visible to the observer—below.
Cultural Level

Content

Artifacts

Visible Organizational Structures

Architecture of the Physical Environment

Language

Technology, Products

Style as Seen in Clothing, Forms of Address

Myths, Stories Told About the Organization

Published List of Values, Observable Rituals and Ceremonies

Espoused Values

Strategies

Goals

Philosophies

Basic Underlying Assumptions

Unconscious, Taken-for-Granted Beliefs

Perceptions

Thought and Feelings
Source: Schein, Edgar H. (1992). Organizational Culture and Leadership. Jossey-Bass
Total Quality Management
The definition of Total Quality Management is far from simple. Many people visualize the concept like they are designing a bridge without engineering skills. When it comes to quality, most people believe they know how to organize an effective company quality system—working to fix and prevent problems without adequate knowledge associated with the task.
TQM is so much more than the simple implementation of strategies, methods, techniques, procedures, and tools. It is a complicated cultural transformation from conventional management to total quality. According to Deming, TQM is a management philosophy that requires a radical cultural transformation from traditional management to a continuous improvement management style in an organization (Deming, 1986).
TQM is not only established in compliance with industry standards and regulations—it also involves adhering to changes to implement and maintain the TQM concept:
Have strong communication skills both internally and externally.

Transfer the responsibility to management, and ensure the continuous involvement of the entire quality improvement process.

Make changes to common beliefs and structures of reference.
Organizational Culture

and

Total Quality Management
Recently, we discussed the correlation between Total Quality Management and quality culture—including the cultural impacts of this concept on quality management. It's important to note that an organization's quality culture is associated with TQM. The organizational culture and the quality management system influence each other, including each other's functionalities. This makes assessing the current organizational culture all the more critical—before implementing TQM. In this way, you can identify aspects of the organizational culture that will support or constrain the cultural change. Lahke & Mohanty (1994) deemed the following measures fundamental for achieving cultural change:
Policies, procedures, and processes should emphasize quality.

All employees should be aware of the importance of quality in achieving their business goals.

Employees at all levels should be aware of the customer's requirements and needs.

The organizational structure should allow for the implementation of continuous improvement activities.

The business plan must describe the integration of internal and external customer requirements.

The use of customer-based measures of performance is critical.

Strong communication lines must be in place.

Teams should foster customer commitment.

Top management should emphasize customer-oriented values and beliefs.



The organization seeking to implement TQM needs a culture that deals effectively with change, including any changes associated with adapting to the external environment and responding to internal processes (Kujala, 2002). Dellana & Hauser (1999), in their research, found that "the ideal cultural profile for supporting TQM may be characterized to a degree by the adhocracy culture type, and secondarily by the group culture type." It is obvious that flexibility-oriented organizations, such as those with group or adhocracy cultures, already possess a climate of trust and a positive attitude toward the organization; for this reason, one can expect less resistance to TQM implementation. Tata & Prasad (1998) examined the structural and cultural influences on TQM implementation through the building blocks of TQM, suggesting that organic structures and flexibility-oriented cultures are more conducive to TQM success than mechanistic structures and control-oriented cultures.
In order to achieve a higher level of quality, you can use the following TQM principles as a starting point:
Put quality first in your list of priorities.

Involve top management in your quality management activities.

Use SMART objectives.

Define and fulfill your commitments to customers, teams, and top management.

Respect staff and suppliers' opinions to strengthen communication.

Make customers an essential part of the team.

Identify and solve potential problems by analyzing situations.

Analyze problems using the 3 Gen principle: Genba (Place), Genbutsu (Piece), Genjitsu (Done).

Implement a proper

CAPA management system

by using the root cause analysis method, taking effective corrective and preventive actions and verifying the effectiveness of all actions taken.

Use the

PDCA

(Plan, Do, Check, Act) technique to plan

for

high-quality

production

.

Use quality tools to determine and prevent quality defects before going to market.

Maintain production stability in every situation.

Manage and overcome product-related quality defects for customers and suppliers.

Solve problems by ensuring the whole team's contribution.

Create work instructions that can be easily read and understood by each operator.

Implement a quality

document management system

that includes a quality manual, SOPs, work instructions, and an up-to-date system with the necessary training and personnel.

Maintain continuous communication with suppliers and stakeholders.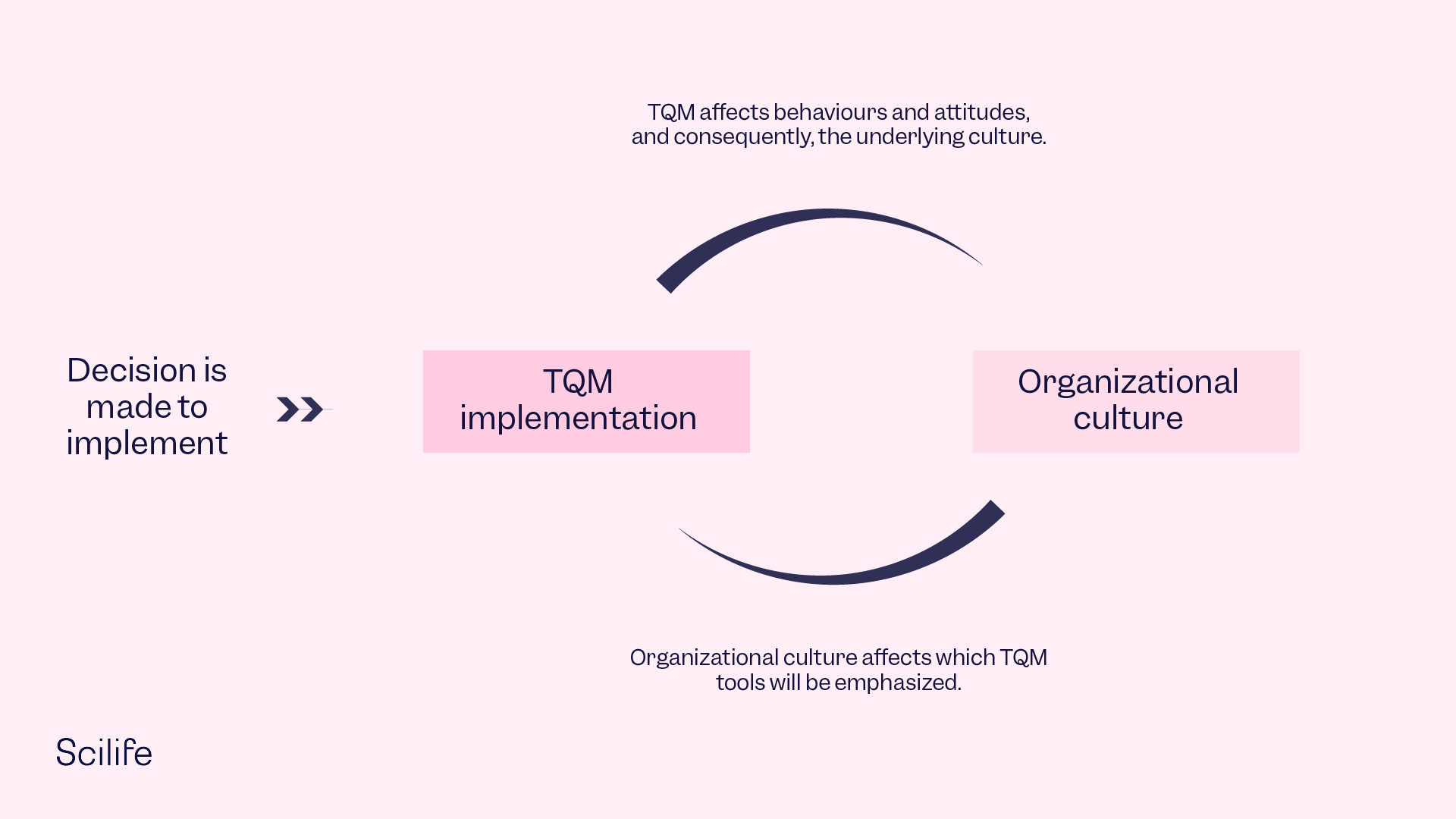 Source: Jancikova, Alexandra, Brychta, Karel. (2008). TQM and Organizational Culture as Significant Factors in Ensuring Competitive Advantage: a Theoretical Perspective. Economics & Sociology
Total Quality Culture
Implementing TQM requires supportive infrastructure and a quality culture.
If your organization's culture is adaptive to the changes and demands of customers, employees, and stakeholders, the culture can likely transform quickly and outperform organizations that don't have these elements in place. This adaptive nature is known as a "quality culture." Typically, a quality culture is (Kanji & Wallace, 2000, p. 981):
Lively and progressive.

Constantly evolving in a way that promotes change and strengthens the business.

Readily evaluating and responding to stimuli.

Able to preserve the original set of organizational beliefs.

Equipped with leaders who have revived and changed the quality culture of their organizations.

Equipped with leaders who can retain and develop the positive aspects of the existing quality culture, adding new TQM principles that will stimulate organizational progress and create business excellence.
The first thing to consider regarding the outcomes of TQM implementation is the concept's financial nature. However, TQM implementation can also have outcomes associated with the change of behaviors, attitudes, and processes in the organization. The total quality culture transformation begins with an understanding of the quality management principles and concepts. You can initiate a comprehensive internal quality training program in order to increase awareness of quality. From there, the total quality culture should be promoted by a proper quality management system.
The

Objectives

of Total Quality
The four objectives of total quality are universally-accepted and include satisfied customers, empowered employees, higher revenues, and lower costs. Juran Institute's Leadership for the Quality Century workshop illustrates this visually.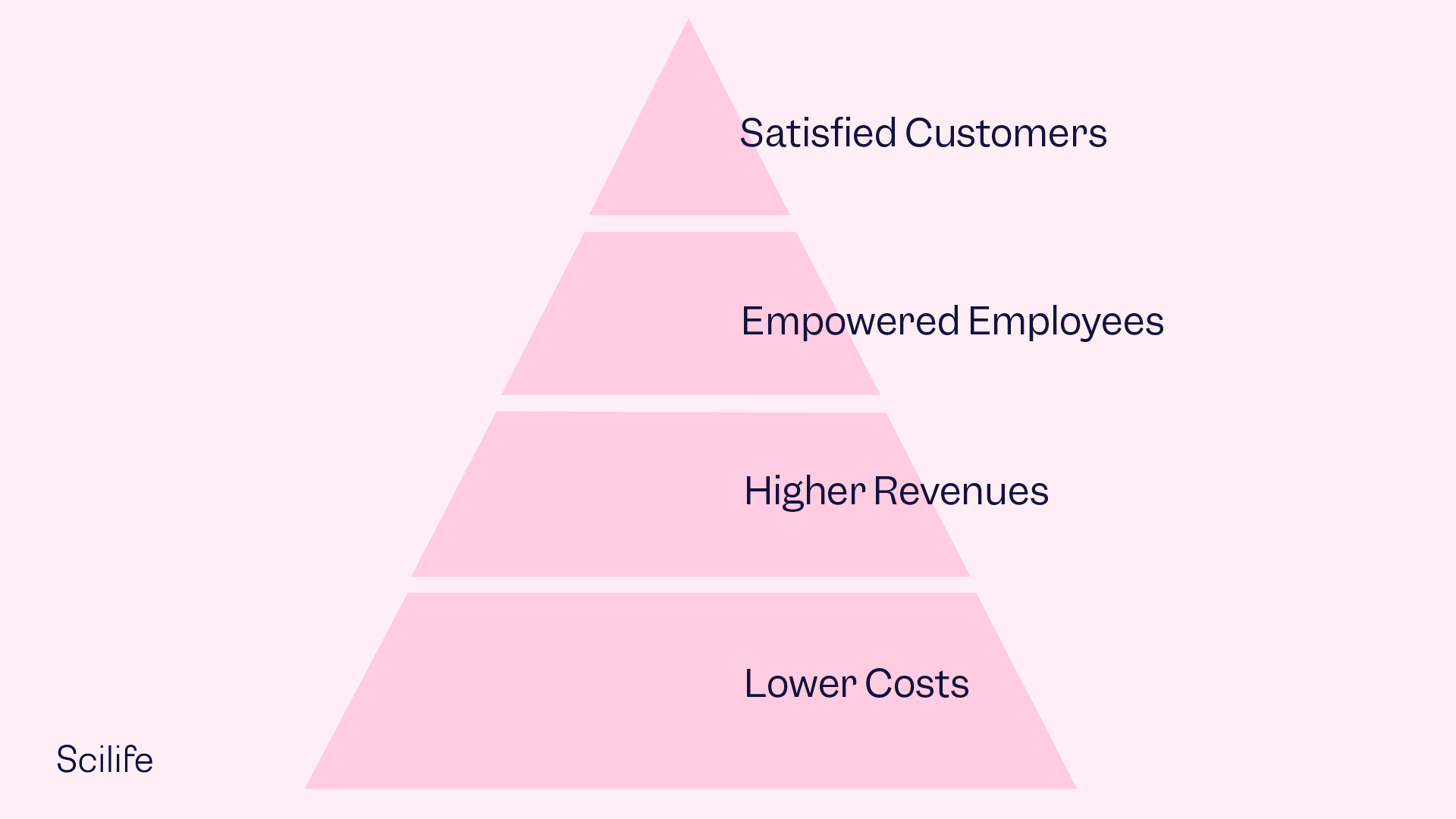 Source: Juran, Joseph M., Godfrey, A. Blanton (1998). Juran's Quality Handbook. McGraw-Hill
1.

Satisfied Customers
"Satisfied customers" are those who buy your products over and over again. These loyal customers check for your products first, before buying something else, and consistently want to see whether you offer the goods they need.
According to a study, customers who give a 5-star rating (on a 1 to 5 scale) for satisfaction were four times less likely to leave in the next 12 months and five times as likely to purchase more products than those who give a company 4 stars for satisfaction. In fact, customers who give 2, 3, or 4 stars all showed similar purchasing habits.
2. Empowered Employees
Creating "empowered employees" is another major goal of TQM. When your organization has empowered employees, you can do so much more than solve today's problems—you'll also create an organization that can solve or even prevent the problems of tomorrow.
Empowered employees are consistently willing to embrace new ideas. They also have the ability to monitor their own work, assess the quality of their efforts, interpret their measurements, compare the data with their goals, and intervene when things are not going well.
3. Higher Revenues
Customers who are more satisfied with your products will increase your market share, improve your customer retention, become more loyal, and even be willing to pay a higher price. And those customers will increasingly begin to expect and demand high-quality products.
If you produce the highest-quality products on the market, your organization will have a higher number of customers, better retain old customers, and move into new markets.
4.

Lower Costs
Higher quality can also mean lower costs. This is the result of reducing errors, defects, and the need for rework. Most companies believe and serve as living proof that higher quality generally means lower costs. This is because:
Preventing errors during the design process costs far less than correcting errors during production.
Preventing errors during the production process costs far less than correcting errors after the final inspection.
Finding and correcting errors during the final inspection costs far less than correcting the errors after the customer has received the product.
Conclusion
The goal of Total Quality Management is to build systematic, efficient connections among all subjects. Participation is an essential part of TQM in order to create a better company for stakeholders. TQM is strongly performance-oriented, and its successful implementation should improve both financial and non-financial metrics. The TQM principles, including customer focus and continuous improvement, must be systematically and duly followed to meet this expectation. They play a crucial role in a company's competitive advantage (or lack thereof).
Ultimately, since TQM implementation requires cultural transformation, its successful implementation is a long-term process. Organizations implementing TQM need at least three to four years of employee acceptance time, and an additional eight to 10 years before TQM can be fully implemented; the reason for this is that the organizational culture is a complex phenomenon that can be difficult to change (Troy & Schein, 1995). According to Liberatore (1993), organizational culture resists change because it is so established—that is, it is generally so ingrained within the company that any attempt to change it may result in a "declaration of war" on the systems.
A Smart Quality Platform can help you build a Quality Culture in your organization. Discover how!