The European Union Medical Device Regulation 2017/745 (EU MDR) was brought into existence on April 5, 2017, and is a regulation that ensures a high standard of safety and quality for medical devices. The EU MDR is a replacement of the European Union Medical Device Directive (EU MDD). EU MDR devices are produced in, or supplied to, member countries of the European Union. The EU MDR regulatory framework identifies medical devices and standardizes data and technological advances through an EU database (Eudamed).

The EU MDR is intended to be a regulatory framework for medical devices that can sustainably ensure health & safety while still encouraging innovation.
History
The EU MDR was essentially born out of a series of unfortunate events related to compromised safety of medical devices. The most notorious scandal? Breast implants.
Henri Arion, a plastic surgeon, introduced breast implants to France in the year 1965. He worked together with Jean-Claude Mas, a former butcher turned medical sales representative (sounds like the start of a Horror movie, we know). After Arion died in a tragic plane crash, Mas launched Poly Implant Prothese (PIP) in 1991. The company produced approximately two million sets of silicone breast implants over 20 years...ultimately creating a global health scare that would give rise to the EU MDR.
The silicone-based scandal was finally exposed when PIP implants made from a cheaper, industrial-grade silicone were found to rupture at a rate that was double the industry average. The compromised quality of the silicone gel was known to cause inflammation and possible scarring. The timeline below summarizes the story.
Key Changes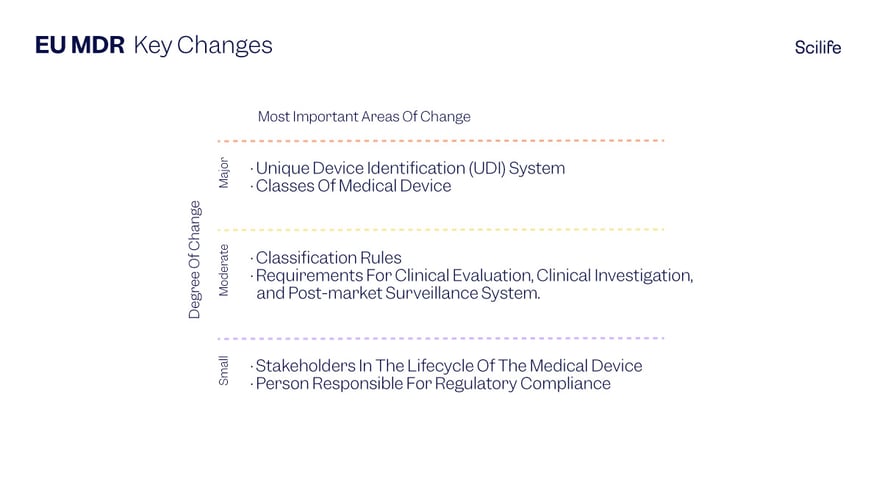 The fundamental revision of EU MDD, which had been in place for almost 25 years, was essential to establish a more transparent, robust, sustainable, and predictable regulatory framework for improving the overall level of health and safety of medical devices, without compromising on the innovation in the industry.
The new EU MDR legislation imposes regulatory obligations unlike EU MDD (which was purely directive in nature). Some of the key changes imposed by EU MDR are:
Product Classification
EU MDR specifies new rules for substance-based devices. Devices with substances to be absorbed by the body are under the new classification system. This has caused many devices to be reclassified into higher risk classes.
Clinical Evaluation Process
Tighter areas of clinical investigations and post-marketing follow-ups.

Clinical evidence needs to be up to date, clear, convincing and publicly available.

For Class III devices and implantable devices, the post-market clinical follow-up evaluation report, the summary of safety and clinical performance shall be updated at least annually.
.
Notified Bodies
These are organizations designated by the EU member states. A notified body performs the assessment of product compliance with all the obligatory standards and procedures.

The major change introduced by MDR and IVDR relates to the supervision of notified bodies, because of this change, a substantial number of the current notified bodies may potentially lose their designation or see changes in the scope of their authority.

Notified bodies will have additional responsibilities as they will have to consult with the European Commission on clinical evaluation and conduct surveillance assessments.

Notified bodies will continue to provide assessment only of higher class medical devices.
Eudamed Changes
Eudamed is the European Union's database for medical devices. The database was founded in 2011. Eudamed is not a public database. And it is also not accessible by the public.

It is a web-based platform that stores all relevant regulatory information for medical devices. The regulatory information is received from manufacturers and notified bodies. The main reason behind the establishment of Eudamed is to facilitate information exchange between the European Commission and competent authorities in the European Union Member States.

The information includes: registry of manufacturers, declaration of conformity, authorized representatives, and incidents or near-incidents reported during the use.

Eudamed database will now also store information related to postmarket surveillance activities, periodic safety update reports, safety and clinical performance studies. It will also provide more detailed information on manufacturers, clinical investigation data, and device registrations. The Article 33 covers details on changes related to the Eudamed database .
Economic Operators
New regulations provide guidelines for all stakeholders on how to execute assigned duties and help organize responsibilities among suppliers, importers, subcontractors, assemblers, and EU authorized representatives.

This is the most welcomed change by all parties as it makes processes like technical documentation, complaint submissions,labeling, and post-market surveillance much clearer. These changes are covered in the Articles 10, 11, 13, 14, and 30.
UDI System
The implementation of Unique Device Identification (UDI) into EU MDR has been long-awaited and very essential.

The addition of a UDI system intends to increase the traceability of all medical devices available in the market by placing a unique code on the device label.

UDI offers several benefits and will be primarily utilized for reporting serious safety incidents and identifying counterfeit medical devices.

The details of this new system are covered in the Articles 18, 19, 27, and 87.
Important Timelines
Recently, there was an amendment to change the date of application for the EU MDR. The date was postponed from May 26, 2020 to May 26, 2021 due to the global Covid19 pandemic. The decision to amend the Regulation relieves pressure on national authorities, Notified Bodies, manufacturers, and other stakeholders.

The final date for all MDD-certified devices to be certified under the new MDR is May 25, 2024. If a medical device is EU MDR compliant prior to this date, then it can be certified under the MDR. However, it is not mandatory to obtain EU MDR certification, if the MDD certificate for the device is still valid until May 25, 2024. If the EU MDD certificate expires before 25 May 2024, then such a medical device needs to be recertified according to the EU MDR.

In summary, the last date to obtain EU MDR certification is May 25, 2024 – after this date, all devices available in the market must be certified under the EU Medical Device Regulation.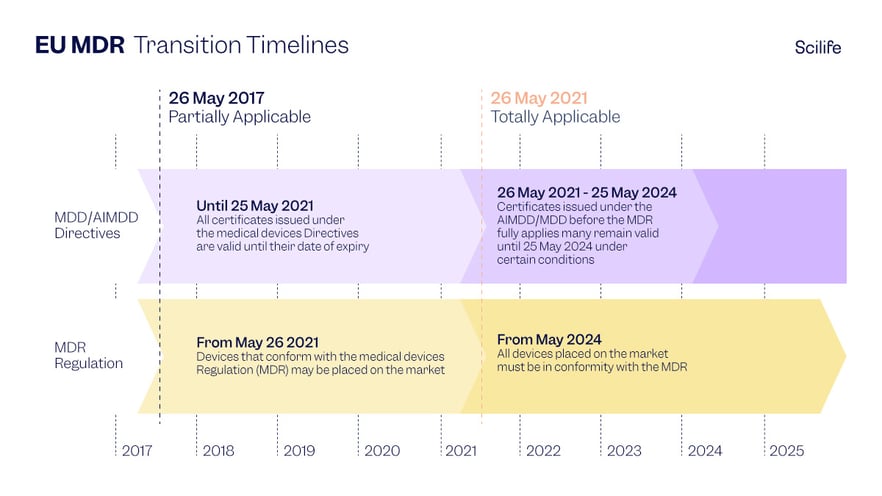 Important Steps
The official website for EU MDR lays out the following 10 important steps to comply with the regulation.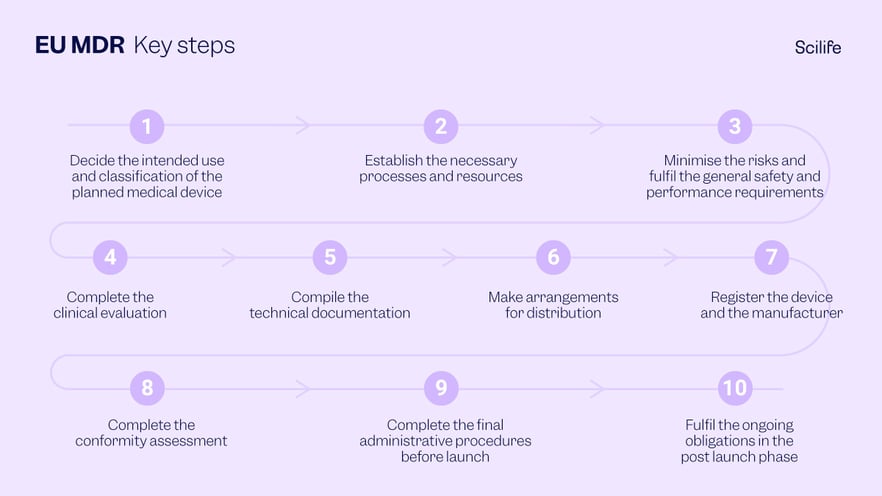 Conclusion
A March 2020 MedTech Summit report, which presented the results of a survey of manufacturers showed that:
Only 17% of manufacturers felt fully prepared for the MDR.
15% reported being "not at all prepared" or slightly better.
65% of respondents were intending to use the full period of MDD/AIMDD certificates to get prepared for the MDR.
The survey indicates that most respondents need guidance in this process. We are monitoring the legislative developments closely, and our aim is to help our Life Sciences and medical device customers achieve total EU MDR compliance through our Scilife platform.
We hope that our clients will take maximum advantage of our services as EU MDR also encourages the manufacturers to leverage support from suppliers.
The QMS compliance required by EU MDR is aligned with the requirements specified in ISO 13485:2016. We have prepared a checklist to help our readers self-assess their QMS readiness in accordance with EU MDR and ISO 13485:2016. Click here to download the checklist and do a free assessment right now.

If your QMS doesn't make the grade or you have any uncertainties, Scilife is an ideal option for Life Sciences and medical device companies; a dedicated platform that goes above and beyond even an advanced QMS; improving all your processes as well as your quality management.
We hope that an overview of the key changes, timelines, and important steps will help our readers begin their preparations to become fully compliant with EU MDR.
Ready to get certified?
Join other medical device companies preparing for the EU MDR transition with us.