Employee Training Management Software
Trainings Quality Management System: create trainings once and assign employees to training groups. Train fast. Train smart.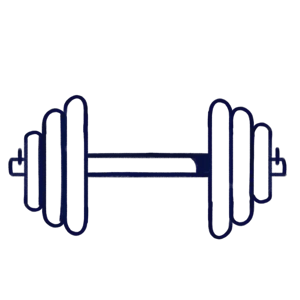 Untrained Staff is Risky Business
In the tightly regulated Life Sciences space, poor training can quickly snowball into a compliance disaster. However, setting up trainings is a pain. It's even worse to chase after employees with training reminders, or to remember when someone needs to be retrained when you update something.
Configure and Forget
Let Scilife's Trainings solution do the heavy lifting (and the boring part) for you.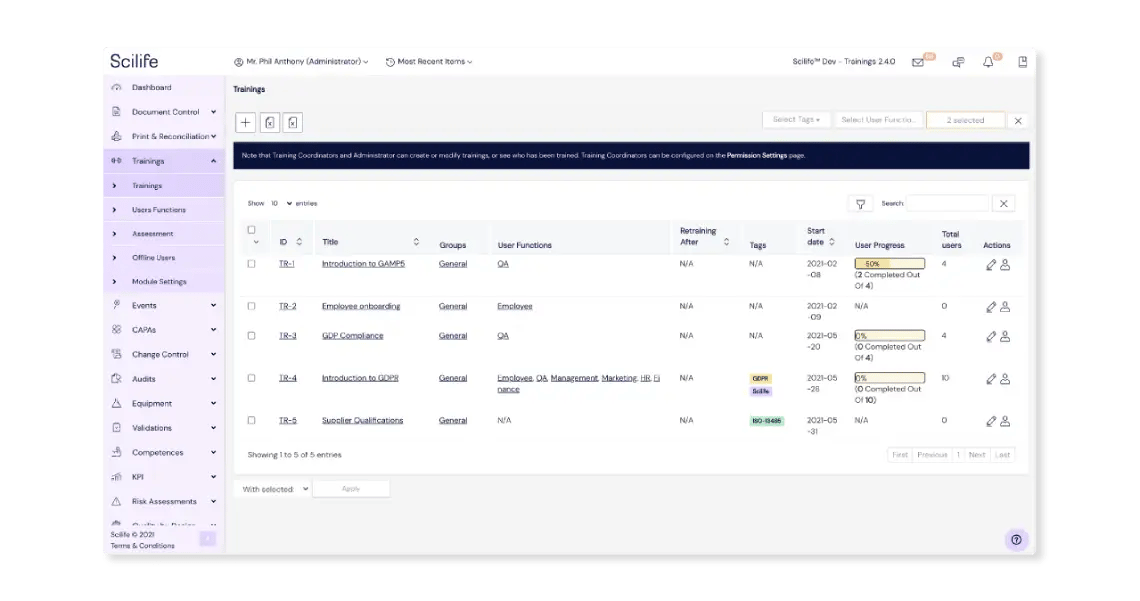 Finetune your trainings
Tailor training to job positions
Define your training matrix based on the specific job roles within your company and train employees accordingly, by differentiating training by job type.
Employees can be assigned a training plan while each training plan remains totally customizable on a user-by-user level. Additionally, this customization allows you to control the flow of training materials on both a high and/or individual level.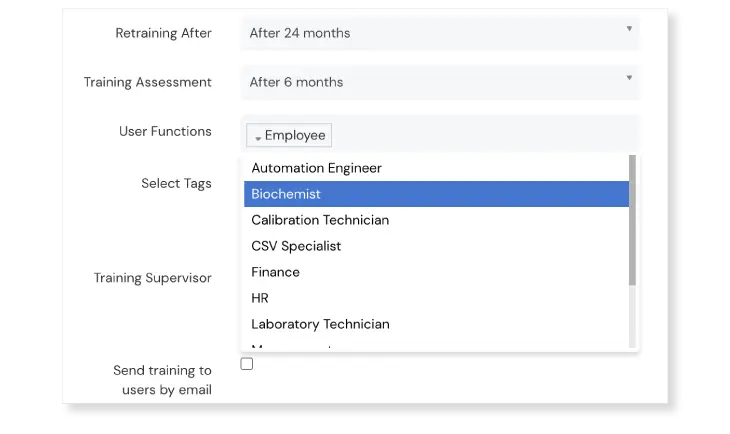 Create trainings in a few clicks
It becomes really easy (and fast!) to design fully compliant trainings. Simply fill in our provided templates with the necessary details, such as starting date, training duration, assessment date and name of supervisor. Then, assign any documents that must be read and understood. There are plenty of optional features available so you can customize as you wish; include adding mandatory tasks and providing links to external media.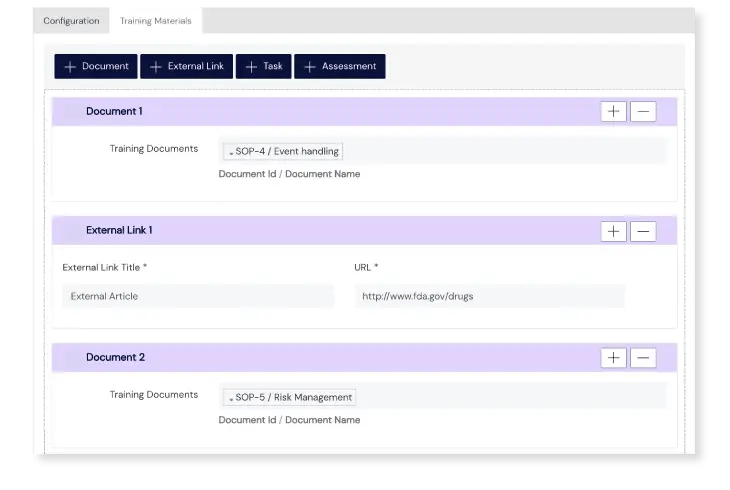 Automate the details
Follow your team's progress
On the Training Detail page, a progress bar shows both employees and supervisors how each training is progressing. Once a training is completed, your employee can sign off with their fully compliant electronic signature. Supervisors have access to the stats of their whole team, where they can see everyone's progress at a glance, and download training reports.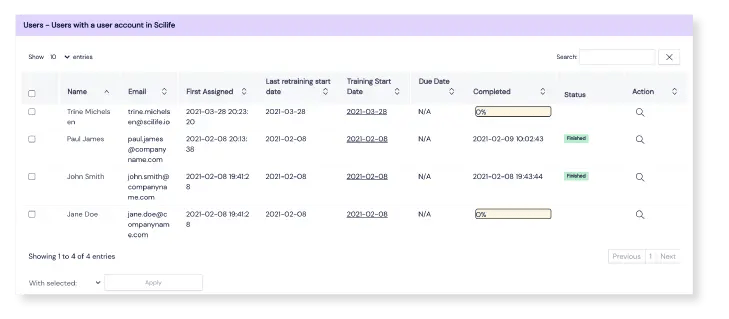 Comprehensive employee assessments
Want to know how well a specific training is performing? Build quizzes or assessments with multiple-choice questions for your employees to check training effectiveness. You can also automate training approval according to a set percentage of correct answers.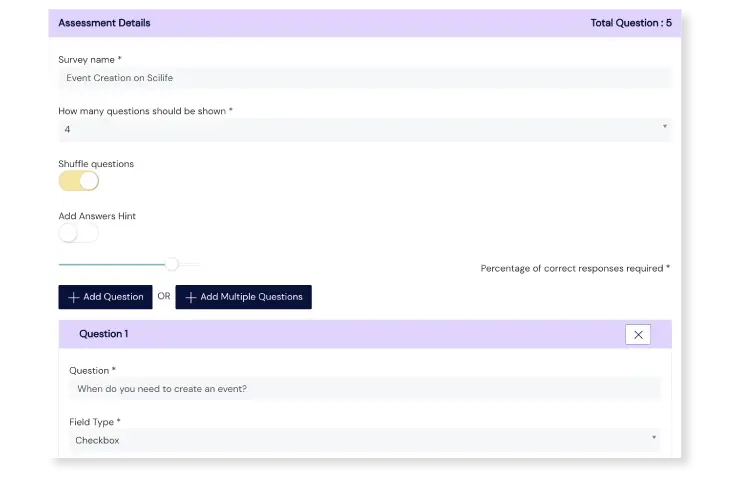 Intelligent (re)training notifications
There's no need to remember who needs training reminders. Scilife notifies the right people at the right time when to begin their allocated training or retraining. If any documents are updated, Scilife will let them know automatically too. All you need to do is allocate them to a training group, and we'll take care of the rest.
What
Our Customers

Say

Scilife's Trainings solution is a hit with Life Science companies!
Scilife has provided CTC AB with a simple and effective solution for electronic training management. Most importantly, the Trainings module has greatly improved our control of training content, performance, and documentation, but also allowed users to have better oversight of and keep up-to-date with their own training, which has been highly appreciated by our co-workers
Sofia Nyberg and Jasmin Faroque
QA Specialists at CTC Clinical Trial Consultants AB
CTC Clinical Trial Consultants AB
The Training Module has simplified how we manage what training needs to be done and by whom. Being able to assign a training file to a user function has made the process more efficient for us. Adding external links or internal documents, quizzes, etc.. is very convenient, as is having everything in one place. Receiving email notifications when training is created and when training is due helps to keep us on track. Working with the Scilife is always a pleasure.
Amanda Amell
Quality Assurance Associate
Shoebox
As a leading company in distribution of high end medical technology, continuous education is part of our DNA. Scilife training module assists us perfectly to implement and follow-through on our training plans.
Jef van Dam
CEO
DC Medical
Frequently Asked
Questions
Find answers to the most common questions about the Trainings solution from our Scilife customers.
Is your question not listed?
Get in touch!
No, you can also assign a specific user to a training as an exception.
However, user functions are meant to automatically assign users to trainings according to their functions and tasks in the company. This is recommended to keep training assignment organised and automated, but there can indeed always be an exception.
No, only Training Supervisors can create and edit trainings.
Any user (except for Read-Only Users) can be configured as Training Supervisor to enable them to manage trainings.
Yes, they can. So "read-only" is not entirely true in this case :)
It would be best to provide all employees who need training with a user in Scilife (they can be a Read-Only User) to automate the training workflow as much as possible.
However, in case certain employees normally don't have access to a computer and do not even have a company email address. In this case, you can take advantage of the "Employee" feature in Scilife. This enables training supervisors to import a list of employees with their names and some unique ID after which training supervisors can set them to "Trained" manually.
This way you can still have a clear overview of the training status of all your employees, not only for the ones who actually have a Scilife user account.
Yes, this is default behaviour in Scilife.
Before a document in Document Control gets published it receives the "Approved, not published" status. This status already triggers training or retraining (for a new version of an existing document). During this status users are notified by email to inform them about finishing this training.