Deviations & Nonconformities Management
Software
Register an event in seconds and makes follow up actions a breeze. Simplifying the process for employees means less missed events, fewer compliance issues and time saved!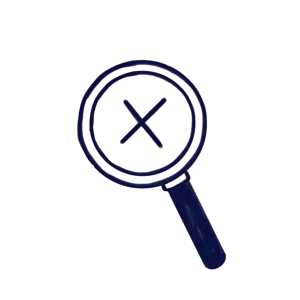 If it's not quick to do,
it won't get done
Unless an event, such as a deviation, nonconformity, or complaint, can be registered quickly, by anyone, it simply won't get logged. That can lead to headaches later on.
Limitless
event types
For ultimate personalization to your needs, you're able to create as many custom event types as you want, including events like deviations, nonconformities and complaints. It's easy to preconfigure certain options, like an automatic ID prefix for each event type, choice of impact level, and which QA team will need to be notified by Scilife to follow up the event.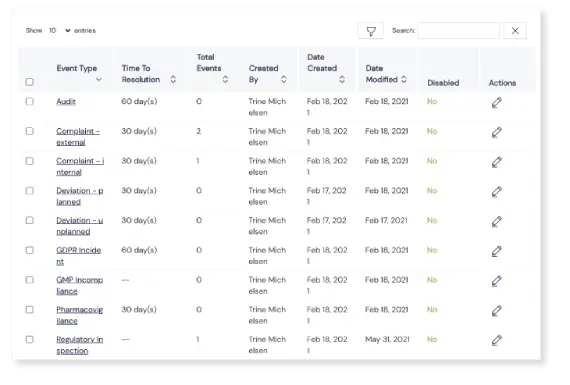 Handy
Custom fields
Need additional fields to capture more details? No problem! Add fields if and when you need them, including text fields, dropdowns, checkboxes, file upload options, date fields and more.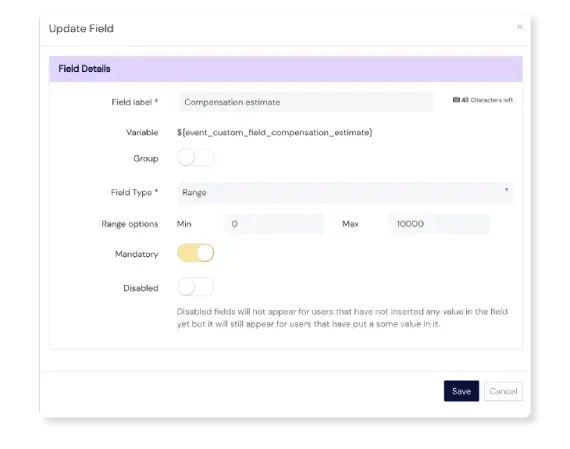 Register

an event in seconds

Our event logging form is complete and compliant, but simple. What's more, the Scilife platform is accessible on any device at any time, including smartphones and tablets. This lowers the bar for employees to register events, and lessens the risk of forgetting or missing a potentially important one.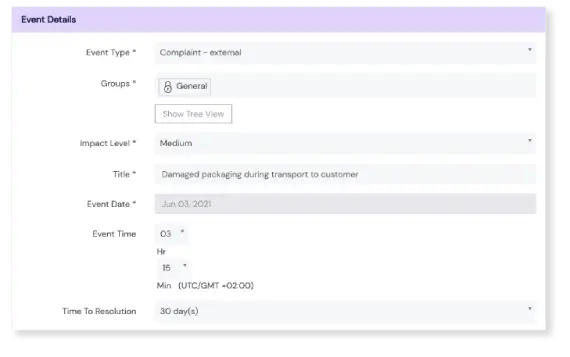 Traceback
responsibility
Find out which products, projects, services, clients, vendors, or any other source are causing the most events and quality issues. Our Events module lets you tag each event with the responsible party.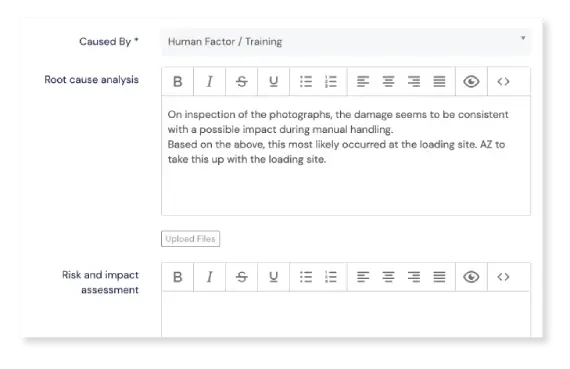 Upload proof

where necessary

You can easily upload (multiple) files as proof in many places during the event workflow, such as during event registration or while performing root cause analysis and impact assessment during the event investigation phase. On the Event Detail page there's a Files section where you can find all uploaded files neatly listed.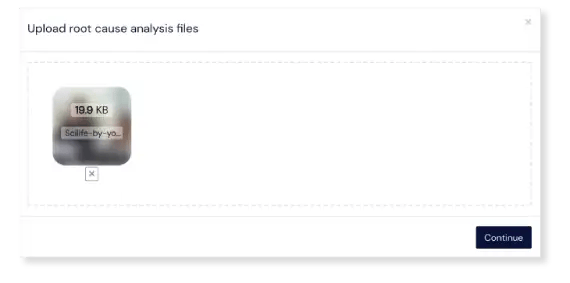 Streamline
workflows
Event creation, investigation, and review phases are in a seamless cascade to make the whole event workflow smoother and reach closure quicker, as well as ensuring correct follow ups. If CAPAs need to be linked, that can be done at any stage in the process.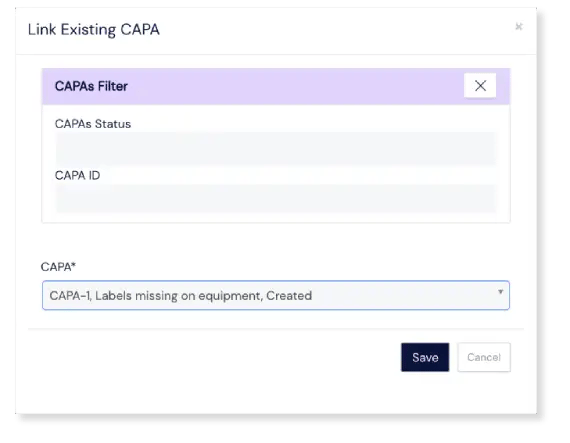 What
Our Customers

Say

Scilife's Events module is a hit with Life Science companies!
The basic architecture of Scilife is built so that you intuitively find your way and every module can be customized to your own needs. The events module of Scilife is very user-friendly making the transition from a paper-based system to a digital system very easy for all employees involved in complaint registration. As a responsible person you always and everywhere have access to the registered complaints allowing easy follow-up.
Sofie Sap
QA and Regulatory Affairs Manager
ALL-in-1/Amophar
What I like about the event module is that it allows to have a clear and quick view on all events opened, their category and statuses. The use of different tabs (investigation related events, CAPAs…) is easy and information is well-structured and complete and the link between the event and CAPA module is useful and allows to have a separate view on all open actions related to event.
Murielle Herman
Quality Assurance Manager
Bone Therapeutics
Scilife helps us log the details of events, findings of the investigation and any supporting files linked to the event, up until the communication about the event with the impacted client in case of a complaint. Especially, adding custom fields allows us to finetune the recorded information on events, depending on the needs of our company. Furthermore, the possibility to link events to a CAPA helps to manage the follow-up on the complete set of actions.
Astrid Vyncke
QA Manager at Raes Pharmaceutical Logistics
Raes Pharmaceutical Logistics
Frequently Asked
Questions
Find answers to the most common questions about Document Control from our Scilife customers.
Is your question not listed?
Get in touch!
An event is anything which happens in a company or institution which needs to be registered. For example deviations, nonconformities, internal or external complaints, etc. are different types of events in Scilife.
You can create as many event types as you wish. Typically you would create for example Deviation, Nonconformity, External complaint, Internal complaint, etc. Then, when a user creates a new event and selects an event type, the form is already pre-populated with relevant data, to make event registration as fast as possible.
Once an event is registered it immediately gets the Under Investigation status. People which are assigned as Investigators can then gather information by doing root cause analysis and impact assessment. When investigators are done, the event responsible and QA need to sign off on it in order to close the event.
During this workflow, if at any moment a CAPA seems to be appropriate, this can be created directly from the event's detail page to link it automatically to the event in question.
All users can create events except for the Read-Only types of users.
Yes, you can link events to each other. But because not all companies found this useful, you can activate/deactivate this feature in the module settings page of the Events module.
You can upload files to many of the event fields during registration of the event, like the Steps Already Taken field, or during event investigation, like the root cause analysis and impact assessment fields.
Because file upload is supported throughout the event workflow, you can find a convenient list of all uploaded files on the Event Detail page, with an indication where the file was uploaded.
No, you can't. Once an event is signed off and closed it cannot be reopened. In this case we suggest to register a new event and link it to this closed event for traceability purposes.