Quality Equipment Management Software
Use simple workflows to keep all your qualification, and recurrent maintenance and calibration tasks in order.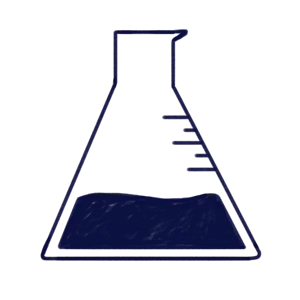 Keeping track and planning of maintenance and calibration tasks
is a hassle
These need to be planned carefully, assigned to the right person, and backed up by proof to ensure inspection readiness.
Our Scilife Equipment module
keeps it simple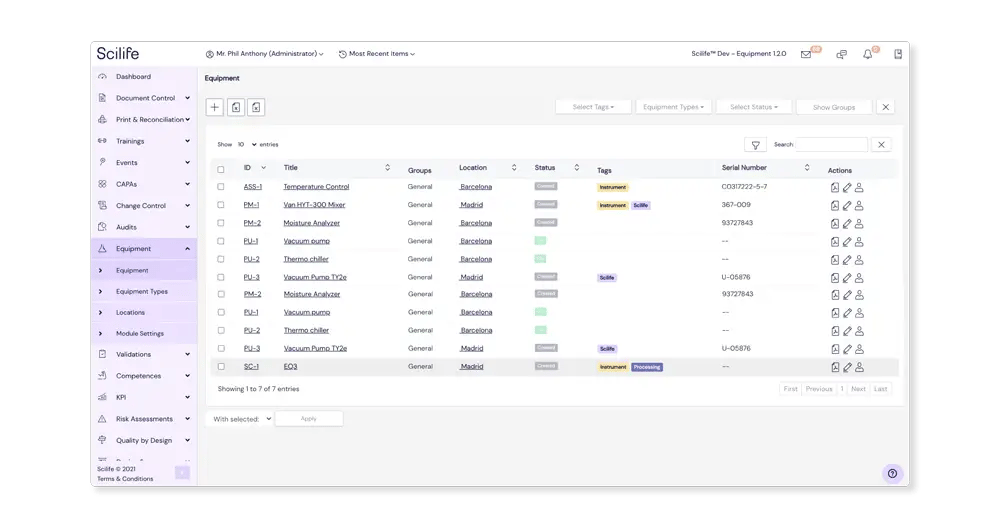 Keep your Equipment and
instruments consistently
up to date
Register your
Equipment by type
Simplify the task of adding new Equipment by configuring Equipment types in the module.
This lets you define Equipment types for your lab instruments and manufacturing machines, as well as add any relevant information such as manufacturer, supplier and location. Our module also enables you to link Equipment types to tags used throughout the Scilife platform. When creating new Equipment based on preconfigured Equipment types these fields will automatically be populated.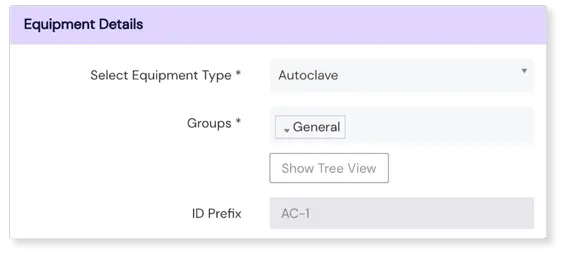 Make sure
equipment maintenance

never fails

Our Equipment module helps you fail-proof your Equipment processes effectively, by allowing you to create recurring maintenance and calibration tasks. When defining these tasks in our Equipment module you'll be able to describe what needs to be done, who will do it, when they should do it (through set deadlines), and how often they should repeat the process. Our module enables you to switch on autonomic employee notifications so the right people act at the right time.

Seamless integration

with other
Scilife modules
Effortlessly connect Equipment
to Events
Non-conformities or deviations created in our Events module can be easily linked to an Equipment element. It's straightforward to create the connected Event directly from the Equipment Module, and keep full traceability over both modules.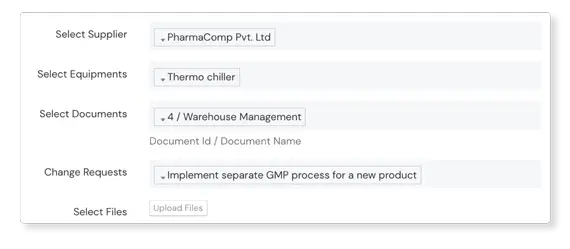 What
Our Customers

Say

Scilife's Equipment module is a hit with Life Science companies!
The equipment and training modules have been constantly evolving in 2020/21 with even greater functionality and ease of use. Customer service is prompt and effective. Kudos to Scilife.
Madhu Hariharan
COO and CSO at Nova Thin Film Pharmaceuticals
Frequently Asked
Questions
Find answers to the most common questions about Equipment from our Scilife customers.
Is your question not listed?
Get in touch!
Yes, when creating the Equipment, you will be able to upload files in different formats such as doc, pdf, jpg, etc.
Yes, Scilife enables you to define locations of your Equipment in detail, allowing you to define overall locations and then specifying sublocations if needed. For example, you can define that a lab instrument is in your plant in London and then specify which Laboratory it is in.
Before any Equipment reaches the final OK status, QA can either approve it by signing of or reject it. When rejecting any Equipment QA is asked to give a reason. The responsible person then has a chance to rectify the issues that need amending and ask QA for approval again.
Yes, the Equipment goes through different statuses, but the process is simpler than in other Modules, once the Equipment has been Created it passes to Under Signing by QA and then finally to OK.
Yes, all Scilife Modules are configured so that you can easily export a List in Excel of all the contents of the Module. You can preconfigure exactly which information to include in the Excel spreadsheet by adding the columns in the Equipment List.
Yes, linking items to Groups is a fundamental function in Scilife. By working with Groups, you define who can see the Equipment and also who can have a role in relation to the Equipment.
Yes, the Equipment Module relies on the Contacts you have created in Scilife. In order to link a Manufacturer to Equipment, you must first add the Manufacturer to your Scilife Contacts. Thereafter you will be able to select the Manufacturer both in Equipment Types as well as in Equipment details.