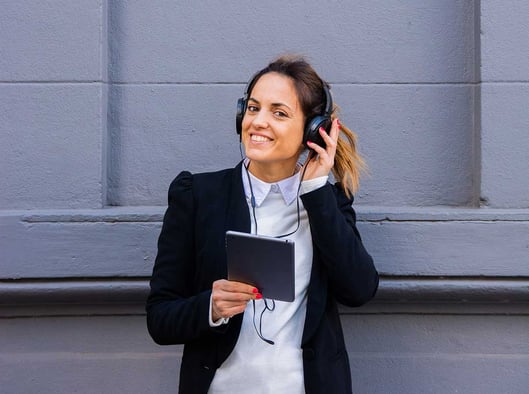 About
SHOEBOX
SHOEBOX Ltd. is the maker of the world's first automated, iPad audiometer. Their core philosophy? Hearing health care should be available and accessible to everyone.

Our customer success manager, Trine Michelsen, sat down virtually with
Amanda Amell, Quality Assurance Associate in charge of all QMS related activities and the document control system at SHOEBOX., and Sarah Mersereau, SHOEBOX's Manager of Quality and Regulatory who supports their document control system but is also responsible for applications and maintaining clearances in domestic and foreign markets.
How has Scilife

helped SHOEBOX?

Amanda begins by explaining that Scilife helped centralize processes, and that was a great benefit and resource-saver for SHOEBOX. She describes that the greater visibility of having everything in one place really cut down on manual and admin time. Having a birds-eye overview of everything, including document review timelines and staff training, means opportunities to grow could be spotted and implemented easily as well.

The centralized setup that Scilife provided also minimized the potential for errors:
'Scilife is definitely a better system than trying to email someone when it's their turn to look at a document and link documents here, there, and everywhere. Then you have document copies floating around and people get confused about what's the accurate copy and so on. Scilife prevents this chaos and leads to more accurate information.'
Amanda Amell,
Quality Assurance Associate at SHOEBOX
Amanda then highlights that Scilife helped the entire SHOEBOX team transition to a fully remote-enabled workplace, and that implementing it at the start of the pandemic was really good timing since maintaining paper-based workflows would have been impossible.
Having a fully paperless system in place not only saved SHOEBOX time and costs, but also reduced quality risks, such as mixing up older versions of documents or losing pages. And importantly, it removed a whole lot of frustration and pain points!
'A paper-based QMS is a major pain point for anyone. Having to do manual signoffs, maintaining paperwork, tracking missing updates, documents or trainings is a whole lot more time consuming. We used to pass paper along different people's desks and have to wait. With paper in general, there are associated risks. When we had a training record signoff we used to hang a page in the office kitchen and the team would sign it when they read their updated documents! It was a mess!'
Amanda Amell,
Quality Assurance Associate at SHOEBOX
Amanda concludes that Scilife has become an integral part of her working day and she'd never go back to the old ways, she practically 'lives in Scilife'!
Why Scilife?

Key Advantages.

When asked why SHOEBOX management chose Scilife over other solutions, Amanda replies that there were several factors that tipped the scales in Scilife's favour:
1.
Pay-for-what-you-need

and

cloud-based

Amanda explains that Scilife's modularity and payment model played a big role in the decision to choose Scilife, as well as the platform being entirely cloud-based:
'With some eQMS systems we have to purchase a bundle and that's that. Whereas Scilife is more split within modules and that gives us more flexibility in what we use and what we don't need'

2. Geared toward
regulated industries
A second advantage, Amanda notes, is that Scilife is specifically tailored to the Life Sciences industry.

3.
Quick access to and replies

from customer support

Scilife's customer support team was another driving factor for Amanda:
'I appreciate the link to support and how quickly we get a response from the feedback that we provide to Scilife. Having that ease of access at a click of a button, and then not long after having access to a support person to discuss whatever our issue is. Sometimes it's problems, sometimes it's improvement opportunities, whatever it is, just having that is such a big benefit. That reach is definitely good because sometimes things just pop into my head as I'm doing something and then I'm thinking I should write that down. I'm just going to send it to Scilife and in an instant, it's done. And then within a day, I get a response!'
Amanda Amell,
Quality Assurance Associate at SHOEBOX

4. Scilife helps with
QMS transition and data import

:

Scilife helped with the initial transition of existing spreadsheet data. 'Having that initially imported was obviously a time saver for admin users of Scilife'

~
Adaptability

to Scilife

When asked how long it took for SHOEBOX's users to be proficient with Scilife:

Depending if they are frequent users, then it's a faster learning process. Most just need a few reminders or quick tips to help them along. Generally, a couple of weeks when there's a work instruction to refer back to, to understand the concept and workflow.
Favorite
Scilife features
When asked to pick out her favourite Scilife features, Sarah and Amanda highlighted:


1. Integration with
MS Word
Sarah points out that Scilife's inbuilt integration with MS Word really adds to the software's ease of use:
'MS Word is a very familiar tool and that makes it much easier for people to use Scilife. I've worked in other products where you can edit the document in real time on the system, but sometimes it's not fully featured. People find that very frustrating. You have to relearn how to edit documents, learn a whole new system, that's a whole new layer and people get very frustrated or they find that they can't communicate what they want to do, or even delete sections by accident. A lot of those kind of errors happen, and with Scilife I just haven't seen any of that happen'
Sarah Mersereau,
Quality and Regulatory Manager at SHOEBOX

2.
Connected

modules

Amanda explains that the connection between the modules they use is very good, and the fact that documents are linked trainings by user function makes life so much easier when it comes to assigning trainings.
3.
Ease of use

and

reporting capabilities

Both Amanda and Sarah like that Scilife is so easy to access and use, and that everything is able to be monitored. They also like that Scilife can produce detailed reports.


4. Personalised and fast
customer support
Amanda points out that regardless of her feedback to Scilife, she always gets a fast response:
'The response from Scilife comes within a day; and it's either a yes, we can do something or a no, we can't or we'll wait and see, but we will check it out. I think that's helpful for other users who have difficulties in certain places or have feedback of their own.'
Amanda Amell,
Quality Assurance Associate at SHOEBOX
5.
The Knowledge

Base

Finally, Amanda mentions that she appreciated the link to Scilife's tutorial and information-filled knowledge base.
Notable
Improvements
The biggest improvements SHOEBOX experienced from implementing Scilife were saving time, and removing frustrations. This resulted from the jump to being fully paperless, but also Scilife's central setup and handy integrations with existing work tools like MS Word.
'The speed with which we can process documents at SHOEBOX is now almost overwhelming. the actual process of Scilife is lightning fast '
Sarah Mersereau,
Quality and Regulatory Manager at SHOEBOX
Peer
Advice
When asked about what they would advise other professionals when it comes to deliberating Scilife as their eQMS solution for their companies, Amanda and Sarah both agree…do it!
'Yeah, absolutely definitely do it. Don't hesitate!'
Sarah Mersereau,
Quality and Regulatory Manager at SHOEBOX
Both point out that some important things to keep in mind are:
It depends what your company is looking for

Choose Scilife if you're looking for a simple all-in-one solution, efficiency & saving time,

Consider switching if your current eQMS system isn't meeting your needs:

'If you already have an eQMS system that you aren't finding easy, accessible, or with everything that you need at your fingertips then you should consider switching because that's not a system that is supporting you.'

Sarah Mersereau,
Quality and Regulatory Manager at SHOEBOX


Don't underestimate the amount of work to import paper documentation into an eQMS, otherwise you'll be disappointed with the experience. It may be a bit overwhelming at the beginning but it's well worth it.
To
sum it up
SHOEBOX made the jump from a burdensome paper-based QMS to Scilife at a critical time in their company timeline, when remote work was a necessity. It helped SHOEBOX's team to save hours of manual work and created a frustration-free, easy-to-use, central and fully digitally streamlined system.
'Amanda is our QA department. She's able to kind of handle this entire volume of work as we grow and as we move because she has Scilife as a tool to rely on.'
Sarah Mersereau,
Quality and Regulatory Manager at SHOEBOX