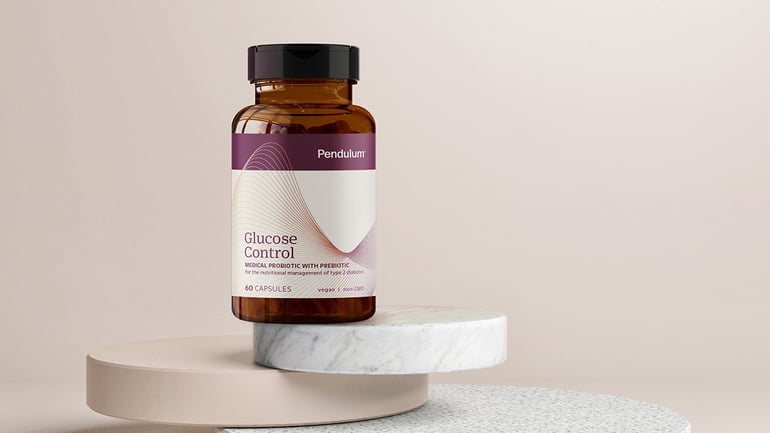 Pendulum's medical probiotic designed for the dietary management of type 2 diabetes | Source: Pendulum's website
Pendulum™ is on a mission to help people improve physical and mental health by creating a new category of products that target the microbiome. They are researching, developing and commercializing a novel class of rationally-designed Live SynbioticsTM (probiotics + prebiotics) that have demonstrated clinical efficacy to treat conditions like metabolic syndrome, inflammation and neurodegeneration. Pendulum™ has created proprietary pipelines to build a unique discovery platform that identifies key, novel bacterial strains and the prebiotics that feed them. Since the product has its commercial presence in USA, the company is expected to meet current Good Manufacturing Practices (cGMP), Hazard analysis and Risk based preventive controls for human food mentioned in 21 CFR Part 117. Pendulum opted for Scilife solution where they could maintain the change controls, standard operating procedures and other documents in one place from where they could be easily edited, revised with a proper audit trail.
Our Customer Success Manager Trine Michelsen spoke with Achal Deo, Director of Quality and Regulatory at Pendulum. During the talk, we discovered many ways in which Scilife was proving helpful to manufacture Pendulum's rationally-designed Live SynbioticsTM.
Why Scilife
When asked about choosing Scilife over a number of other solutions in the market, Achal mentioned several reasons as follows:


1. The number one factor e-QMS
The number one thing which was the driving factor for choosing Scilife was that it was an e-QMS. Achal described to us that before opting for Scilife Pendulum had a hybrid Quality Management System, where in nothing was paper based, the documents were being signed by DocuSign but the process was quite 'painful' as it did involve some manual work for keeping version numbers, revisions and following up with people for approving a change.


2. The key thing: All in one e-QMS solution
Achal mentioned that "the key things that really stood out to us was that Scilife had all the modules that Pendulum needed. Making it an all in one e-QMS platform"


3. A Startup friendly configurable system
Achal also likes the openness of the system with which certain modules can be configured so that they are well suited for the process. As a startup this was super important for Pendulum because a startup needs to evolve fast as per changing expectations, unlike a company with a 20 year old legacy product in the market.


4. The Onboarding Support
One more aspect which helped Pendulum in decision making process was the Onboarding support given by the Scilife team. Initially Achal had a very small team consisting of only two team members, which included herself and her Quality specialist. Therefore without external support the mammoth task of transitioning from one system to another looked very challenging.


Therefore, Scilife's onboarding support proved to be really useful to offload the transition effort.
5. The Perfect Training Solution for Quality
Training process is very critical in a startup, especially because startup employees have to wear so many different hats and thus constantly need to be trained for different job roles. Also when a startup gets into the growth phase, there are an increasing number of new hires every month. In such a scenario Scilife's Training module automates the training process really quickly. Allowing to automatically assign and track trainings based on job roles. One interesting aspect which Achal mentions is that Scilife is also being used as a nice introduction to ' Quality Training' as every aspect related to Quality Management System can be demonstrated very well in Scilife. This has tremendously helped new employees quickly get trained on all the aspects related to quality management. They can clearly visualize the change management process through proper risk assessment and the workflow that makes change stick. This helps the new trainees appreciate that the quality management processes are there to make their lives easier and also to provide safe products to the user.


This is especially useful to build a culture where people know that they are not using a Quality Management System to meet the regulatory requirements but to understand why they do what they do.
It is an important reminder of the fact that as a manufacturer or a producer of a product, ultimately, it's your responsibility to ensure that what people are getting is safe and effective.
Adaptability to Scilife
We asked Achal how much time the Pendulum team spent on getting familiar with the system. Her response indicated that users showed appreciable progress from getting familiar to getting proficient.
| | |
| --- | --- |
| Proficiency Level | Time Duration |
| Familiar with Navigation | 2 weeks |
| Familiar with Process of initiating Deviation | 4 weeks |
| Fully Proficient | 8 weeks |
Having been involved in the procurement process, Achal and her team was quicker to adapt to the new e-QMS system but it did not take very long for the production team to get used to the new system too. Achal thinks that the Dashboard feature in Scilife is very user friendly and it contributed largely to the quick adaptation to the tool. Dashboard sorts out the biggest 'To Do' items that the user needs to work on. The feature makes it very easy to pull out the in-progress QMS actions for the responsible user.
Achal also goes on to describe the strategy adopted by her to onboard the teams on Scilife. Achal made it a point to remove everything from the drive where the earlier 'hybrid QMS' existed and trained everybody using the recorded Scilife training sessions to familiarize users with the new system. It helped them avoid falling back to older ways of doing things.