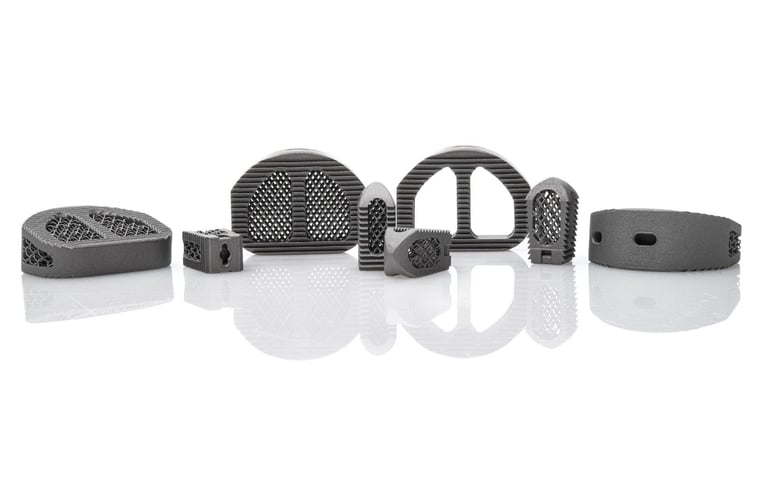 About
Amnovis
Amnovis is an additive manufacturing production and engineering company, launched in 2020, that embodies a real sense of entrepreneurship. What sets this young startup apart is their focus on innovation using the latest cutting-edge tech in an extremely regulated industry; Medical Devices. Amnovis is a contract manufacturer of high end quality critical products and components using hyper-modern additive manufacturing techniques, such as 3D printing titanium spinal implants.
Ruben Wauthle, co-founder and CEO of Amnovis, and Bert Engelen, Quality Manager at Amnovis, sit down virtually with our customer success manager, Trine Michelsen, to talk about the startup's entrance into the Medical Device market with Scilife by their side.
The

Challenges
Ruben explains that his main vision for Amnovis is, without a doubt, innovation. Therefore, he found it important for the company to work with a quality management system sharing that fast-growth and fully digital mindset;
'We are looking to introduce new printing technologies, new materials that can be printed, or new applications that haven't been printed before. We really want to look for the next big thing and want to enable those innovations. That's innovation in terms of additive manufacturing; so technologies, materials, and applications - but we also see innovation as a tool that helps us to improve our organization and our operations, which means in practice that we really put a strong focus on digitizing and automating things as much as possible.'
Bert adds that Amnovis had big, yet very well researched aspirations from the start and needed an eQMS provider to match those;
'We had a bit of an atypical mindset in the sense that we want to do things right straight from the starting block. So from day one we wanted to focus on using state-of-the-art tools to allow us to innovate and to allow us to manufacture high quality and critical components.'
Based on his experience with other ISO 13485 environments, Bert explains that he's seen how often a QMS is considered a burden, and he was adamant to avoid that completely for Amnovis;

'It's very easy for a quality management system to become a headache to a lot of employees rather than a tool that helps the company to do better. The paperwork and the administration that comes along with such a quality management system are not only a hurdle, but can also be a source of a lot of human error, which then in turn leads to risks and to non-compliances within the quality management system. That's why we saw the value to focus straight from the start on digitizing our quality management system, and to work with a quality management system and environment that was flexible and lean.'



The

Search
When asked about what made Bert and Ruben choose Scilife as the eQMS for Amnovis, since there are similar solutions on the market, Bert replies that it was Scilife's scalability that really won him over;
'Scilife's modularity and the opportunity to start small and simple, but to scale it up easily was a big reason for us to choose Scilife.'
A second major reason, Bert adds, was the fact that Scilife is GAMP5 pre-validated to meet the strict regulatory requirements of the medical device industry;
'Looking at our potential customer base, having a software that is prevalidated to comply with the requirements of the FDA, such as 21 CFR part 11 and ISO 13485 definitely was a big plus.'
The

Set Up
Trine asks in what way Scilife has an impact on the quality culture of Amnovis. Bert reflects that his team were fast to embrace the platform and now see Scilife as the most efficient tool to handle their day-to-day work;
'The user-friendliness and the intuitive character of Scilife means our employees who are using it look at it as a useful tool that helps them to perform better and more consistently at their job, rather than something that they must include in their day-to-day work as a hassle.'


Ruben and Bert both agree it only took their team around one, or at most two weeks to be fully up and running as regular Scilife users. Bert stresses that the learning curve of Scilife is very, very easy. Ruben adds that a read-only Scilife user really only needs a few minutes in order to confidently navigate around documents on the platform. He explains that they received a personalized, face-to-face onboarding training session when implementing Scilife and that they use the recording of this useful training with every new employee to get them up to speed in no time.
Favourite Features
Digital approval

workflows with

e-signatures

When asked about their favorite features of Scilife, Bert is enthusiastic about his personal favorite - finally having fully digital approval workflows with electronic signatures. He mentions this is a big leap compared to paper quality management systems .




Configurable

workflows and permissions

Bert also mentions that tailoring digital approval workflows to the scale of the company and to Amnovis' unique requirements is something he really appreciates;

'Since you can combine different levels of user access and different authorizations that can be configured based on a functional level and on an individual user level, it gives us the opportunity to really tailor those approval workflows to what we need.'
Change management functionality
Ruben enthuses about his own favorite feature, Scilife's change request function;
'I'm a really, really big fan of the change requests feature! It really makes changes as an active thing and not just a necessity to be compliant with your QMS. It means we really use it as it is intended by the ISO standard, and not just to be compliant with the ISO standard.'
Trainings

and

record keeping




The training feature is another firm favorite at Amnovis, says Bert;

'We can create trainings, then link them to documents and use them in a smart way in combination with the functions that we have defined within Scilife. The way that we manage our users actually makes setting up training plans and following up on the execution of those trainings and keeping the records very easy.'
Interconnected

features

Ruben applauds the interconnectivity of all of Scilife's modular features, which makes workflows streamlined and efficient, saving time.
Customer service
Scilife's attentive customer support is something else Ruben is really pleased with;
'Our experience with customer service so far has been very good. We have frequent contact and check-ins on how things are going, how we're using the platform. If there's any questions we have or issues we're facing, we've always received good support and fast responses. It's something that we're very happy with.'
Expert Advice
Trine asks what tips Ruben and Bert have for other companies or QA professionals on the lookout for a better system to manage their processes. Bert lays it out loud and clear!
'Get started with an eQMS as soon as possible! We see no reason to wait and no reason to get started with an offline system first. It's only going to become more challenging the longer you wait to transition.'
'We also believe that it is just because we started using Scilife from day one which made it so easy for us to use the platform and to really integrate it as a tool rather than a setback. In this way people look at it as a tool and use it actively in the way it's supposed to be used.'
The Results
With Scilife, Amnovis is able to handle their quality processes in a totally digital, streamlined and ISO 13485 compliant. The tailored workflows that Amnovis has been able to create on the platform have saved and continue to save the company a lot of time. Not only have Scilife's interconnected quality features saved working hours at Amnovis, but they've reduced the risk of human error and boosted productivity within the Amnovis team.
Bert mentions that it's easy to keep track of audit trails, but what he really appreciates Scilife for is the way in which it helps him and the Amnovis team get things done in time;
'I do believe that without Scilife, we would have had a much harder time to get our trainings done in time, get change requests, get CAPAs closed by the due date that we have set for them, and to generally stay on top of things.'
Starting off with Scilife right out of the starting blocks meant there was no time wasted on first setting up a less professional QMS and later transitioning over, and meant Amnovis could immediately focus on innovation to focus on becoming an established player in the medical device market. As Amnovis matures as a company, Ruben and Bert foresee that they will upgrade to a higher level of Scilife configurability - the platform is, after all, built for scalability to serve companies of any and every size.
We look forward to sharing Bert and Ruben's growth journey with Scilife, and witnessing what life-changing medical innovations Amnovis will engineer for those who desperately need them.
Imagine what Scilife can do for your company!
Reach out, we're always happy to chat.