CAPA Management Software
Buried in CAPAs? Make Corrective and Preventive Actions manageable again.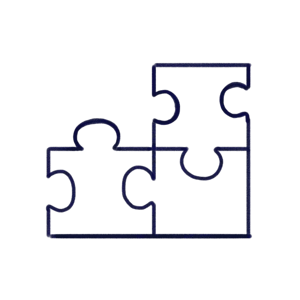 Are you controlling CAPAs in the most effective way?
Failing to design and implement Corrective and Preventive Actions (CAPAs) will get your product stamped as substandard. Yet they always seem to pile up!
Design and Execute Your Ideal CAPA Action Plan
Map out an easy CAPA action plan
The CAPAs module provides a totally compliant yet easy to use template to help you fill in the details of each CAPA, with the features to fully define your action plan. You have the choice of creating specific CAPA actions, with due dates, that can be assigned to different users. Once your plan is laid out and CAPAs are created, hit submit and they are whisked off for approval.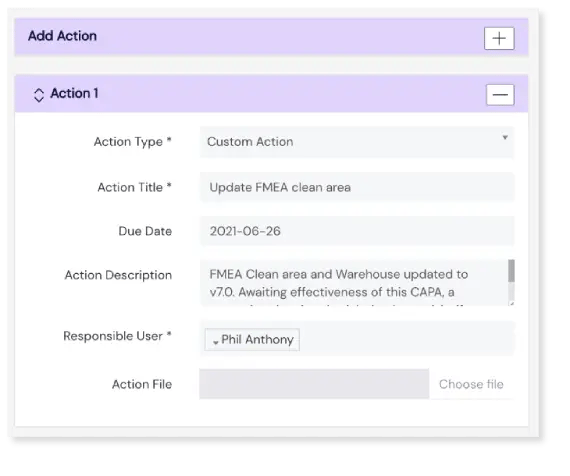 Automated approval notifications
Once a CAPA is submitted, Scilife automatically notifies approvers. The approval workflow is configured entirely by you; choose how many e-signatures are needed to sign off each CAPA. Once that's out of the way, CAPA status is updated to 'implementing'.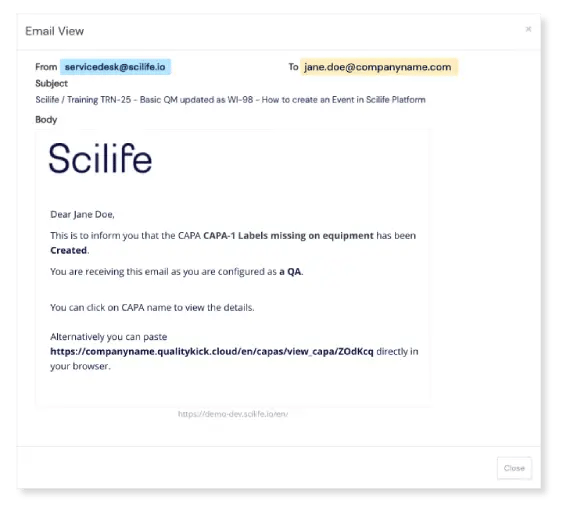 Simple CAPA completion
It's easy to log completed actions in the implementation template, and push the CAPA onto the final review and close stage. CAPAs are linked to the Change Control Module, making more sophisticated workflows possible here too.

Fast track CAPAs to the finish line
Checking if your CAPA works
If needed, CAPA follow-up checks can be programmed, and the right people will be automatically notified when the time comes to check a CAPA's effectiveness.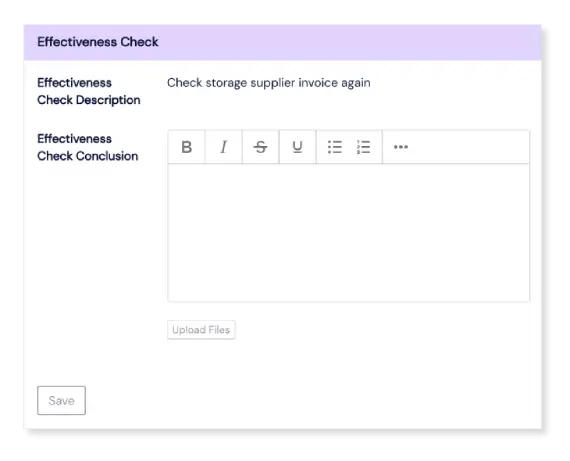 Connect modules to close the cycle
The Events Module allows you to find out where things go wrong. The Change Control Module lets you make changes in a controlled manner, and the CAPAs module helps you implement improvements. All three modules are seamlessly integrated to help you close the continuous improvement cycle.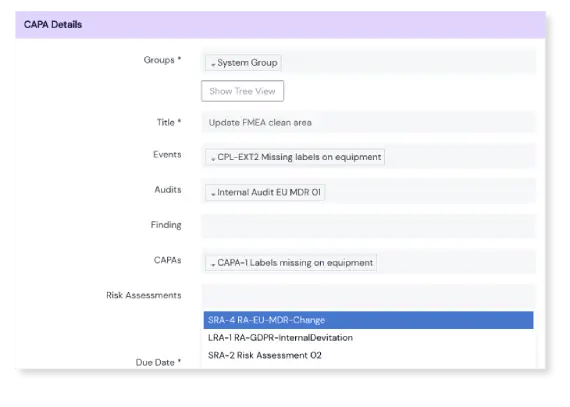 What
Our Customers

Say

Scilife's CAPAs module is a hit with Life Science companies!
The CAPA module in Scilife allows us to quickly and effortlessly connect actions to events and then just as seamlessly close actions and attach evidence of action completion. We have used the CAPA module to take us through audits conducted by regulatory bodies and they (along with us) have been impressed with how we have every piece of information at our fingertips. Use of the module is so easy, that user training is almost not required. Add to that that validation is already done by the developers and you have what we believe is the best eQMS available.
Keryn Davies
Quality Manager
Helius Therapeutics
An important thing about the CAPA module is that it is very intuitive, users get CAPA tasks linked to an event, change control, audit … It's really easy to find the link to the related event or document which you can open by a simple click. The module reaches users which are not working at a daily basis with the system so it's important to see the link, click on it an immediately see what is expected from them . Appointed users receive a mail and a task is raised in their dashboard which makes it clear for them which tasks need to be executed and what is the due date for their tasks.
Karel van Besien
QA Director
Livlina
I use mostly the CAPAs and Events modules in Scilife. What I like about these modules is that it enables us to keep a very good overview of all these quality related tasks and improvements we need to keep track of. Without Scilife this was a bit of a mess.
Koen Marien
Imaging Scientist
Hystogenex
Frequently Asked
Questions
Find answers to the most common questions about CAPAs from our Scilife customers.
Is your question not listed?
Get in touch!
Once a CAPA is created it gets the Created status. In this status you can keep editing the CAPA plan until it is finished, after which the creator changes the status to Under Signing by Approver.
Once approvers have signed off, the CAPA is then put in the Implementing status. During this status, the CAPA responsible provides information about the CAPA execution. When done, the status is changed to Under Signing by QA, who then decides if it can be closed or if an effectiveness check is required. If that's the case, the effectiveness check result needs to be logged before the CAPA can be closed.
Note that when a change request is linked to the CAPA, then this change request is considered part of the CAPA plan. In this case the change request must be finished and closed before you can close the CAPA.
No, you can't do that directly in the CAPAs module. This module has been kept simple in the sense that the CAPA plan is nothing more than a free-text field and so is the CAPA actions field which is filled in during the CAPA implementation phase.
However, if you would still like to assign specific tasks to users you can do that by linking a change request to a CAPA, because the Change Control module does provide task creation, assignation and approval workflows.
When a change request is linked to a CAPA, this change request becomes part of the CAPA plan and therefore, the change request must completely finished and signed off before the CAPA can be closed.
Yes, you can assign a due date while defining the CAPA plan. Additionally, when an effectiveness check is required, you can assign a due date for that particular effectiveness check.
There are 4 types of users in Scilife: administrators, managers, regular users and read-only users.
All users, except for the read-only type of users, can create and participate in a CAPA as long as they have access to the CAPAs module.
Yes, you can upload files to a CAPA during the implementation phase, as proof for implemented actions, and during the effectiveness check.
On the CAPA detail page, you can find a convenient list of all uploaded files with an indication where the file was uploaded.
Yes, you can link CAPAs to each other. But because not all companies found this useful, you can activate/deactivate this feature in the module settings page of the CAPAs module.
No, you can't. Once a CAPA is signed off and closed it cannot be reopened. In this case we suggest to create a new CAPA and link it to this closed CAPA for traceability purposes.
Yes, you can limit access in 2 different ways:
1. You can limit access by deactivating access to the CAPAs module for a specific user.
2. You can also use the Groups functionality:
Users can only view and work on CAPAs if the CAPA in question is in a group to which the user has access.