GMP stands for "Good Manufacturing Practices."
While this concept may sound simple in theory, there's quite a bit that goes into it. This piece will outline the five main components of GMP.
What Is
GMP

?

GMP is a complex manufacturing system designed to ensure all products—including medical devices and pharmaceuticals—are produced and controlled in line with specific quality standards.

These practices cover all aspects of the manufacturing process, with the goal of mitigating (and ideally preventing) risks such as cross-contamination, mislabeling, failure, and other potentially-catastrophic problems. Areas that play an active role in the GMP guideline include:
Building, facilities, and equipment.
Documentation and recordkeeping.
Validation and qualification.
Inspections and GMP audits.
By focusing on the above areas, manufacturers can work toward GMP compliance. Good Manufacturing Practices require that products are:
Of consistent quality.
Designed for their intended use.
Able to meet the marketing authorization and/or clinical trial authorization.


The benefits of GMP are expansive. Implementing Good Manufacturing Practices can help to:
Reduce waste.
Increase productivity and profitability
Reduce the risk of recalls, compliance issues, and other problems.
GMP can help protect both Life Sciences companies and customers. The overarching goal is to guarantee quality throughout the manufacturing process. All manufacturers who wish to sell their products in the European Union (EU) and/or in the United States must comply with the GMP.
GMP

vs.

cGMP
You might be familiar with both GMP (Good Manufacturing Practices) and cGMP (current Good Manufacturing Practices). In most cases, these terms mean the same thing and are virtually interchangeable.
GMP is the basic U.S. Food & Drug Administration (FDA) regulation set forth under the Federal Food, Drug, and Cosmetic Act to make sure manufacturers are being proactive in developing safe and effective products.
cGMP, however, was implemented to promote the continuous improvement of product quality. The idea here is that manufacturers stay committed to the highest possible quality standards by keeping their systems and technologies up-to-date.
It's important to note that while cGMP regulations feature a number of practices focusing on multiple manufacturing phases (and on several aspects of quality), these are just the minimum requirements organizations have already implemented in their quality assurance and risk management processes.
So what, exactly, does compliance entail? Which regulatory bodies oversee these standards? The next section will provide an overview of the specifics surrounding GMP compliance.
Good
Manufacturing Process Regulations
The cGMP regulation—written in accordance with FDA guidelines—helps to ensure the strength, quality, and purity of Life Sciences companies' products.
Per the regulation, manufacturers must regularly inspect their processes, implement consistent quality management systems, and source the appropriate quality of raw materials. In addition, companies need to detect and investigate any product deviations, maintain reliable equipment and facilities, and adhere to well-documented management and manufacturing procedures.
While the FDA oversees cGMP regulations in the U.S., the European Medicines Agency (EMA) conducts GMP inspections in Europe. EMA is the regulatory body responsible for GMP activities at the EU level. The agency is involved in facilitating GMP cooperation among member states and in ensuring the common interpretation of all GMP requirements.
These requirements include prioritizing and harmonizing the five main components of GMP.
5 Main Components

of GMP

GMP features five main components. Manufacturers might think of them as the "Five P's." These include the following: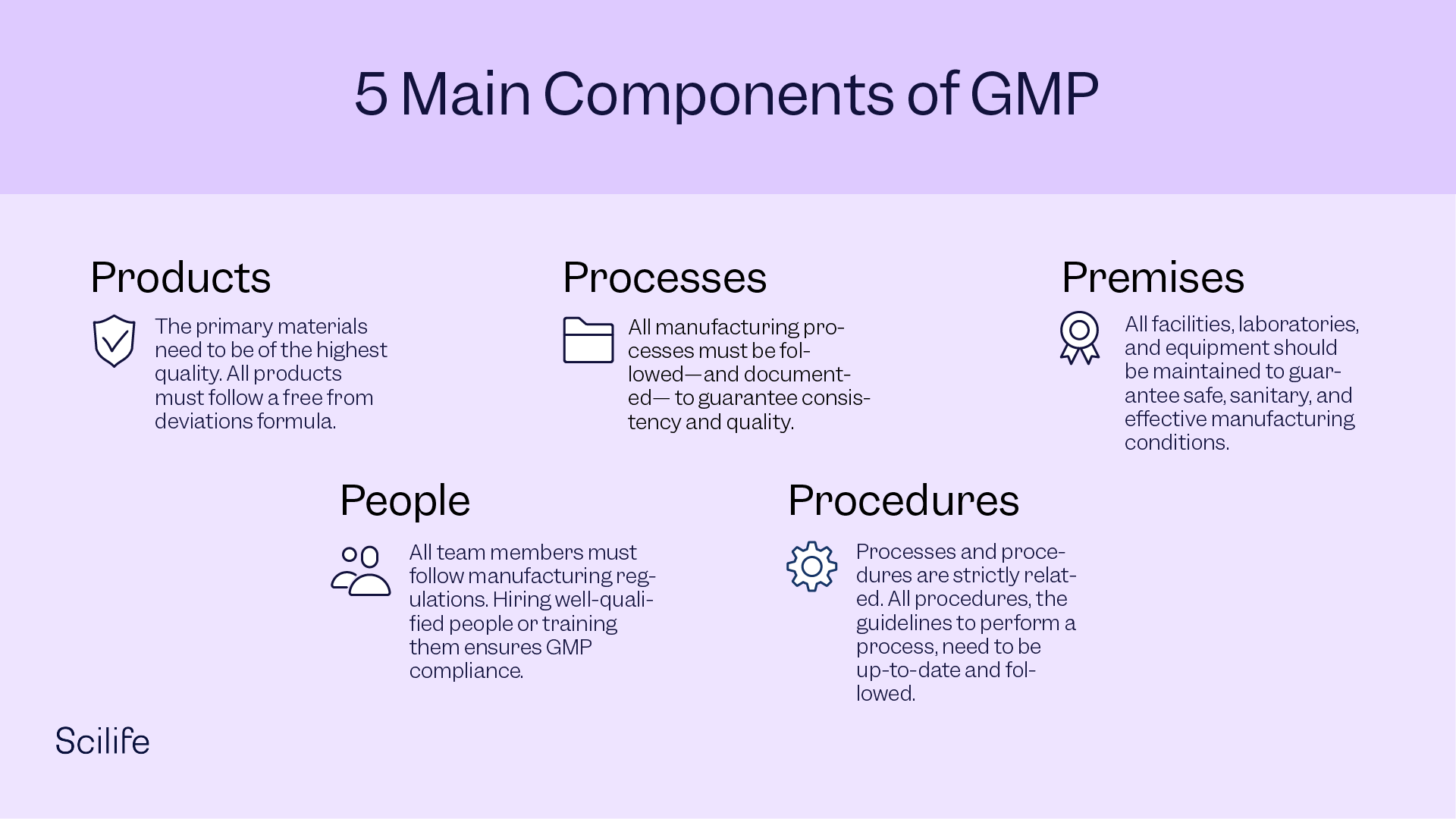 1.

Products
The primary materials (or raw ingredients) used to create a medical device or other relevant solution need to be of the highest quality. GMP standards reveal that all products must follow a specific master formula free from deviations throughout the manufacturing process. A quality assurance system featuring regular testing and constant comparisons is imperative—complete with clear specifications at every production phase.
2.

People
Hiring well-qualified people will encourage GMP compliance as well. So will training these workers in proper sanitation, recordkeeping, labeling, and equipment handling. Though training is an investment, it can make all the difference from a quality assurance perspective. All team members must strictly follow manufacturing regulations, with each individual fulfilling a specific role. Regular performance assessments and frequent evaluations will elevate competency.
3.

Processes
All manufacturing processes must be followed—and documented—to the strictest standard. Since auditors regularly inspect laboratories and other facilities for consistency and quality, documentation is truly essential. Manufacturers can take this a step further by keeping a written framework of the entire manufacturing process and distributing these materials to all team members. Here too, frequent evaluations are key from a compliance standpoint.
4.

Procedures
Processes and procedures go hand in hand. A procedure is a series of guidelines needed to perform a process (with the goal of generating a specific result). During audits, manufacturing procedures are highly scrutinized. If any procedure is using outdated technology, the manufacturer will risk facing noncompliance penalties. Procedural consistency can help mitigate this. Employees should fully understand the procedures they must follow.
5.

Premises
All facilities, laboratories, and equipment should be maintained to guarantee safe, sanitary, and effective manufacturing conditions. This includes proper cleaning and storage, along with any other measures that can be taken to achieve consistent results, lower the risk of equipment failure, and ensure timely repairs. Reducing product variations is the end goal here, as is protecting patients, customers, and team members from operational issues onsite.
GMP Compliance
How can Life Sciences companies ensure GMP compliance? In addition to embracing the five components of GMP, a focus on the steps below can bring clarity:
Write all procedures professionally in a clear tone using specific language.
Clean and maintain all equipment per the manufacturer's instructions and standards.
Audit your organization's compliance at least once each month.
Complete a comprehensive competence analysis before hiring new team members.
Taking these measures will help companies in the Life Sciences fully embrace the Five P's of GMP.
Principles

of GMP

Before we conclude this article, consider the following overview of the main principles of GMP:
Creation of Standard Operating Procedures (SOPs).
Enforcement of SOPs and work instructions.
Documentation of all procedures and processes.
Validation of the effectiveness of SOPs.
Design and use of working systems.
Development of worker competencies.
Maintenance of systems, equipment, and facilities.
Prevention of contamination through high cleanliness standards.
Prioritization of quality in the design, development, and manufacturing workflow.
By identifying potential deviations quickly and taking corrective action, Life Sciences organizations can streamline their approach to Good Manufacturing Practices.
A reminder that Life Sciences companies should expect GMP audits to be conducted on a semi-regular basis. Manufacturers must continuously work to ensure compliance and strive for continuous improvement by focusing on these principles. Having a team of skilled employees who understand the above principles and the five components of GMP compliance is a solid first step.
Connect with us

today

Do you have questions about Good Manufacturing Practices? To learn more about GMP compliance, you can review our glossary term here or reach out to us for details. Big or small, we're ready to answer your queries and get you on a path to GMP compliance.

The truth is that with our software solution, Life Sciences companies can work toward GMP compliance with ease. Robust processes, features like custom audit checklists, and seamless integration are just the beginning.