Understanding current Good Manufacturing Practices (cGMP) in the pharmaceutical industry can be challenging. That's why Quality professionals in the pharma industry actively seek to understand the details of cGMP regulations. In most cases, they also learn on the go as they start implementing those requirements.
Here, we'll answer the seven questions we are asked most often about how cGMP establishes the foundation for the Quality of a drug product in the pharmaceutical industry.
What Are

cGMP Requirements

?
The US FDA publishes cGMP regulations and explains minimum requirements regarding the methods, facilities, and controls used in the manufacturing, processing, and packing of drug products. These regulations help manufacturers ensure that their drug product is safe for use.
The FDA's portion of the CFR (Code of Federal Regulations) can be found in Title 21. The pharmaceutical or drug Quality regulations are addressed in several parts of Title 21, including parts 1-99, 200-299, 300-499, 600-799, and 800-1299.
These are the 21 CFR parts that explain the cGMP requirements:
Additionally, the following pages provide cGMP requirements for particular product types and manufacturing considerations:
What is the Use of

cGMP in Pharma

?
cGMP regulations for finished pharmaceutical products are defined under FDA 21 CFR Part 211 – cGMP for Finished Pharmaceuticals. These standards consist of the following subparts:
Subpart A - General Provisions
Minimum requirements of current good manufacturing practices for the preparation of drug products for human and veterinary use.
Subpart B - Organization and Personnel
Requirements for ensuring that employees are fully trained and qualified and that their responsibilities are explicitly defined.
Subpart C - Buildings and Facilities
Requirements for ensuring that buildings and facilities are in good condition in terms of:
Design and construction features

Lighting

Ventilation, air filtration, heating, and cooling

Plumbing

Sewage (liquid waste) and refuse (solid waste)

Washing and toilet facilities

Sanitation

Maintenance
Subpart D - Equipment
Requirements for ensuring that equipment is adequately constructed, cleaned, maintained, and calibrated.
Subpart E - Control of Components and Containers and Closures of Drug Products
Requirements for describing sufficient details of receipt, identification, storage, handling, sampling, testing, approval, rejection of components and containers, and closures.
Handling and storage requirements for components and drug product containers and closures to prevent contamination.
Identification and tracking of each container or a group of containers for components or containers or closures with a unique code for each batch in each shipment received.
Subpart F - Production and Process Controls
Requirements for ensuring that production and process control is designed to guarantee that the drug products have identity, strength, Quality, and purity. In addition, processes and procedures should be reproducible and reliable.
Subpart G - Packaging and Labeling Control
Requirements for correct labels, labeling, and packaging materials for drug products.
Subpart I - Laboratory Controls
How to ensure laboratory controls, including establishing scientifically sound and proper specifications, standards, sampling plans, and testing procedures.
Details on components, containers, closures, in-process materials, labeling, and drug products conform to standards of identity, strength, Quality, and purity.
Subpart J - Records and Reports
How long you should maintain components, drug product containers, closures, labeling records, and production, control, or distribution records.
How to maintain records as readily available for any authorized inspection throughout the retention period at the establishment.
Subpart K - Returned or Salvaged Drug Products
Requirements for identifying and holding returned drug products and those subjected to improper storage conditions.
How Can Software Help Us

Comply With and Manage cGMP Requirements?


Let's do a second take at some cGMP requirements to find out how easily they can be managed with industry-specific software solutions.
Organization and Personnel
Training key personnel to perform their responsibilities in a pharmaceutical company is required by cGMP. In addition, pharma companies should retrain staff on any changed procedures.
If your company uses QMS software (eQMS) with a training feature, all relevant personnel automatically receives training tasks based on their job roles along with a training plan for each job role. In addition, employees will automatically be notified when a training task is assigned.
Facilities & Equipment
The building and facilities of the pharmaceutical company should be appropriately established and maintained to guarantee all manufacturing conditions remain safe and effective. Equipment should stay well-maintained and calibrated.
An equipment calibration plan within an eQMS can allow you to track and manage all equipment calibrations. The software automatically sends calibration notifications to the responsible regularly before the next calibration and assigns tasks to relevant employees.
Production Process

& Procedures
If you still use older technology and dated software, your company is likely no longer compliant with today's cGMP, or it will be very soon. Make sure to review all procedures regularly and verify that you use the latest science and technology for your products. For example, setting up an automated annual review reminder for your forms will allow relevant employees to receive notifications before the next review.
What Are the
FDA cGMP Guidance Documents

?

The FDA has published many final guidance documents for all professionals to answer possible questions, correct misunderstandings, or guide them through their implementation process, especially for new drug companies. In addition, they would learn about cGMPs and FDA's expectations on complying with cGMP.

Currently, The FDA has 43 final guidance documents for cGMP in the pharmaceutical industry, and 16 were published in the last five years. These guidance documents are issued to guide and provide more details to pharmaceutical companies related to the issued cGMPs requirements, including risk management plans, OOS investigation, continuous manufacturing, cGMP Requirements for Combination Products, and numerous other topics.
What is a
GMP Certificate

?

Each manufacturer must stay compliant with its processes and implement the systems according to the latest GMP. You must get certified under GMP or cGMP if you are a pharmaceutical company. After the manufacturer demonstrates that the manufacturing processes of mentioning products have complied with GMP requirements, regulatory authorities issue a GMP certificate for that facility.

The approval process for marketing applications of a new or a generic drug includes a review of the manufacturer's compliance with the cGMPs. In addition, FDA investigators determine whether the company has the required facilities, equipment, and capability to manufacture the drug product.

Once your company has a GMP certificate, congratulations! But this is just the beginning of a lifelong journey, and you must comply with cGMP requirements by following new revisions. Furthermore, even if nothing changes in the cGMP, if you plan a major change within the certified facility, you must inform regulatory authorities about the change, and they might consider auditing your facility for re-certification.




What are the key concepts of

Quality Systems under cGMP

?
The following key concepts are critical for modern Quality systems in the pharmaceutical industry:
Quality
Quality characteristics such as identity, strength, and purity should be established in a pharmaceutical product to ensure the mandated level of safety and effectiveness.
Quality by Design and Product Development
The strategy Quality by Design is used when designing and developing a product and associated manufacturing processes to ensure that the finished product consistently meets the defined Quality at the end of the manufacturing.
Quality Risk Management
Quality risk management can support manufacturers in establishing process parameters and specifications required to produce a drug, then identify and mitigate risks of any change in the process or specifications.
CAPA (Corrective and Preventive Action)
Corrective and preventive actions focus on investigation, correction of discrepancies, and prevention of recurrence.
Change Control
Change control focuses on managing change to prevent unintended consequences. Major manufacturing changes such as altering specifications, a critical product attribute, or bioavailability require regulatory documentation before regulatory approval.
The Quality Unit
Most modern Quality system concepts have a correlation with the cGMP regulations. Current industry practices generally divide the responsibilities of the Quality Control Unit (QCU) between Quality Control (QC) and Quality Assurance (QA) functions.
Six-System Inspection Model
The FDA's Drug Manufacturing Inspection Compliance Program contains instructions to FDA personnel for conducting inspections. It is a systems-based approach to inspection and is consistent with the robust Quality System Model.
The diagram shows the relationship between the six systems: the Quality System plus the five manufacturing systems. The Quality System provides the foundation for the linked manufacturing systems and functions.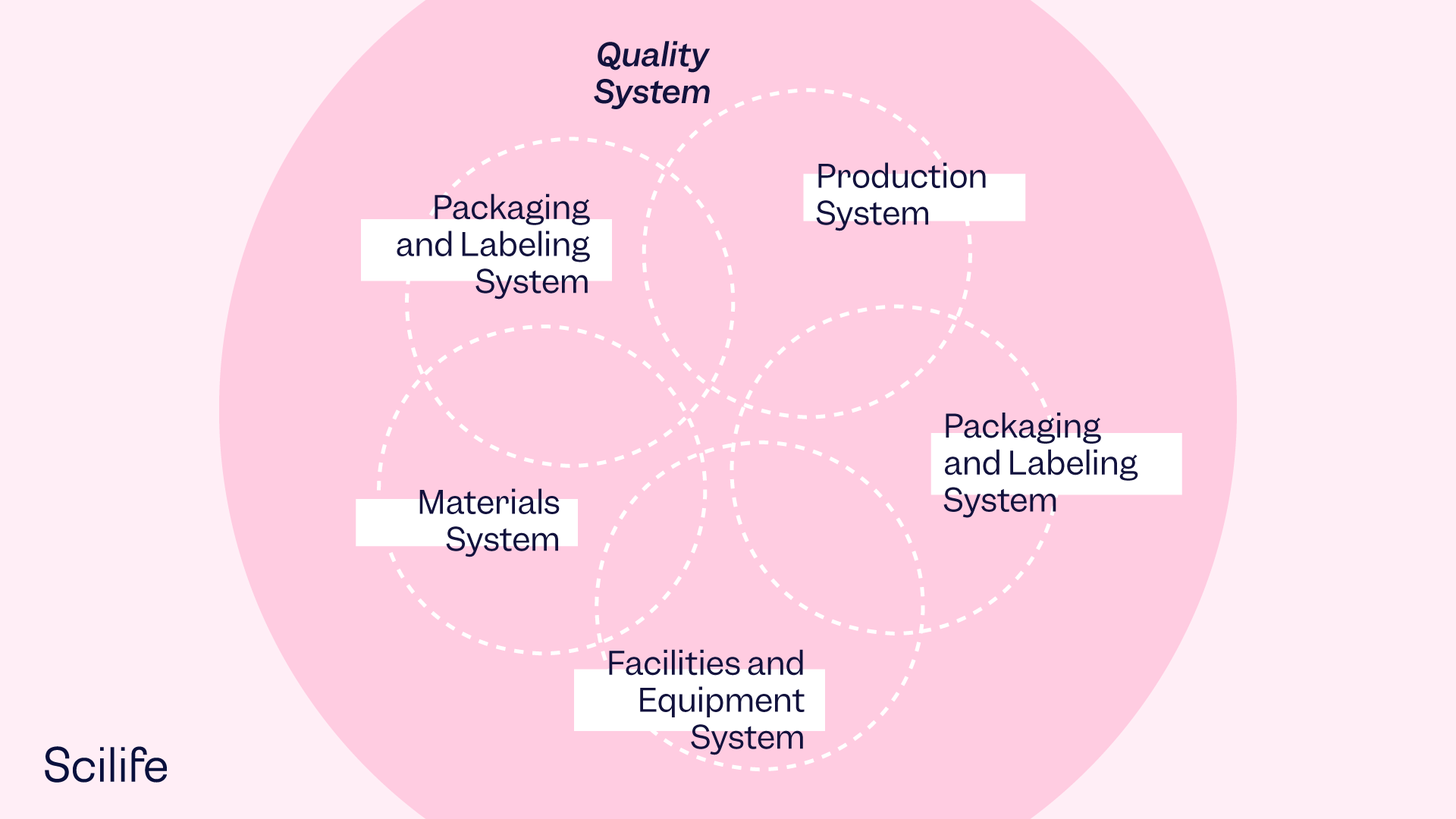 Why is cGMP so Important

in the Pharmaceutical Industry?
Pharmaceutical products have the highest risks to human health. This is why drug manufacturing facilities need to be regulated by the latest cGMP and other relevant regulations to assure the end-users that a drug product is safe and will work.
Even though cGMPs require manufacturers to test each batch, it is not possible to ensure the expected Quality by only testing the batch. The more critical part is manufacturing those drug products under the conditions and practices required by the latest cGMP regulations to guarantee that Quality is built into the design at every step of the manufacturing process. In this way, your company provides that:
Manufacturing facilities in pharma are:

In good condition, and
Designed, monitored, and controlled properly.

Drug products meet the identity, strength, purity, and Quality specifications.
Equipment is properly maintained and calibrated.
Employees who are qualified and fully trained.
Processes that are reliable and reproducible.
Those are just a few examples of how cGMP requirements help assure drug product safety and efficacy.
Discover how Scilife Smart Quality Platform can help you become and stay cGMP compliant to ensure the safety and quality of your drug products.