Creating a Product Requirements Document (PRD) is one of the first steps in the product development process. Every PRD should be a clear and concise overview of the product, device, or system at hand.
What Are

Product Requirements Documents?
In the Life Sciences industry, PRDs outline the solutions companies are going to build. These documents should be comprehensive but digestible, readily-available for feedback, and compelling enough to engage readers throughout.
Ultimately, the idea is for your PRD to serve as a resource for all the business and technical teams involved in product development. It can be edited as needed and should make the purpose of the product—along with its current status—as clear as possible.
The PRD should also define the requirements of the product in question. These include the product's:
Features and functionality
PRDs should not be confused with MRDs (market requirements documents). While the latter describes a product's market opportunity and business case, the former touches exclusively on the product's intended use cases and functionality—without delving into its revenue potential.
Why PRDs Matter
In the Life Sciences industry, building a great product takes time. The development phase requires extensive research, planning, and collaboration among stakeholders. This is just one of the reasons why it's so important to keep everyone on the same page during this time.
In addition to keeping all parties aligned and the product documentation up-to-date, PRDs play a key role in Agile development. This approach emphasizes flexibility and continuous improvement. Agile requirements, after all, involve a shared understanding of the customer and extensive communication among the product owner, designers, and development team members.
Open communication is meant to help product owners uncover the vast potential of their solution. While they can dive deep into the product's higher-level requirements, the development team can focus on implementation details. In simple terms, each stakeholder can contribute their strengths while processing feedback from others, and make adjustments accordingly.
In this way, the PRD is a living document to which team members are constantly adding and updating requirements and user stories. These same team members are working together while contributing their unique perspectives and ideas.
But what goes into writing a PRD? The next section will outline what to include in your product requirements document.
How to Write a Product Requirements Document
When writing a PRD, it's important to keep your requirements as lean as possible. A consistent single-page template can help to achieve this—making it easy for all stakeholders to review the content, provide clear feedback, and make adjustments.
Once you understand this, you should be ready to craft your product requirements document. Aim to include the following sections:
This high-level summary should be placed at the top of the page. Aim to list the who (meaning the product owner, team, and stakeholders), the status of the product (meaning whether it is on time, at risk, delayed or deferred, etc.), and the target release (or when the product is expected to ship).
Make this section as straightforward as possible. List the product-related objectives of all teams involved in the development phase, as well as any overarching business goals the product can help to achieve. Additionally, explain why the product matters to the team and how it aligns with each party's objectives.
From there, be sure to outline the assumptions each team is making while developing the product. Note that business, technical, and user assumptions are all valid here. Make a point of continually fleshing these assumptions out and always thinking about what's next.
Customer Research and Success Metrics
Here you can list, link to, or include screenshots of your user stories and customer interviews. Don't go overboard, but do provide enough context to give the full picture (and list the corresponding success metrics). Flesh out each user story as a team, linking design explorations and wireframes as needed.
Finally, the project scope and timeline, key questions and follow-up tasks, and any out-of-scope work should be listed clearly in your PRD as well. Teams can even flag items or tasks that are currently out-of-scope but may require collaborators' attention down the road. There's no one-size-fits-all approach here, so long as you're thorough and concise.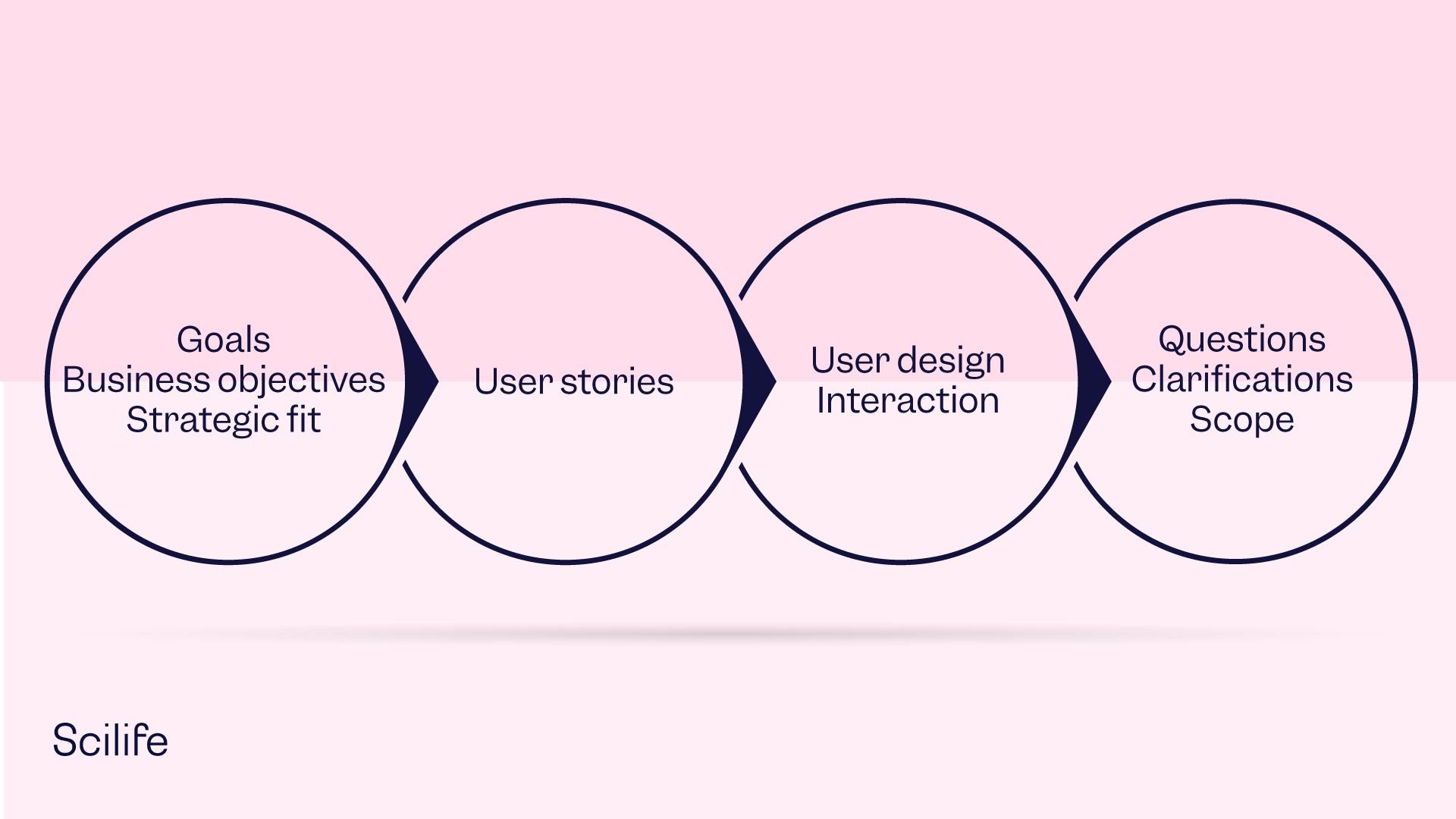 Key Characteristics of a PRD
Now that you understand what goes into writing a product requirements document, we can hone in on what makes an effective PRD. Here are some characteristics to consider:
Think of a PRD as a "landing page" for your product. Keeping everything streamlined, simple, and easy to read will save your teams time and energy as you move through the product development process.
You want to be thorough, but not at the expense of creating a clear PRD. Aim to include what you need in your document, all while adding or deleting information when necessary. Try to be agile!
Concerned about the length of your PRD? Link to key sources rather than embedding them—from customer interviews and technical documentation, to product demos and other relevant content.
Diagrams, images, videos, and other visuals can go a long way in elevating your product requirements document. Don't go overboard, but do feature dynamic content that will make your PRD more engaging.
Collaboration is integral to a successful PRD. Never tackle this document alone, and always leave comments, ask questions, and seek input from other stakeholders. The more teams that contribute to your product requirements document, the better off your company will be. This is because PRDs are only as effective as the level of collaboration involved—and in the Life Sciences space, transparency is everything. So make sure all parties are aware of the Product Requirements Document, and that they know how to access it and edit it.
Finally, preserve the changes you make, but don't be afraid to make them. Always maintain a high level of quality, communication, and flexibility in shaping your product requirements document.