The objective of a QMS is to define and formalize a system that documents processes, procedures and responsibilities for achieving quality policies and objectives. It basically provides the structure for various functions within an organization to work in an integrated manner, for delivering the best quality products and services to the customer.
One can refer to ISO 13485:2016 or ISO 9001:2015 to know the benchmark for meeting international standards of Quality Management System. Apart from these International Standards, EU and US regulatory agencies also make it mandatory for manufacturers to meet the QMS requirements. EU agencies have published EU MDR and EU MDD for manufacturers to understand the infrastructural requirements for QMS. Whereas 21 CFR Part 280 of Federal Regulations is explicitly dedicated to 'Quality System Regulation'.
All these standards and regulations have different titles, different representations but they mean the same thing. I am sure, a life-science researcher would agree that Quality is not a choice but a prerequisite to be in the life science industry. And Quality Management System is basic infrastructure needed to build Quality culture in the organization. In this article we are going to talk about Essentials of Quality Management in the Life Sciences.

Plan-Do-Check-Act
Now, if you are a quality professional you will definitely agree that nothing can make things simpler than Deming's Plan-Do-Check-Act. Let's Keep the lengthy texts in the standards and regulations aside for a while to understand the essentials of Quality Management with an easier explanation.
Plan
Planning is the first step of everything that we do and it is naturally so for the Quality Management System too. In this step, an organization is required to plan and document it's quality policy.

This is the key document which forms the basis of several standard operating procedures, processes, work instructions, Designs, forms and templates in your organization you will need to have in order to meet the quality objectives.

What will happen if an organization fails to have a documented quality policy, procedures, processes, work instructions, forms and templates?
Remember that what is not documented is not done. That means if an organization does not have a written quality practice then that means it has none.
This means the first infrastructure element that your organization will need to build a QMS is Documentation. Traditionally organizations relied on paper based documents but owing to tremendous technological progress these days organizations are opting for more advanced cloud based documentation platforms.
Let's say you have a cloud based documentation platform and all your quality policies documented on it, then the question arises, is it enough? The answer is no. There are many Document Control related requirements that life science manufacturers are required to meet as defined by 21 CFR Part 11 and EU Annex 11.
In a simplified way document control can be exercised by: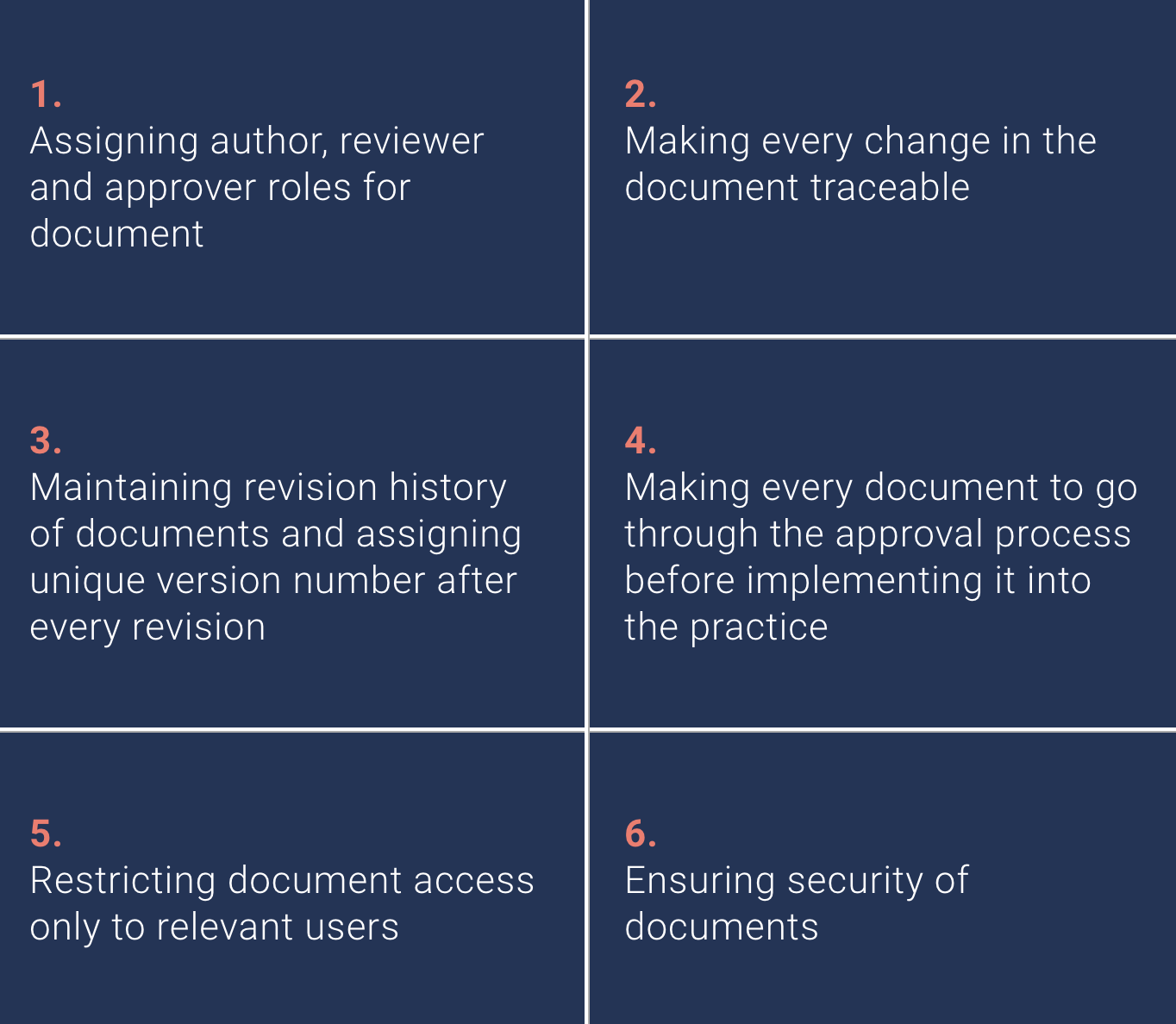 While it is possible to exercise document control manually, automating it takes out a huge amount of burden from the shoulders of scientists. 'Document Management' is the first essential element of Quality Managemnt System. Scilife's Document Control Module automates the entire workflow for the document management process.
Do
Execution starts when everything is perfectly planned. At the 'Do- stage' there is very little for the QMS to do. It only serves as your guide for execution. The regulatory agencies demand that you 'Do what you say and say what you do'. The onus here is on the doer in this case. The documented procedures, processes and work instructions are not going to change without going through an approval process. Therefore the doer has to abide by the written procedures.

Check
Doing is not enough, we must check the conformance with documented procedures. The checking stage is usually performed during regular QA approval and audits. In a way Audit processes are the second essential element of Quality Management Systems. The Audits Module in Scilife automates the same.
In the event of nonconformity or customer complaint, the organizations are expected to acknowledge and respond to resolve the nonconformity. This is often followed by a root cause analysis to identify the improvement areas. Event handling processes are therefore the third essential element of Quality Management Systems. Scilife's Events Modules helps you to automate this process.
Act
The immediate action after knowing the improvement areas is to eliminate the root cause by taking corrective and preventive action. A corrective action is taken to eliminate the effect of nonconformity after it has occurred. The preventive action is taken to prevent future nonconformity even before the next nonconformity happens. Corrective and preventive actions thus become the fourth essential element of Quality Management Systems. Scilife's CAPAs Module automates this process seamlessly.
Conclusion
Deming's Plan-Do-Check-Act cycle makes it very easy to break down essential elements of Quality Management Systems.
Scilife Modules are in fact the essential components of the Quality Management System as described in ISO 13485:2016, EU & US regulations.
These components can be interlinked together in Scilife to give a full picture of the Quality Management Practices followed within the organization. The cloud based software solution eliminates the need to invest in large physical infrastructure and trained workforce for maintenance of the infrastructure.