QMS KPIs
Software
Easily visualize and break down all sorts of performance metrics, so that you're always aware of how well your company is managing quality or other processes.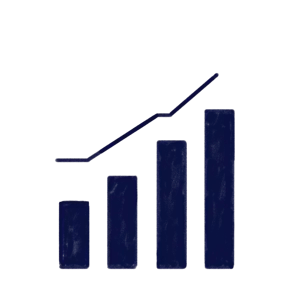 Choosing the
right key performance indicators

to analyze is a challenge
How do you know which KPIs you should be tracking? You need a tool that provides you real-time performance insights and historic trends.
All the metrics you need,

just one click away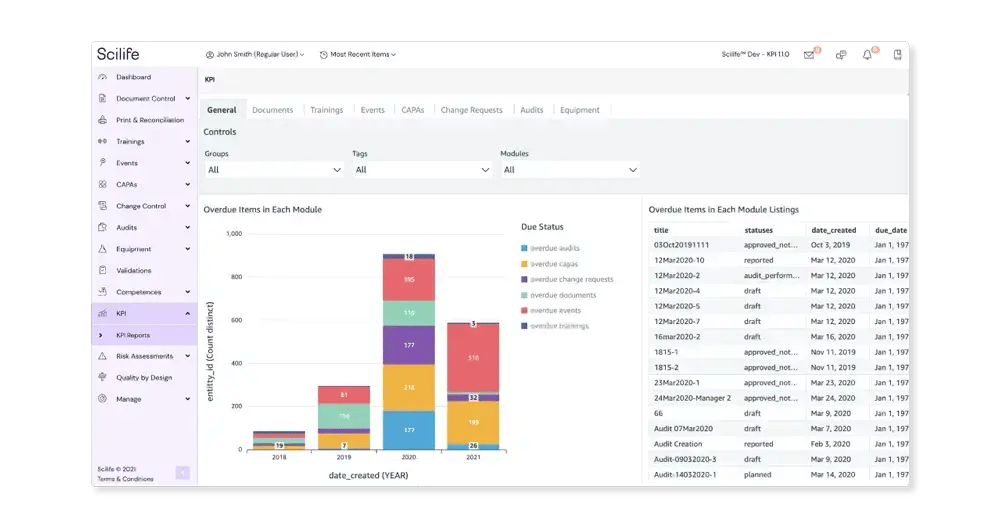 Discover areas for immediate
improvement with out-of-the-box key
performance indicators
Find out
what's late, and why
One of the main worries for your QA department are those late sign offs on tasks, actions, and trainings. Our KPI module lets you view the total amount of 'late items' over time, across your whole Scilife platform and also per module. This KPI is an important one, and highlights where processes or employees need a much-needed nudge.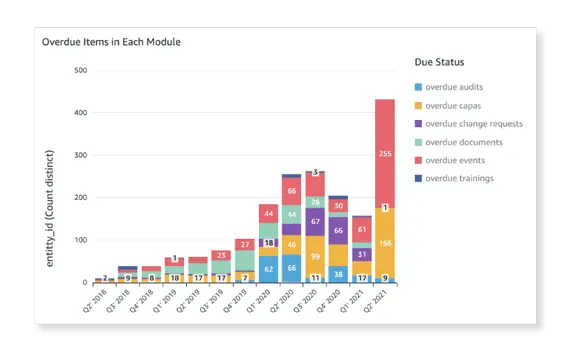 Analyze
module specific

graphs

Dig out the data you need in a few clicks. Every module has its own set of graphs and filtering capabilities, to answer your most pressing questions in relation to your quality data.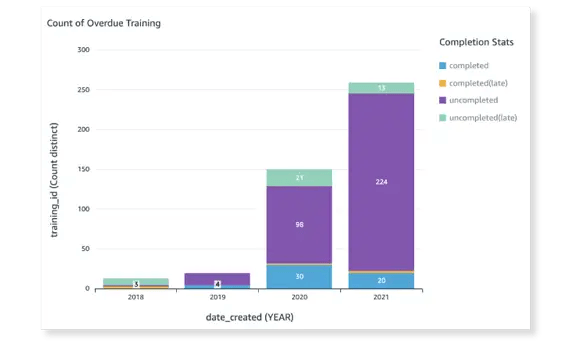 Beyond

standard functionality
Fine-tuned insights through
data drill down and filtering
Our KPI module lets you filter to your heart's content. You can drill down to see data on a quarterly, monthly, weekly, and daily basis. What's more, every graph is clickable, so you can analyze every detail.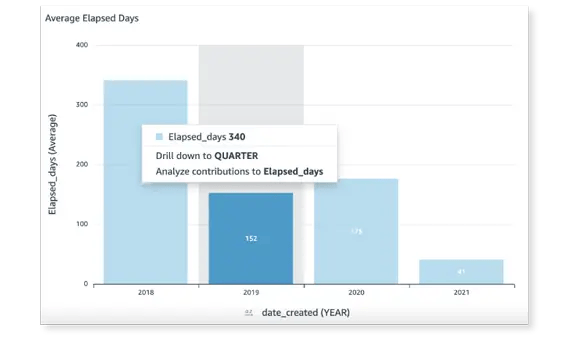 Export data

with one click

For your convenience, all the KPI graphs and tables can be easily exported in CSV format to be able to feed them into external data analysis tools.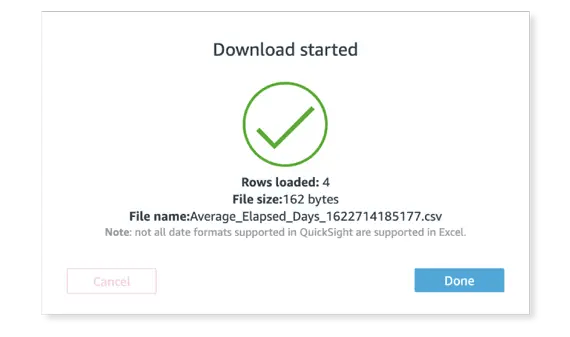 Integrate with your own Business
Intelligence tools
Connect your BI tools

to your Scilife platform

In case you want to incorporate Scilife data to create reports in your own business intelligence tools, you can easily set up the integration. This gives you the power and flexibility to build any desired KPI dashboard your business requires.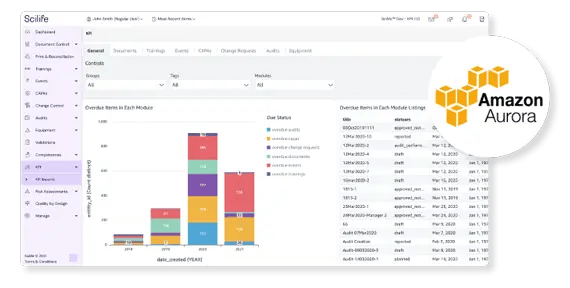 Frequently Asked
Questions
Find answers to the most common questions about KPI from our Scilife customers.
Is your question not listed?
Get in touch!
A typical KPI report in Scilife could be a bar chart which shows the number of documents published in a given period.
Making a KPI report in Scilife is simple and intuitive. You just have to choose which module, bar/line/pie chart, and date range to include in your report and you can already start making your own customizable reports.
All data in Scilife is encrypted at all times, both in transit (between your browser and the platform) and at rest (when data is stored).
Scilife runs in the Amazon AWS cloud, which is still considered the best cloud infrastructure provider according toGartner's magic quadrant and complies according to a plethora of regulations. We encourage you to take a look at it here.
Each client gets its own separate database. Or actually better yet: each client gets 3 different environments (TEST, VAL and PROD) and for each environment they get a separate database. In other words, data from different clients is never sitting in the same database.
The Scilife platform runs in a VPC (virtual private cloud), which effectively separates it from the rest of the Amazon AWS clients. In the VPC, it is divided into a 3-tier system: application servers, database servers and file storage are separated, which makes it easier to scale out automatically when demand increases and therefore ensures a speedy user-experience.
Besides the standard automated backups of client data, we use many different Amazon AWS services to ensure data integrity, application reliability and to have robust disaster recovery mechanisms in place.
Data security and data integrity are aspects that we take very seriously, as we are aware that your business depends on it. And ours too!
Yes, with the Groups functionality you can configure which users have access to which reports.
Users can have access to one or more groups and documents are always placed at least in one group. Therefore, the rule is simply that a user must have access to at least one of the document's groups in order to see the document or gain access to it.
It depends on the system you are currently using and on the amount of KPI Reports you need to migrate. If you only have tens of reports then you could use the document import feature to import your reports one by one. But if you have more, we can help you to automate the process by developing an import script. Depending on the complexity of your data, we might need to charge you the development hours of this script, but it will save you loads of time.
Yes, there are 4 types of users in Scilife: administrators, managers, regular users and read-only users. The first 3 user types can edit and participate in the approval workflow, the read-only user type can only read documents and mark them as Read&Understood.