Document Control

Software
A document system that's centralized, categorized and clean.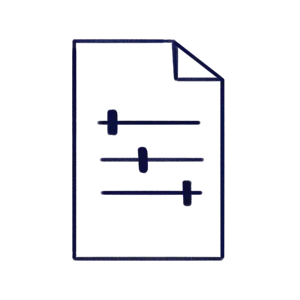 Immersed in
document anarchy?
Organized documents are the backbone of efficient operations. Without total knowledge of what's where, who has access, what needs approval, and which pages need updating; it gets messy, fast.
Integrate and automate
Integrate

with MS Office

Don't worry, you can keep your usual document editing software. There's no need to switch between applications. Simply click edit within the Scilife solution to open your document in an MS Office pop-out screen, and save your changes directly to the cloud.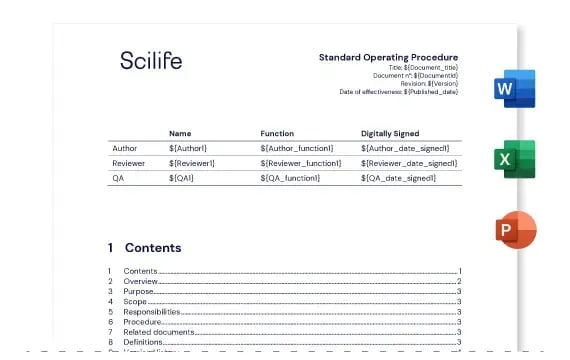 Automate

the essentials

To speed things up and avoid forgetting the minutiae, Scilife can insert basic yet crucial bits of information into your documents. For ultimate ease and customization, you're in charge of setting these details. Choose to automate variables such as document ID, version number, author or reviewer names, publication date, and electronic signatures. It's up to you!

Also, with the custom fields, you'll be able to store important document details in the platform and add them to documents with customized variables.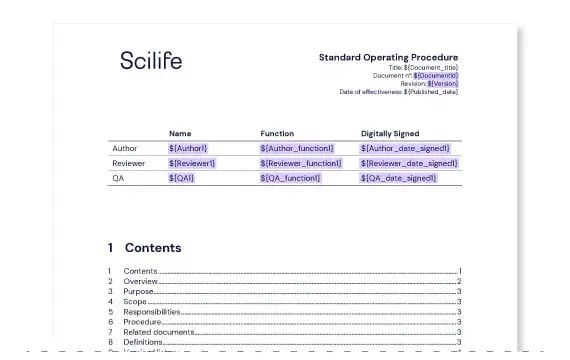 Leave a spotless
audit trail
Detailed action logs and document save histories result in a well-kept trail, indispensable for compliance audits. For your own peace of mind, and to adhere to strict Life Sciences regulations, everything is transparent and traceable at all times.

Dominate your
document processes
Streamline
approval cascades
Scilife can automatically do the rounds with your documents to gather the electronic approval signatures from the right people, sending email notifications at precisely the right moment. You'll be able to define the required roles to approve a document as the Author is the only mandatory role within the approval workflow. Checking document expiry also becomes a thing of the past, as approval workflows are reset automatically, ready for the next version.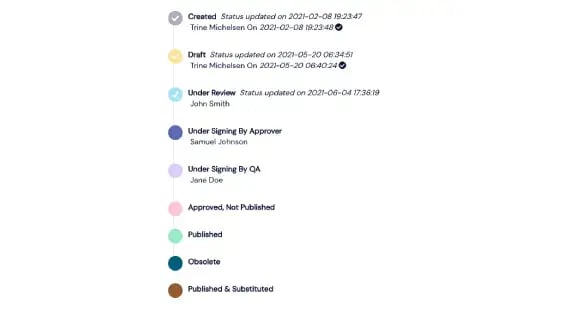 Customize
user permissions
Address security concerns by setting the right access permissions through allocating certain documents to specific groups of users. You're in charge of creating, naming, and defining the access rights of these groups. Our Document Control solution also supports custom configuration of multiple authors, reviewers, approvers, and QA people on each document.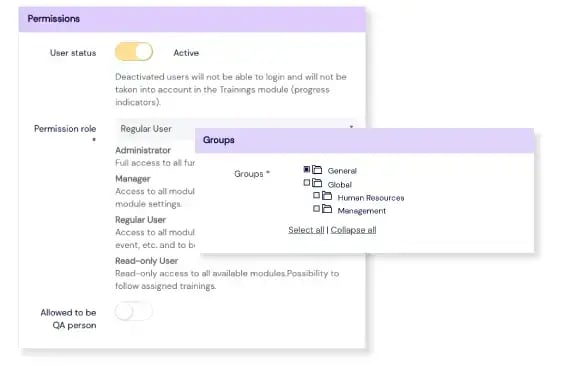 Control
printing
An outdated document is a risk. It's easy to update digital documents, but what about printed papers in circulation? How can you keep track of where those are? Scilife lets you define the physical location of any printed document through innovative barcodes, so that they can be gathered and destroyed should a new version be published. What's more, you also have it on file who has printed what.

What
Our Customers

Say

Scilife's Document Control solution is a hit with Life Science companies!
The document control module helps us at A-kwadraat to fasten up our document management process without having to worry about compliancy issues. We don't have to maintain "error sensitive" and time consuming excel sheets anymore to keep track on versions, periodic review cycles, distribution lists,… or run for wet ink signatures. As a result, my focus as a quality professional can shift more to other quality topics as quality culture, continuous improvement,…
Jan Delvaux
Head of Quality Management at
A-kwadraat
Our company and QMS have grown considerably over the years and the need for a digital solution was clear. Scilife has proven to be an excellent fit and I use it daily. It is now easier and faster to sign documents, even when people work from home. I also like the fact that you can link documents and search the contents of documents. If a certain term needs to be changed, it is easy to search the entire QMS. Before, this was simply not possible. The link between documents and training records is also very useful to me, it saves me a lot of time.
Suzanne Buijs
Head of Quality Assurance at Radboud Translational Medicine
Scilife makes it so easy to create and manage documents in our QMS. With its many features such as templates, automatically assigned user roles, review cycles, notifications and digital signatures it makes the process much faster, more efficient and less prone to errors. This tool is a great help and it is very user friendly, everything is managed online and paperless. And last but not least, customer care at Scilife is outstanding!
Petra Csech
Customer Success and Quality Manager at Validaide
Frequently Asked
Questions
Find answers to the most common questions about Document Control from our Scilife customers.
Is your question not listed?
Get in touch!
This is quite configurable, but there are 4 main steps, or actually roles, available: Authors, Reviewers, Approvers and QA persons.
The drafting of the document is done by one or more authors. Once the document is pushed to the review status, one or more reviewers need to review it. Reviewers can still edit the document, so after the review step, if Scilife detects that changes were made by a reviewer, authors need to sign off on it later again.
After the review step, the document goes into the next status which requires one or more approvers to review and approve the document. Approvers cannot edit the document anymore.
Once approvers have signed off, one or more QA persons need to sign off too, after which the document can be published immediately or at some point in the future.
Of course! The system offers the possibility to define authors, reviewers, approvers and QA people for sign off purposes, but you can leave out reviewers or approvers for example. You can do that on document level or you can completely deactivate a step in the module configuration.
We have implemented an integration with Microsoft Office. So you can use your trusted MS Word, Excel or Powerpoint applications to edit documents, which are then automatically saved in the Scilife cloud upon clicking save in your desktop application.
Absolutely. We call these Document Types. A Document Type could be a standard operating procedure, or a work instruction, for example. For that document type, you can then upload a file as a template which is then automatically copied when you create a new document.
There are 4 types of users in Scilife: Administrators, Managers, Regular Users and Read-Only Users. The first 3 can create, edit and participate in the review and approval workflows. Read-Only Users can obviously read documents and also mark them as Read&Understood.
The AD/LDAP integration is meant for companies who use Microsoft Active Directory to manage employee access to software systems in a centralized way.
This way, employees only need one user ID and password to login into many of the software systems at their company.
With Single Sign On (SSO), the user doesn't even need to provide their user ID and password every time. As they are logged in to their PC, their credentials are automatically passed on to the system they want to access, logging them in instantly without showing a login page.
Scilife has an integration with Microsoft AD over the LDAP protocol to provide exactly this functionality.
Additionally, when users in Scilife need to sign off on a document with their electronic signature (normally their Scilife login+password) they can use their Active Directory ID and password.
All data in Scilife is encrypted at all times, both in transit (between your browser and the platform) and at rest (when data is stored).
Scilife runs in the Amazon AWS cloud, which is still considered the best cloud infrastructure provider according to Gartner's magic quadrant and complies according to a plethora of regulations. We encourage you to take a look at it here.
Each client gets their own separate database. Actually, better yet: each client gets 3 different environments (TEST, VAL, and PROD), and each with their own database. In other words, data from different clients is never sitting in the same database.
The Scilife platform runs in a VPC (virtual private cloud), which effectively separates it from the rest of Amazon AWS's client's data. In the VPC, it is divided into a 3-tier system: application servers, database servers and file storage are separated, which makes it easier to scale out automatically when demand increases and therefore ensures a speedy user-experience.
Besides the standard automated backups of client data, we use many different Amazon AWS services to ensure data integrity, application reliability and to have robust disaster recovery mechanisms in place.
Data security and data integrity are aspects that we take very seriously, as we are aware that your business depends on it. And ours too!
Yes, with the Groups functionality you can configure which users have access to which documents.
Users can have access to one or more groups and documents are always placed at least in one group. Therefore, the rule is simply that a user must have access to at least one of the document's groups in order to see the document or gain access to it.
Yes, but only for the following file types: docx, xlsx, pptx and pdf.
It depends on the system you are currently using and on the number of documents you need to migrate. If you only have tens of documents you could use the document import feature to import your documents one by one. But if you have more, we can help you to automate the process by developing an import script. Depending on the complexity of your data, we might need to charge you the development hours of this script, but it will save you loads of time.
Scilife handles the versioning of documents for you. When you create a new document, it starts at version 0.1. While editing the document, Scilife will save these as 0.2, 0.3, 0.4 etc. Once the document is finished, approved and published, it is published as version 1.0. When the document is later reviewed, the version is increased automatically again to 1.1, 1.2, 1.3, etc. until you publish it as 2.0 again. All intermediate document versions are saved and can be consulted depending on your permission role.
Yes, there are 4 types of users in Scilife: Administrators, Managers, Regular Users, and Read-Only Users. The first 3 user types can edit and participate in the approval workflow, the Read-Only User type can only read documents and mark them as Read&Understood.