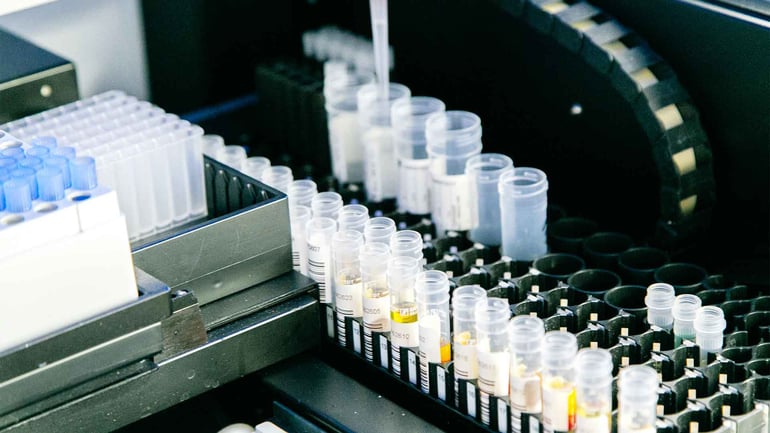 About CTC
CTC (Clinical Trial Consultants) are a full-service Clinical Research Organisation (CRO) based in Sweden, with the mission to facilitate clinical and translational research by providing customers with cost-effective advice, conduct and reporting of clinical trials. Their customer base is mainly small to medium-sized pharmaceutical companies, and they're a leading player in the Swedish life science arena.
Sofia Nyberg, QA specialist, and Jasmin Faroque, statistical programmer in CTC's biometrics department and former QA specialist, joined a virtual chat with our customer success manager, Trine Michelsen to talk about their motivations to make the jump to Scilife as their eQMS and what impact it's had so far.
The Challenges
CTC's main challenges that spurred on their search for an electronic quality management system (eQMS) were training and document management, explains Sofia.
As CTC started to really grow, so too did the company's need for a more automated and efficient way to manage their documents and trainings, she points out. Previously, it was solely their QA department who was shouldering the brunt of the responsibility for these processes, and it was becoming a real time drain. Keeping track of every version of every document manually was arduous, and chasing up people about their trainings a pain.
'At the time we just had a file server for our documents. There was no automatic version control, and only QA had access and had to maintain and upload all documents manually. We really wanted to use an electronic system so that we could give access to remote staff or external persons like auditors and inspectors. We wanted to lift some of the responsibility from the QA group to managers and their groups to handle their own documents.'
Sofia explains that there was a system in place for training within the company, but it was more for basic time management rather than handling training management and storing training records.
'It wasn't easy to follow up on training status, there was a huge need to gain more control of training management. It was one of the points that I was looking for the most in an eQMS'
The Search
With these challenges driving their search, Jasmin explains that there were several reasons why CTC chose Scilife as their company's new eQMS. As well as having all of the core features they were looking for, user-friendliness of the platform was a big deciding factor.
'We thought it was really user friendly and that it would therefore be quite easy for our users and our employees to learn it and to use it. And also it had all the functions we were looking for.'
Jasmin goes on to explain that cost-effectiveness was also a major point that swayed the decision.
'The pricing is based on how many users you have in the system, which is really good. For us, we felt we could grow with this system. We could in the future upgrade to start using more features if we have the need and we wouldn't have to go out again, looking for a new system.'
The Set Up
When asked about what it was like to get her colleagues up to speed on Scilife software, Sofia describes it as a straightforward process. She explains that she likes to refer her new employees to pre-recorded trainings after a brief one-on-one session to show them around the basics of the system. She also gives employees access to a handy user manual and screenshots that provides detailed step-by-step work instructions, similar to Scilife's knowledge base resources. After this, she says it's important to be available for any follow up Q&As and support in case it's needed.
'Overall, I think most people have been really quite eager to learn and learn quite fast' adds Jasmin. She says that in the case of her read-only users, it took only around a month to get really acquainted with Scilife. For users that need to be involved deeper in the system, for example uploading documents, she reflects that it might take two to three months - but that this estimation is completely individual and depends on the person.
Favourite Features
Automatic training notifications
When asked about their favourite Scilife features, Sofia is quick to answer that for her it's most certainly those in training management. She highlights that keeping track of trainings has become so much easier for everyone, thanks to Scilife's automatic training notifications that ping each user if and when trainings need to be completed. This not only makes it easier for the whole company to self-supervise their own training, but it makes it easier for managers to see the training status of their team at a glance and follow up where necessary.
Dashboard
Scilife's intuitive user interface, the dashboard, is also a firm favourite.
'I really do like the dashboard. It's like a very clear and always up to date to-do list. You always know what you need to do with regards to ongoing documents, and with regards to training, ' Sofia enthuses.
Automatic version control and document variables
Sofia mentions that automatic version control and automatic document variables have been extremely valuable to her and to CTC when it comes to quality documents. It not only saves time and manual admin work, but also reduces the potential for errors and makes the audit trail really easy to follow both internally and externally.
'The version control that we have now over our documents is really good for our quality. It has increased a lot. It's easier to find things and to go back to different versions and see which versions have been approved and are valid for what period of time. It's so much easier to review. It's digital and it's all in one place.'
Ability to conduct remote audits
Remote, well, everything, has become the norm in the workplace over the past couple of years. Audits are no exception. Sofia explains that Scilife opened up the possibility of remote audits for CTC for the first time, just at the right moment.
'The possibility of providing access to our QMS documents to auditors and inspectors has helped us a lot. And it has been very much appreciated by the auditors. They can access our QMS documents both before, during, and after the audit. It couldn't have come at a better time since we had a lot of remote audits last year and this year instead of onsite audits, mainly because of the COVID pandemic.'
Search and filter
Finally, Jasmin adds that Scilife's centralised document control feature is really intuitive, especially because it's made it so easy to track down documents.
'I like being able to search and filter out different documents. I think it's really helpful to have a better overview of documents and they are a lot easier to access than what we had before. Everything is in one place.'
Expert Advice
Trine asks what tips the women have for other companies or QA professionals on the lookout for a better digital system to manage their processes or a better eQMS.
Jasmin offers her own advice from experience, suggesting to think carefully about your company's specific needs and not be seduced by too many features that may end up being redundant.
'There are a lot of different systems out there and they are all specialised in different things and are good at different things. So it's really important to know what your needs are and what it is you really want. What is your must-have in a system? Some software has really great stuff, but you might never use it. So you may be paying for something you don't even need.'
Sofia adds that it pays off to ask your service provider in case a feature you're looking for is missing, because some will actually go the extra mile to create and release that feature specifically because of your request. Like Scilife!
'We have sent Scilife some feature requests and we see that they always listen to our feedback and try to accommodate our requests as best as they can. We have seen a lot of features we asked for already implemented, and others are on the way. The system is always developing and becoming even better. I think that is important as well, to know that even though you may not have exactly every little feature that you would like, those features will probably be there in the future.'
The Results
Both experts agree that since implementing Scilife, they have reclaimed a lot of valuable time. Sofia describes the process prior to using Scilife as time consuming, manual and prone to human errors. Scilife has helped to automate where needed, has taken part of the burden of responsibility of document control away from QA, and has smoothed the training process for everyone involved.
Jasmin is impressed and believes she made the right choice 'I think when we found Scilife, it ticked almost everything that we wanted'
'The trainings feature has helped us to streamline our training management process and the document control feature has helped us increase the control of our quality documents', Sofia concludes.
Imagine what Scilife can do for your company!
Book a demo to see Scilife in action!