Competency Management Software
An up-to-date CV and Competences overview unearths valuable skills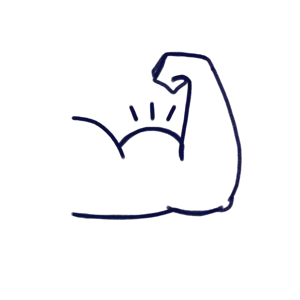 Find

your company's specialists and superstars
In the Life Sciences industry, there are many highly technical positions. It's vital to keep track of the who's who in your company, and be able to find out who's capable of doing what. Who knows, you might even discover hidden talent right under your nose!
Our Scilife Competences module
gives you a bird's eye view of
who's who
Say goodbye to outdated CVs and stay up to date on the blossoming skills of each of your employees through our detailed competences matrix and CV management tool built into the Competences module.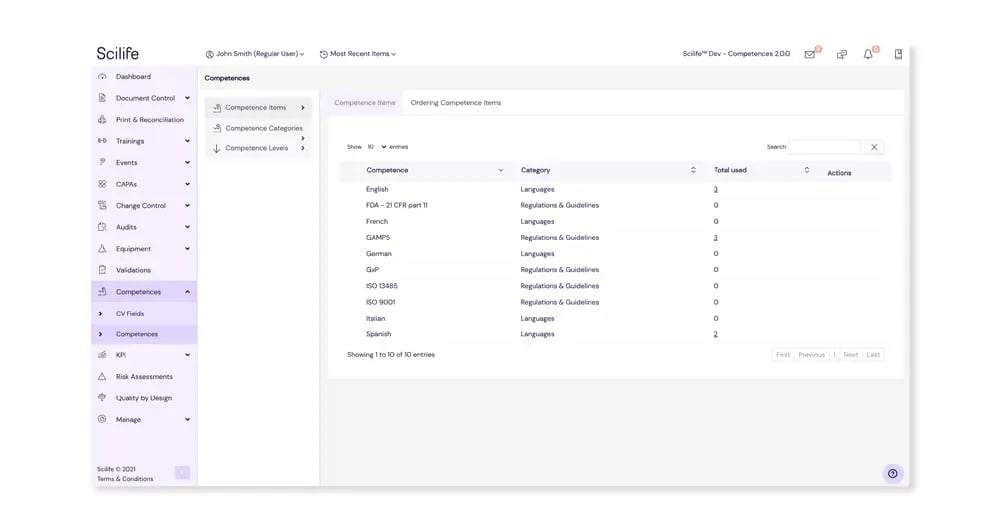 Follow evolving
employee abilities
Sort competences into categories and set skill levels
Compile a list of the relevant skills or competences relevant to your company and categorise these as you wish. You can also set levels for each competence so that your employees can share their unique skill set. If needed, create other fields to be optional or mandatory for your employees to fill in, such as 'years of practical experience' or 'last date of practice', immensely handy for regulated work!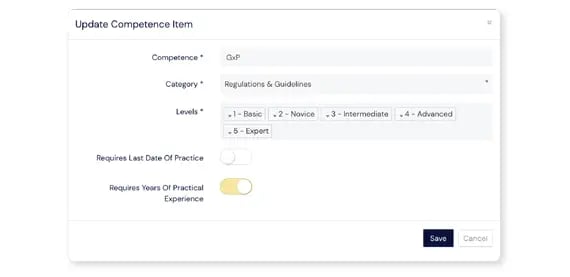 Update competences automatically or manually - you choose
To keep things hands-free and automated, the Competences module can be integrated to our Scilife Trainings module. That means certain competences can be updated in real-time depending on the type of training your employee completes. If you prefer to do things manually, like assigning a manager to update employee skills, or even leaving it to the employee themselves, there's options for that too.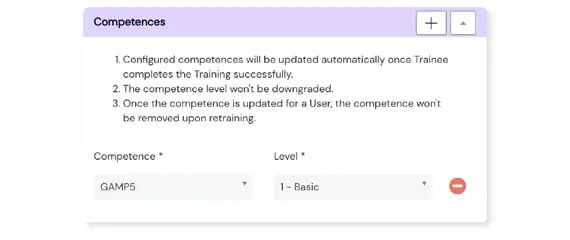 Discover the ideal person for the job, in-house
With our Competences module it's easy to sort through your superstars, and encounter the perfect match for the job you need doing. Filter by skill set or skill level to fine tune your hunt. You might even discover that some of your employees have talents you didn't even know about!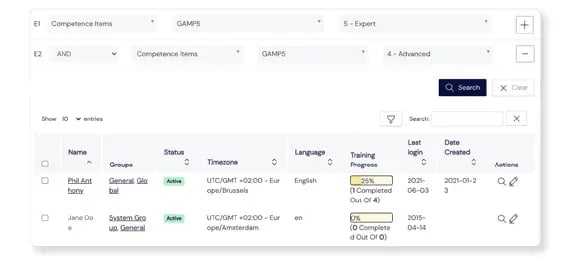 Keep employee
CVs relevant and
easily accessible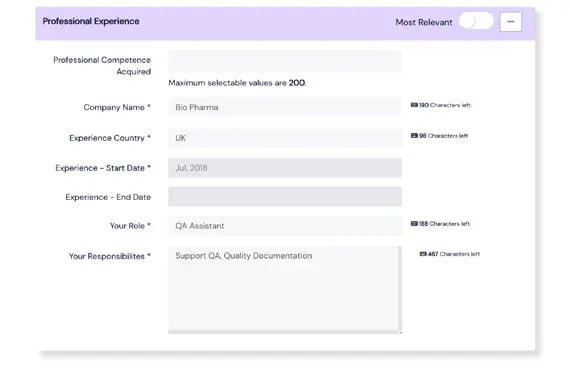 Empower employees to keep their work abilities up to date through a custom CV form
You're in creative control of what CV fields your employees need to fill out within the Competences module. Each of your employees has access to their individual profile, where they can update their own CVs, offloading this task from HR or QA.
Easily export or print any CV in standardized formats
Create your own personalized CV templates to keep your employee paperwork efficient, standardized, and quickly accessible. This can be handy when you need to differentiate between CV formats when sending a CV to a customer, internally, or elsewhere. Since CVs are stored as digital form fields, the possibilities are endless.
What
Our Customers

Say
Scilife's Competences module is a hit with Life Science companies!
In Scilife you will intuitively find your way in the system. The Competences module is very user friendly and has great search functionality that allows you to search very specifically for competencies and (project) experiences of all users. It's customizable to your wishes and your way of working.
Hannah Dreesen
HR Business Partner
Knowledge is one of the strategic drivers in our company. Having an instant overview of the strengths and expertise of our employees enables us to help customers without delay. The Scilife competence module provides us a clear and easy way to maintain curriculum, detailed competence reports and central storage for relevant competence files such as accreditations. Being able to demonstrate in a quality driven environment that a person is suitable to exercise his or her function, is of key importance!
Yves Dene
Knowledge Manager at QbD
Frequently Asked
Questions
Find answers to the most common questions about Competences from our Scilife customers.
Is your question not listed?
Get in touch!
We actually do that for you. During the Scilife Onboarding Process we import all the data you need to import into Scilife. Once this is done, you can easily keep these up to date through the point&click interface.
Yes, that's actually the default.
The CV form builder is quite complete. Besides text and numeric input fields you can define date fields, drop downs, file upload fields, checkboxes and radio buttons, range input fields, etc.
You can even create form blocks that can be duplicated by the user. For example to provide their professional experience you can create a form block with a few fields which the user can simply duplicate as often as needed by clicking on a plus button.
Yes, in the Users list page you'll have an Advanced Search available where you can search on many parameters like competences and levels, but also CV items or user detail fields.
Absolutely, you can even have different levels for different competences.