Paper strewn about the company is a regulation nightmare, especially for industries in the Life Sciences. It's not just about supervising who has access to printed documents (and who printed them off in the first place), but also about collecting and reconciling each document quickly when audit time rolls around. Losing even a single sheet can cause delays, or even total compliance failure.
Controlled printing and reconciliation is a strict compliance requirement, and that requirement is especially challenging to meet when a Life Science company is big and has several Quality Management Systems (QMS) across its different units. Scilife's Print and Reconciliation solution saves you the compliance headache through 5 innovative features: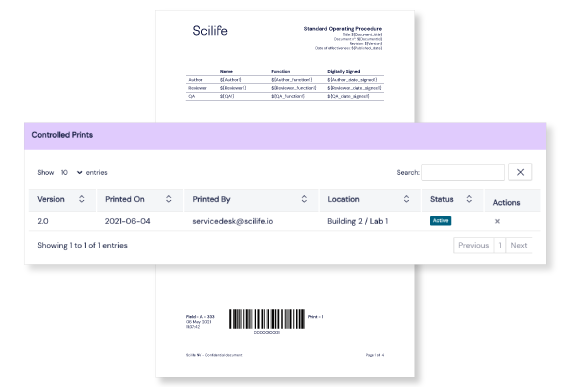 #1


Unique barcode on every printed page

The first, and arguably the best, feature of our Scilife Print & Reconciliation module is that it generates tracker barcodes for each document page.

These unique barcodes ensure traceability, every time a document is printed. You can customize where these barcodes appear, to suit your document needs and to avoid the barcode being printed on the page margins that will go into document binding. There are 4 options to select the position of the barcode on the page; top, bottom, left and right.

As well as enabling traceability, essential for compliance, these unique barcodes are useful in the tracking down and reconciliation of documents.


#2


Automatic reconciliation

After a document is printed, you can easily sort and reconcile every page of the document by manually scanning the unique barcode on every page. Alternatively, you can upload the document to be reconciled, and the application will locate the barcode on every page and reconcile the complete document automatically.

If you stop a reconciliation process before it is over, then partial reconciliation occurs, so partial as well as complete reconciliation of the printed documents is possible. Every reconciliation action is also conveniently recorded in the audit trail of the application.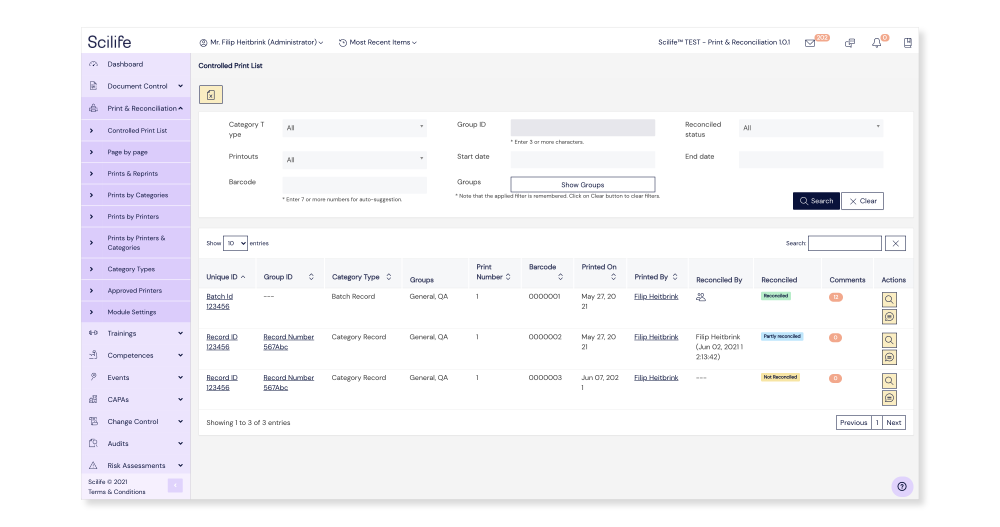 #3


Visual dashboard

The Print & Reconciliation dashboard panel in the web-based interface gives an immediate and visual overview of all printouts and reconciliations, in handy graphic format. Additionally, it displays a separate graph of unreconciled printouts (known as 'orphan documents'), which are printed documents that have not been reconciled for longer than 24 months. The dashboard also lets you select the duration that you wish to see all of this information, so you can tailor your display as you see fit.


#4


Justified Reprinting

A reprint happens when the same Unique ID is given by a user during printing that was already used for a previous printout. This is distinct from multiple prints that are given at the same time. In case of multiple prints every print gets a unique barcode number.

If you try to reprint a document that is already printed, then the application will give you a notification stating that this document has been already printed. It will also ask you to enter a reason, in writing, for the 'reprinting' for example, 'the printer was jammed' or 'earlier print physically damaged' etc. After entering the reason the document will be reprinted and the action will be recorded in the audit trail.

Justifying multiple prints effortlessly when faced with an audit saves a great deal of time and hassle.


#5


Search and Filter Printed Documents

The search feature in the Scilife Print & Reconciliation module offers useful filters, including unique ID, group ID, or date range. This is especially useful to identify if a document is fully reconciled, partially reconciled, or not reconciled at all.

In the detailed view of a printed document, it's possible to view the number of times the document has been printed, any reprint reasons, the category type, the date and time of print, the user who printed it, the reconciliation status, the number of comments, and the actions that can be performed on the document.

With this feature you can also add a comment or generate a report on the reconciliation activities performed on the document.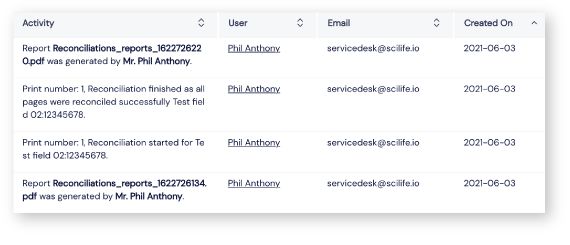 The printed document section also provides an 'Audit Trail' tab. If you click on this tab, you can see all the printed and reconciliation activities performed on the document. Rest assured that this feature meets all compliance requirements stated in 21 CFR Part 11.



Conclusion
These five cool features of our Scilife Print & Reconciliation module let you minimize the manual hustle to meet the regulatory compliance requirements, saving you a whole lot of time and frustration. Plus the desktop as well as web-based interfaces are user-friendly, so your whole team can adopt the application very quickly.
Another great advantage of our Scilife Print & Reconciliation module is that it lets you operate decentralized QMS practices, while maintaining a single solution for controlling printouts and reconciliation across all sites. All it needs is a one-time configuration of approved printers at every site, then users at that site can start using the application.
Curious to discover how our controlled Print & Reconciliation solution can add value to your company and improve your operations?
Get in touch or book a demo with our experts to watch our Scilife Print & Reconciliation module in action.