Trusted by more than a hundred quality leading organizations





Measure every KPI,
take insight-driven actions
Gain full KPI visibility and take the driver's seat with our advanced analytics solutions. Break down precise performance metrics to uncover hidden insights and identify areas for improvement - every decision backed by concrete data.
⊞
Identify all relevant KPIs
We understand the vital role of data analytics in transforming your QMS to fuel continuous improvement. Shift gears from just troubleshooting to taking data-driven decisions and actions.
⍚
Customize your reports
Generate in-depth, customizable reports that visualize your QMS data in a meaningful way, making it easier to share insights with stakeholders and drive organizational change.
☲
Collect and analyze real-time data
Access real-time performance metrics and track KPIs through intuitive dashboards, enabling you to stay ahead of potential issues and take corrective actions proactively.
%
50
%
reduction of more than 50 percent in overall quality-control costs
%
65
%
reduction of more than 65 percent in deviations and non-conformity events
%
90
%
reduction in investigative workloads by as much as 90 percent
Our Advanced Analytics feature provides continuously updated insights so that you can track your goals, identify areas for improvement and take rapid, data-driven actions. With benchmark industry averages and detailed visual data, you have all the tools to get ahead of the competition.
All the metrics you need,
just one click away


Simplify your metric management, increase productivity, and reduce manual errors and variability with our intuitive dashboard. With real-time insights at your fingertips, you'll gain a crystal-clear understanding of your operations like never before.

Our dynamic report dashboard makes it simple to monitor and analyze performance metrics, providing you with the actionable information needed to stay ahead of the game.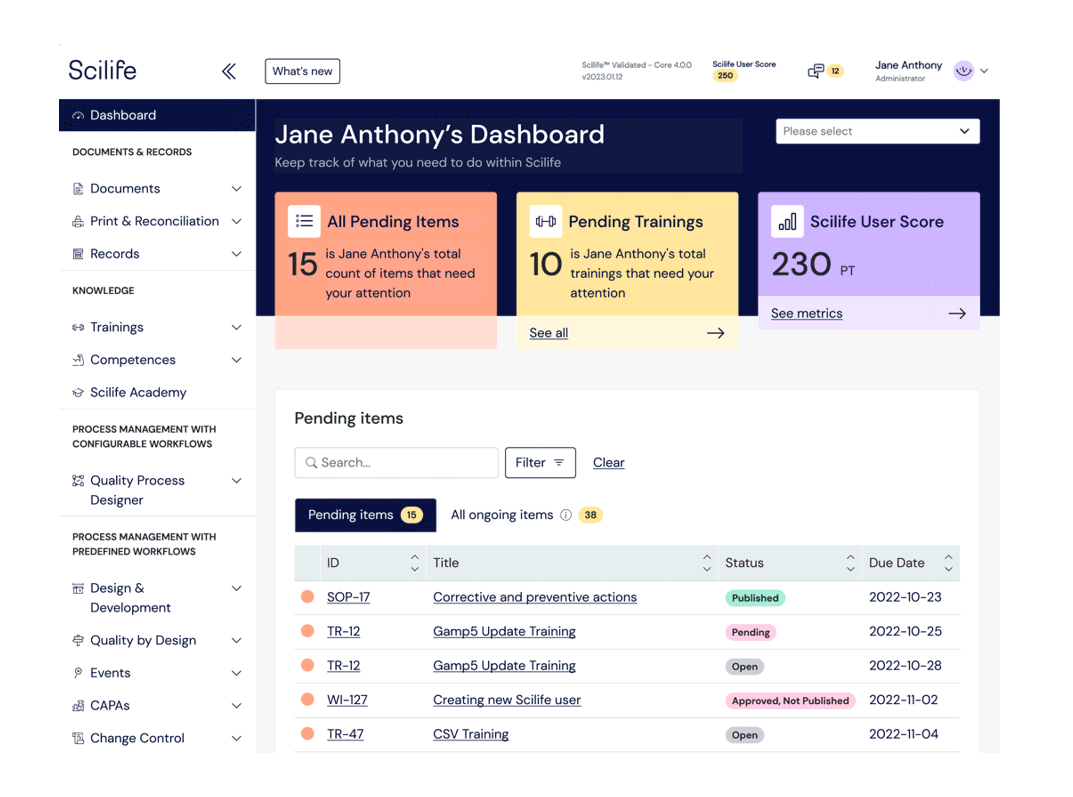 Gain better data governance

to hit your KPI targets

Are you keeping track of the right KPIs? Not hitting all your targets?

Uncover hidden patterns, trends, and correlations in your QMS data to make informed decisions and drive continuous improvement. Visualize and break down all your performance metrics to keep track of every quality KPI. See where you can improve and how to beat the competition!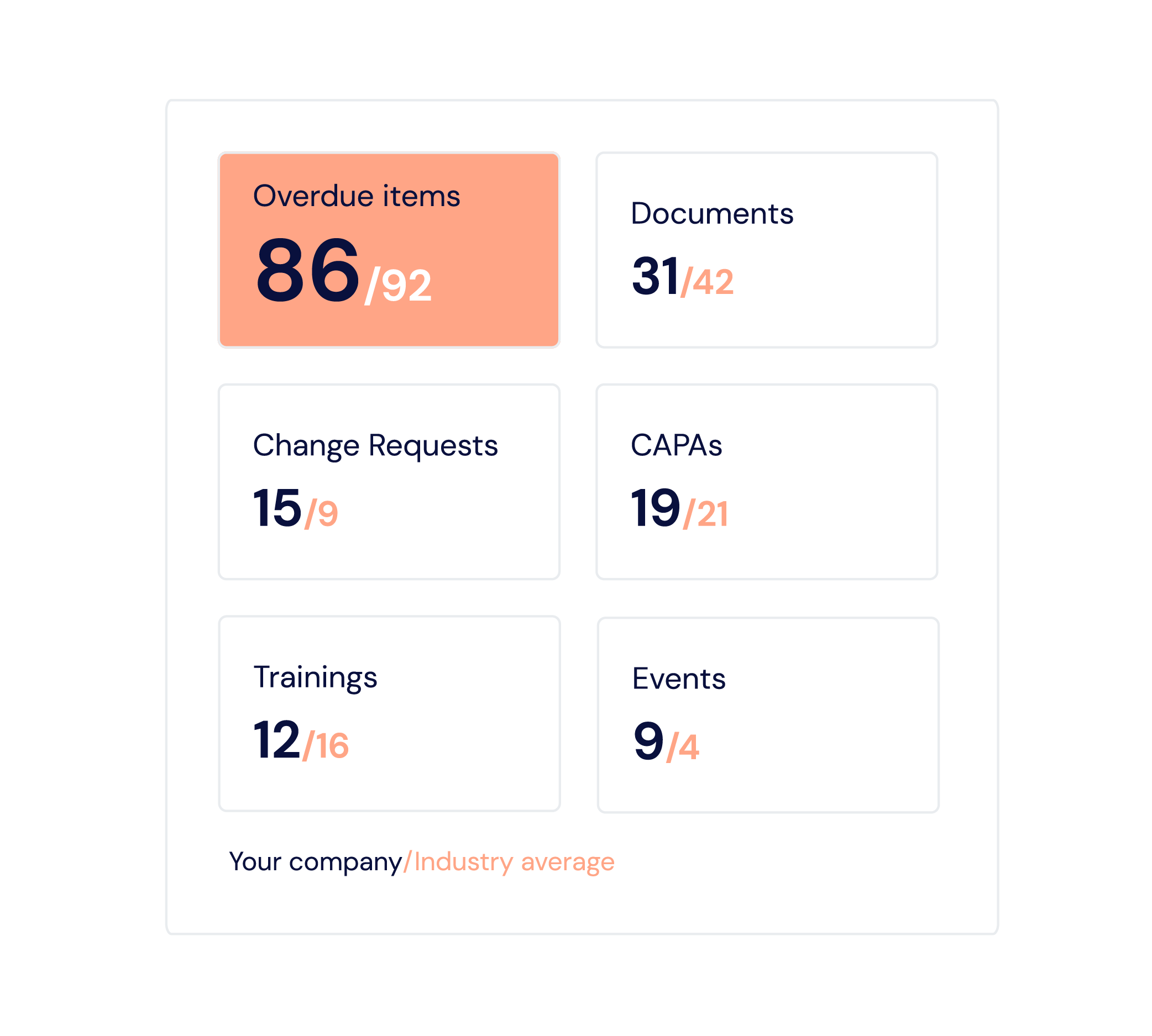 Get a competitive edge
with benchmarked data

Benchmarking against industry averages provides you with an objective, data-driven method for evaluating your organization's performance.

By seeing where you excel and where improvements are needed, you can see what decisions and actions to take. With benchmark averages, you can measure yourself against other leading Life Science organizations. And that gives you a competitive advantage.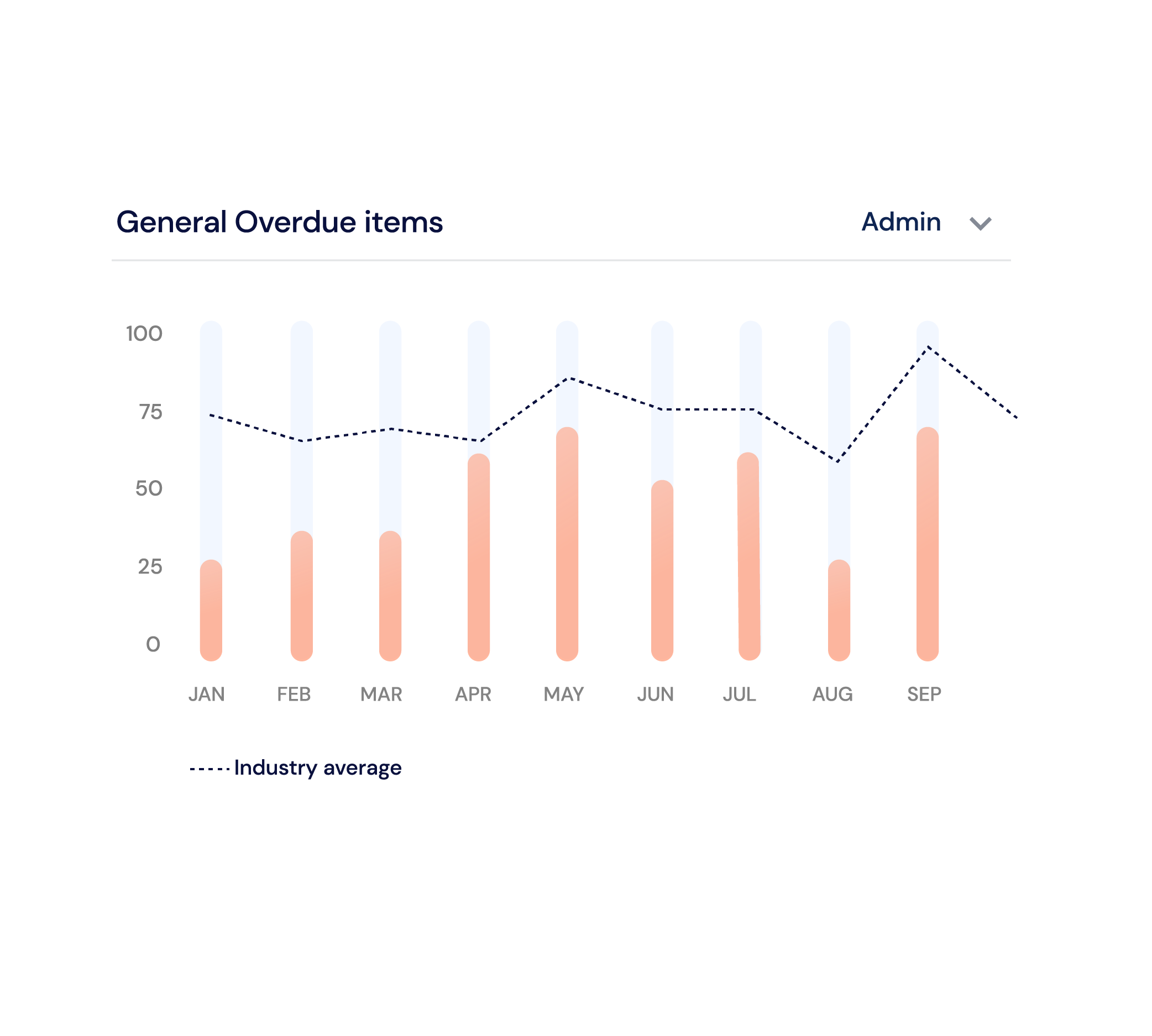 Are you on track to reach your business goals? Where do you need to take action?
We want to know how your team works! What struggles are you facing and what are your goals?
We're here to help you succeed!